The thing I was most excited about for our whole holiday was going to Disneyland California with the Things and my niece. I'm pretty sure I was more excited about Disney than the Things!
Although most people think I am hyper-organised, part of this post is going to reveal I am a massive closet disorganised person! If I was organised you would think I would have researched the cr@p out of a single day trip to Disney… but I didn't (which has pro's and con's all of its own). Some things we did were amazing (the good), some were a bit of a waste of time (the bad), and there were some things we wished we had done (the wishlist). I'll finish up with some tips for those of you hitting any of the Disney parks this summer. All things considered we had one of the best days EVER so I can't complain or wish the day had gone any differently.
If you want to do more research than I did I would highly recommend reading the Ultimate How To Guide to Visiting Disneyland Paris With Kids from Passports and Adventures. It might be for Paris but there's actually so much in there that applies to any of the Disney Parks!
Note to readers: At the time of our trip the Things were 2 and 5 and their cousin who came with us was 3. All opinions about appropriateness of rides are made with this age group considered.
The Good
King Arthur Carousel – a lovely way to start our day and get our bearings a bit. The Things had had to do quite a bit of walking just to get to Main Street so it was the perfect time for a break.
Dumbo the Flying Elephant – our second ride of the day and a huge hit with the kids.
Astro Orbiter – rather like the Dumbo ride only a bit higher and faster…The Things loved it but I was definitely in the early stages of motion sickness by the end.
Buzz Lightyear Astro Blasters – fun for all the family as long as there isn't too much competition between Things (luckily ours were too little to get too competitive but the same can't be said for Mr Wanderlust!).
Finding Nemo Submarine Voyage – one of the rides the Things still talk about 2.5 months after the trip. That said, it was quite dark with some scary sharks which I thought could be a bit frightening for them.
Gadget's Go Coaster – my adrenaline seeking Things LOVED this ride but my niece most certainly did NOT (in retrospect she might have enjoyed being a bit further back). I guess the answer is to know your audience and plan accordingly.
Jungle Cruise – a funny ride with lots to look at for the kids (possibly a bit scary for sensitive kids). I loved the dry humour from the 'tour guide'. He sounded like it was the first time he had told the jokes rather than the approx. 400th time that day.
Mickey's House and Meet Mickey / Minnie's House and Meet Minnie – how can you go to DisneyLand and not meet Mickey and Minnie??? Answer: You Just Can't.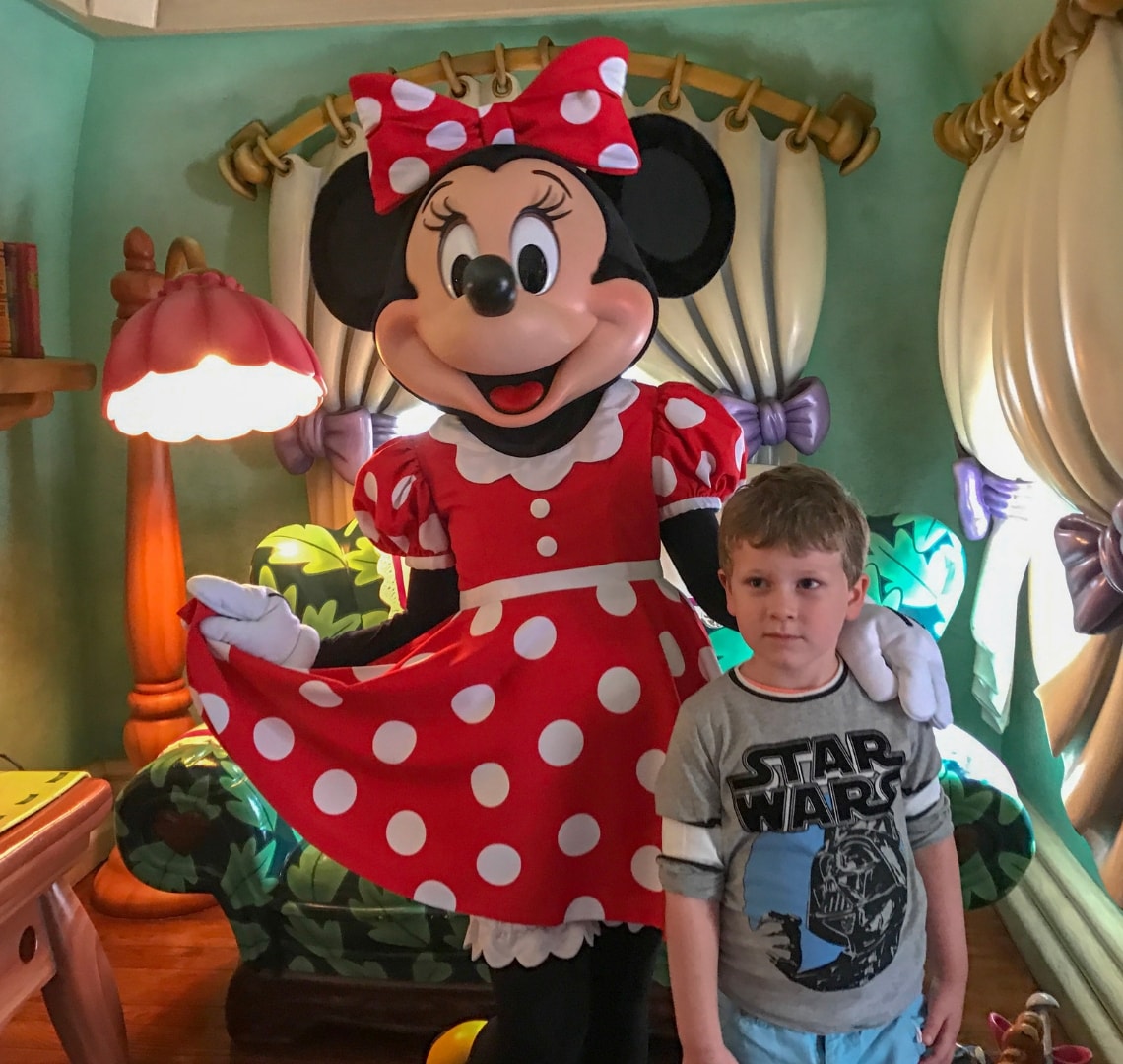 Pirates of the Caribbean – I totally thought as we got on this ride that it would be too scary for the Things but they took it in their stride! Even the one who fell asleep in the queue and didn't wake up until the next morning!
Princess Encounter – while the boys went off on Space Mountain, we headed off to meet some princesses. The line was pretty boring compared to some others and I really don't think the girls could have cared less about meeting Princesses Tiana, Ariel and Cinderella! They were a bit shy when we met them but I'm glad we went. When I asked Thing 2 today what her favourite thing at Disneyland was, she said "meeting the princesses".
Space Mountain – The ride Thing 1 could not stop talking about! He was so chuffed to go off with his dad and his uncle and do a "boys" ride. I remember loving Space Mountain when I was little so I'm thrilled he has similar memories to me.
Indiana Jones Adventure – the last ride of the day so the boys went on this while the girls walked towards Main Street. The consensus was that it was good but only needed to be done once. Thing 1 has never mentioned it since and he's talked about pretty much everything else we did that day. Worth all the hype? Personally I can't say but I think maybe not.
The Parade – I was SO unprepared for how good this Disney-tastic event would be, but it was awesome! It was a great chance to sit down and have a rest/snack/drink while watching the most incredible floats and characters go past.
The Bad
Roger Rabbit's Car Toon Spin – there was such a long queue for this and the reward was a jerky, dark and a bit of a scary ride. Considering the other rides we went on I'm surprised the kids weren't more scared by some of those too. For some reason, this one really spooked them. Add that to the waiting time and I would definitely skip this one next time around.
Disneyland Monorail – enjoyable once we were on but a deceptively long wait made it a bad decision on our part. You want to go on the best rides in a day at Disneyland, not the ones that are just fine. I can see it would be a good one if you needed to rest little legs (or big ones) for a while.
The Wishlist
Autopia – my kids love driving cars (Legoland Dubai had a great driving experience for both kids) and I wished we had had time for this ride.
Casey Jr Circus Train and Story Book Land Canal Boats – a classic sign of an expat kid who goes on planes all the time is that ANY train or boat ride is immediately a hit!
Its A Small World – This has to be one of the most iconic Disney rides. I'll be controversial here and say I can't stand this ride, but I still wish we had taken the Things on it. By the time I got to this way of thinking the queue was absolutely massive.
Disney Classics: Thunder Mountain Railroad and Splash Mountain – given the success of Space Mountain, next time we are totally doing these 2 rides. Unfortunately for Thing 1, the girls were too little for these rides and we had to prioritise the group needs over his. Plus I figured he was still little enough to enjoy the little rides and next time he will be too cool and grown up for them.
10 Top Tips and Advice for Disney
There are squillions of blogs and pinterest tips that you can find online and I won't add value to them by repeating every tip here. I've made some of my own and trawled a few of the blogs to find the most common pieces of advice:
Research local school and national holiday timings – without realising, our day out co-incided with California's Spring Break. There was nothing we could have done to change our dates but if you can be flexible, I would. There are plenty of websites like Undercover Tourist which give you advice on peak times of year.
Plan your day – make the most of blogs such as Disney Tourist Blog. This includes a 1 day itinerary, hotel and restaurant reviews and advice on how to save money. If you don't mind spending money on an expensive app, Ride Max looks inspiring! It lets you choose your dates, times, attractions etc and then plans the best day just for you. Make sure your plan includes breaks to pace yourself – this could be a rest watching a parade or back at the hotel if you are staying more than a day.
Get there early – we had been warned about terrible traffic which never materialised. In the end but we were glad to be there in good time for the crowds. Apparently some days they let people in early as well so its good to know about that in advance!
FastPass and FastPass+ – these are basically queue jumping tickets. FastPasses are released on the day at specific times for each ride and allow you to queue jump later in the day. There can even be a queue to get FastPasses but it is worth it. FastPass+ is even more ingenious. It allows people with pre-booked tickets to choose in advance which queues they want to jump and when. Note not all rides have FastPasses available (e.g. Peter Pan's Flight). Pre-booking tickets made no financial sense for us as this was such an impromptu visit but you can get good deals if you do.
Use the apps and inside information – some are better than others. Through these you can find out waiting times with the official Disneyland App, find Mickey, etc.
Take drinks and snacks and plan food stops – we took loads of snacks which were lifesavers in the queues. Subsequent conversations with friends have revealed that there aren't many snack options in the parks and that when you find them they are unhealthy and/or outrageously expensive. If you are feeling really energetic take your meals with you as well. Of course that means carrying ALOT of food around all day. If you are going to buy your food in the park, think about eating at off peak times (the whole park seemed at its busiest around lunchtime) and also what you want to eat. I assumed most food outlets would all serve similar selections. Actually each place had a different theme and choice of food. So the healthy food we wanted was far away from the yellow food that the Things were asking for (I had no appetite for arguments in Disneyland on jet lag). If you want a sit down meal, know that there will be a wait or make reservations. You can buy meal plans as part of your ticket purchase. Another tip I saw was that you can get free iced water at any restaurant.
45 minute rule – we avoided all rides with a wait of longer than 45 minutes. The Things really couldn't handle the hanging around (nor could we!) and the waiting to reward ratio decreased rapidly after this point! Use your FastPass allocation for the rides with the longer wait times.
Avoid the crowds – there was no avoiding the crowds when we were there but we did make some quick decisions to move on from areas as they got busy or to bypass areas that looked too crowded and returned later.
Divide and conquer – when we stopped for lunch one person watched the kids, one went to get kid meals, one went to get adult meals and one went off to get fast passes. While we were lining up for rides someone sometimes went hunting for fast passes. Your time is limited so use it wisely!
Save money and extend the magic – visit to your local Disney Store when you get home – you can re-live the fun and save a load of money while you are doing it!
Alternatively you could just wing it, like we did, and you'll still have an amazing time in the Magic Kingdom.
If you are going to Disney World Florida, you should really check out these awesome tips from Extraordinary Chaos!