You have probably gathered by now that I'm usually very much a glass is half full kind of gal. So you may be surprised to know that when we were invited to experience an amazing Four Seasons Doha staycation last weekend, I hardly told anyone what we were doing!
Why?
Maybe I was scared it would all fall through.
I was definitely worried that that would happen. You can't have kids and make plans without knowing that one of them could get ill at any moment and change everything.
Maybe I was worried about bragging.
I mean, its not everyone that gets to stay in the Four Seasons for the weekend. What would people think? Luckily I surround myself with a group of very lovely people who were nothing but thrilled for us.
You know what I think it was?
I just couldn't believe my luck. I mean.. a family-friendly, luxury staycation? I had to pinch myself all weekend to make sure it wasn't all a dream.
Word still gets around
The Things have definitely caught the travel bug. Their little faces lit up when I told them what we would be doing that weekend. They proceeded to tell their classes and their teachers. They were almost as excited as I was about the plans!
Obviously I had told Mr Wanderlust. So I wasn't surprised when a friend (also wife of his colleague) messaged to say she was free with envy. I knew he was excited too.
By the time I had dared to let myself believe it was really happening all our friends knew where we were going!
What's so special about the Four Seasons?
From the majestic lobby to the stunning beach views, it's hard to think of what ISN'T special about the Four Seasons!
The rooms are absolutely stunning. Like stunning. And with all their little touches the Four Seasons manages to make you feel like an old welcome friend while sprinkling class and elegance on every element of your stay.
Just take the beds. Quite apart from the super comfy master bed which I would have happily stayed in all day had the Things let me, we were in one of the fabulous Ambassador Suites which had a living area complete with a sofa bed. It was already made up ready for our stay. We've arrived at hotels at 5am having booked the previous night so we would have somewhere to go and the Things' beds weren't set up!
But I'm getting ahead of myself. The Things didn't care about the bed situation when we first arrived. They were far too busy begging me to let them eat some of the food gifts that had been left for them. (Mean mummy made them wait till the next day).
From Nespresso machines to milk for my tea (you wouldn't believe how many places don't even have tea making facilities in their rooms)…. From bathrobes and slippers for all four of us to Aqua di Parma toiletries in the bathroom… There really is no detail that they haven't thought of.
Is there enough to do on a staycation?
I mean arguably, it depends on where you stay. Not all hotels have the extensive facilities that you can enjoy. Still, I wasn't completely sure we would have enough to do…
I needn't have worried! Want to know what we got up to?
Here goes!
Room service
Poor Mr Wanderlust wasn't arriving until Friday morning so having got the Things into bed, I found myself at a bit of a loose end. I'm not often in that situation (read – almost never!). I quickly got stuck in to the room service menu ordering wine and a Pad Thai. I had a very lovely dinner all to myself in my room. I had a proper little table and everything – a far cry from the meals I've eating sitting on the floor of a bathroom on previous holidays! To finish off the evening I opened the doors to the balcony which looked over the beach and enjoyed the sounds of the Barefoot Beach BBQ.
Family swim time
Having been to the Four Seasons Doha a number of times, I have no idea how I missed taking in their pool area. It is sooo pretty!
With several pools to choose from (five in total!), our Things (predictably) made a bee-line for the one with the water slides. They were so happy in there that they didn't even need me to get in with them! Cue a lovely morning of sunbathing and watching them play to their hearts' content. Winner.
Beach time
As one of the few hotels in Doha that is right on the shoreline, the Four Seasons has a beautiful beach to enjoy. The Things love making a good sandcastle and jumping in the waves which made for some lovely late afternoon pictures.
Couples spa time including a massage
One of the best massages I've ever had was at the Four Seasons Doha last year so I was super excited to have another one. I had assumed that Mr Wanderlust and I would tag team with the Things and have our massages separately. But when I booked our treatments, it was suggested that we might enjoy a couple's massage. It was so nice to get a couple of hours just the two of us! While many of the spa facilities are single sex and located in their respective changing rooms, the incredible hydrotherapy room is mixed. We enjoyed trying out all the different hydrotherapy pools and water just before heading off to be well and truly pampered. In case you're wondering, the massage absolutely lived up to my memories of it.
Kids club
The lovely staff at Kids Club took SUCH good care of our Things while we were in the spa. Their complimentary Kids For All Seasons and Too Cool for School programs offer memorable educational experiences for Things of all ages.
An added bonus if you're not staying there is that on Fridays the Kids Club spills out onto the lawn outside and activities courtesy of Gymboree are available to Things there for brunch with their parents as well as ones staying at the hotel. Complimentary Kids Club access is also available for Things attending Ribs and Noodles brunch on Saturday.
Catching up with 3 different sets of friends
When you go on holiday, it's just you. Which can be a nice thing. But we Wanderlusters are a sociable bunch and we like hanging out with our awesome friends. So we were thrilled to learn that friends (coincidentally the Things' best friends!) were at brunch on the Friday and so the four of them played happily in Kids Club all afternoon.
In the meantime a former colleague who had left Doha and returned came to meet me for a drink in the Pool Bar and Grill. It felt VERY civilised which isn't a feeling I'm used to when away with the Things!
Finally on Saturday, some more friends decided to come to meet us for Noodles and Ribs brunch at Elements. Perhaps one of the hidden food gems of Doha, this amazing brunch is on the Entertainer and you can basically eat yourself from here to Asia. It was really, really good.
Date night
We diligently avoided brunch so that we could go on our first date night in months (not something we are proud of!). By the time the Things were in bed I was dressed up and excited to head out with Mr Wanderlust. First stop was the Rooftop Bar at Nobu. With sweeping views of the Arabian Gulf and unseasonably cool weather (a chilly 28C!), we chatted away over a couple of their delicious cocktails.
Feeling suitably relaxed we headed over to The Pier. For those of you who don't know, The Pier is the Four Seasons' newest dining outlet. Doha's first and only seaside lounge, it offers Arabic fusion food and shisha flavours. Unable to decide what to eat, we decided to share some mezuzah including the Crunchy Soujuk Rolls, the Mexican Chicken "Shawarmito" and the Heirloom Tomato Salad. All were delicious and we headed back to our room refreshed and very full!
Haute cuisine
Over the course of our stay we enjoyed breakfasts at Elements, lunch at the Apres Spa Cafe, Noodles and Ribs Saturday Brunch at Elements, tea at the Pool Bar and Grill, drinks at Nobu and dinner at the Pier.
I can't believe we didn't even scratch the surface of the dining options. If you've never been before, I'd highly recommend checking out breakfast at the Pool Bar and Grill, brunch at Elements or Nobu and dinner at Il Teatro.
It wasn't the food and it wasn't the facilities
I'll say this ad nauseum to pretty much anyone who will listen but here's the thing. It's not the gorgeous hotel and sumptuous bedrooms that make the Four Seasons Doha special. The food is out of this world sublime but it's not that either. It's not even the incredible facilities.
It's the people. I've never stayed anywhere before where the service was so good. All. The. Time. You might think that being guests of the Four Seasons for our stay meant we got special treatment. And I would have to disagree. I'm a huge fan of the hotel and I spend time there on a regular basis – dining, using the spa, hosting events… You name it and I've probably done it there. I've never had bad service. Not once.
The staff are so friendly and helpful – literally nothing is too much or too little trouble for them. They seem genuinely concerned to make sure you have nothing but the best experience in their hotel.
And it's because of them that you do.
A complete getaway
It's hard to believe we weren't even there for 48 hours. With Mr Wanderlust's travel schedule we are both a bit tense most of the time. I mean not in a terrible way or anything, but we don't have loads of time to relax.
By lunchtime you could see it. It was in our body language and our expressions. We were already starting to unwind.
By the time we left, I felt like we'd had a proper 7 day break and all without the stress and jet lag that travelling brings with it!
And the best part?
Not a fan of cramming the whole family into a room together for the weekend? A staycation with the Four Seasons Doha is now cheaper than ever! One of their amazing offers is the special family package offers 50% off a second room booked meaning you can enjoy that bit more space together.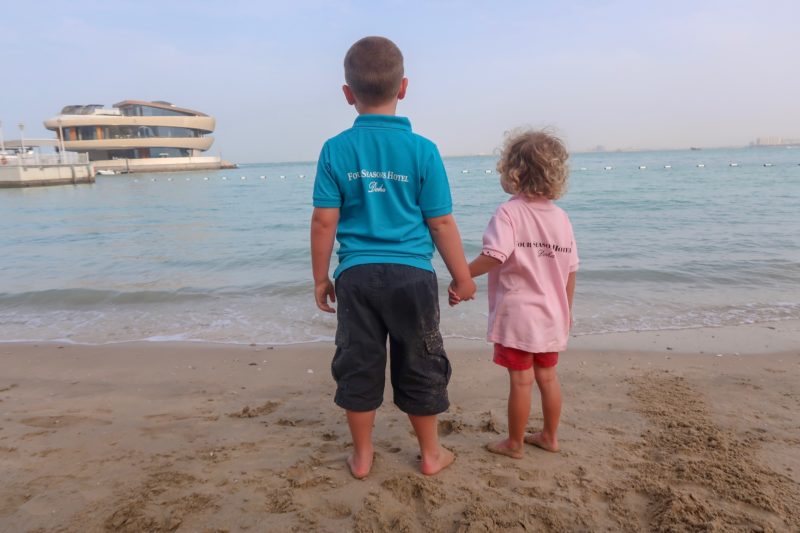 Disclaimer: we were delighted to be guests at the The Four Seasons Doha on this occasion. All opinions are honest and are my own. Want to know more? Check out the small print.