The lakes in northern Italy have been on my mum's bucket list for as long as I can remember! I don't know why they weren't high up on mine as they should have been. If they aren't on yours I recommend you add them IMMEDIATELY! We chose Lake Como but we could also have looked at Lake Garda or Lake Maggiore. Lake Como was recommended by friends and George Clooney has a villa there so if it's good enough for George it's good enough for us!
There's no way that this post will do the lake justice but I will try.
What to do
We were so busy! Every day had new and exciting activities all with the stunning backdrop of the lake and its surrounding mountains.
Lidos
We spent a lot of time at the lidos – most had pools and all had access to the lake. They aren't cheap (at the time of writing around €5 entry plus €5 per sunbed and they all require swimming caps at €3 a pop) but we really enjoyed all the ones we went to. By far my favourite was Menaggio Lido with a big deep pool, a kids pool and easy, shallow access to the lake. Almost all the towns we went to had a Lido (some without a pool):
Lido di Ossuccio (no pool)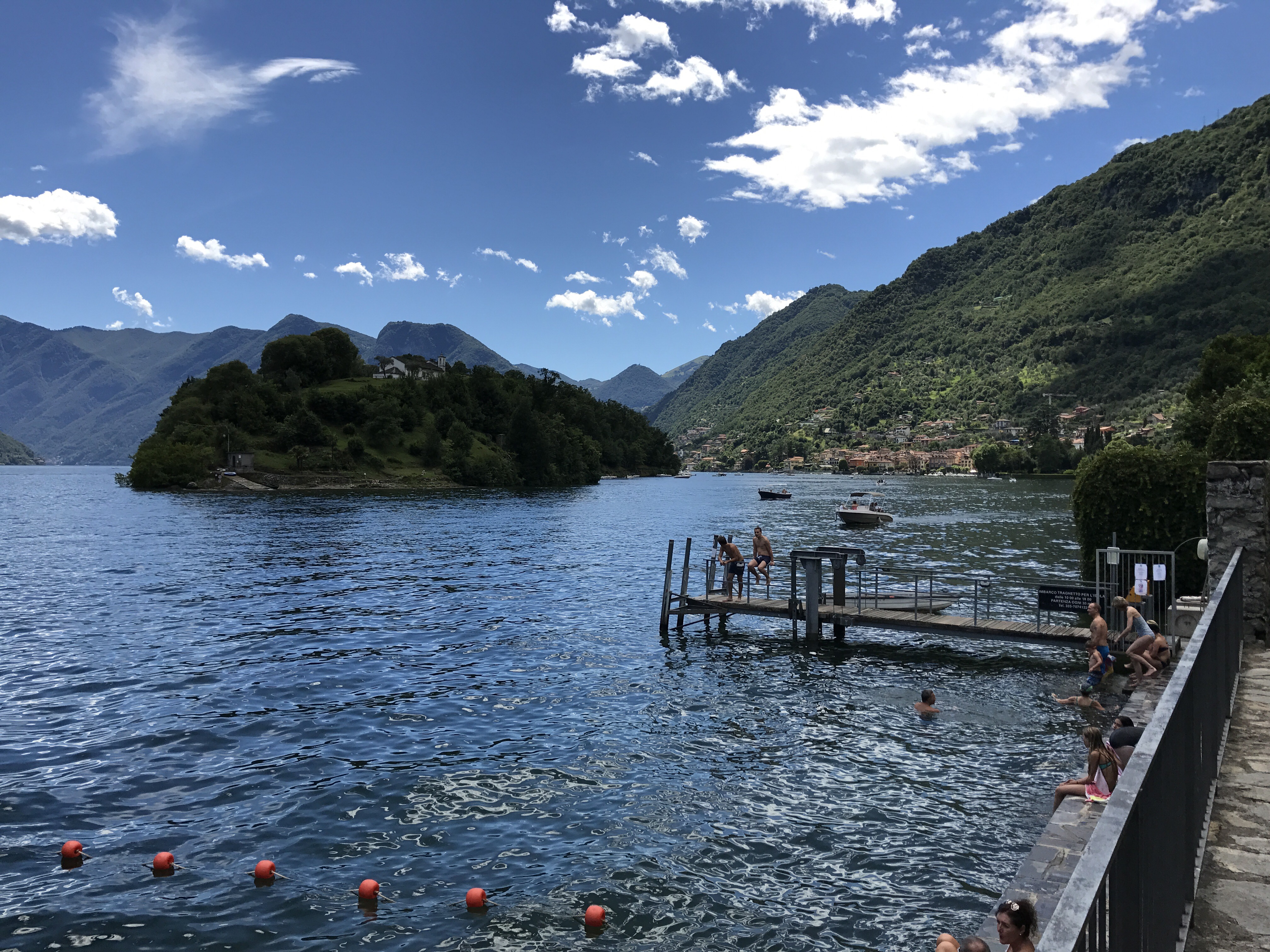 Lido di Menaggio
Lido di Cadenabbia
Lido di Argegno – assuming it has re-opened
If you're looking for inspiration in other areas of the lake you can find them here.
Towns
Lake Como is simply surrounded by gorgeous little towns and villages. I think you would be hard pressed to find a bad one!
Argegno
This was where we stayed so was our base. I had chosen the place for the Lido which was unfortunately (and inexplicably closed all week) but there are lots of other options there. It's a smaller and quieter town than some of the more well known towns. We actually liked staying somewhere quieter and travelling to the busier places.
Funivia (cable car) – take it to the cute little village of Pigra for some spectacular views of the lake (there are others dotted around the lake too)
Lido di Argegno – note this was inexplicably closed the week we were there
Bus to other Como towns
Ferry rides to other Como towns
Il Porto is a lovely lakeside coffee shop with spectacular views
There are a few other cute restaurants in Argegno to choose from
Menaggio
Menaggio – We loved Menaggio! It was a good distance from Argegno – far enough to get us out of the house but not so far we felt it was a mission.
Menaggio has the best crazy golf ever – you just can't argue with playing against such a spectacular backdrop.
It also has the best Lido (see above) that we went to.
Belaggio
Probably my favourite town, Belaggio was smaller than I expected but so picturesque I felt as if we had walked onto a film set or postcard.
Ferry – we took the ferry to get there and back, which was a hit with the kids and gave us lots of time to look around.
Tours – We chose to wander around at our own pace before lunch (we could have done a walking tour like this one) but decided to take a train tour afterwards as it was so hot.
The gorgeous restaurants and shops are so cute to wander around and choose from.
Lugano, Switzerland
We found Lugano rather disappointing in character after the delightfulness of the Lake Como towns.
SwissMiniatur – We started the day at this park which is a miniature Switzerland with lots of things to look at including loads of mini trains (one that you can ride on), mini cable cars and even a mini bobsleigh run (you can't go on that one).
We finished the day with a long play in a playground and a swim in Parco Ciani.
So while less spectacular and more expensive than Lake Como, it was still a really fun day out! If you are looking for more kid friendly activities or are in the area for longer then check out Expat With Kids' blog post.
Villas
There are so many old villas on the lake that it is hard to choose which ones to visit.
Some have been converted into spectacular hotels or wedding venues.
We were lucky enough to see lots from the boat that we hired and we also chose to go into one called Villa Carlotta.
Other
Boat Hire
We were thrilled to find a boat hire place able to offer us a speed boat on the day we decided we wanted one.
Comacina Boat Hire had great boats (all with GPS tracking in case you get lost) and we were really impressed with the rental briefing.
We hired a boat for 4 hours and didn't need it all (but went to 3.5 hrs).
I got a bit seasick (on a really flat calm day!) but it was all worth it for the smiles on everyone's faces.
Where to eat
Lugano – Ristorante Giangusto Gargantini made some of the most delicious sandwiches we have ever eaten (even my fussy kids who don't eat sandwiches ate them) with a corresponding Swiss price tag. We were shocked at the Swiss prices while we were there.
Bellagio – we ate in a cute little restaurant and had coffee in 2 others. Our lunch choice was mainly driven by sitting inside instead of in the head and on a steep cobbled street). You can take your pick from the amazing choice here.
Menaggio – we ate at the lido one day (pretty basic menu choices) and at the crazy golf another day (better).
Argegno – we loved Il Porto cafe by the lake and there was a nice courtyard with a few other cafes too.
Where to stay
After a week on the coast and in a villa with a pool it was quite different. I had been regretting not getting a place with a pool but it was actually fine. You don't realise until you get there how much there is to do? If you book in advance there's no shortage of accommodation to choose from. Even though we were in a rented house without a pool the quality and value were incredible and the host was really helpful.
Top tips for Como with kids
I can't say enough good things about Lake Como and would be happy to talk to anyone at length about what to do and where to go. Here are my top 5 things to do with kids in Lake Como:
Cable car – no matter where you stay there are lots of Funavia's around the lake. You get some incredible views from the top.
Boats – be it a ferry or private boat rental, this is a superb way for seeing the lake and your surroundings. It keeps the kids occupied although they probably should be past the wriggly can't sit still young toddler phase if you want to go down the hiring route.
Train – most of the towns seemed to have a tractor train tour. Again it is a good way to see more while avoiding tired legs and whinging kids. In fact it is even a treat for them!
Mini Golf – we loved the mini golf in Menaggio so much that we went twice! I guess it stands to reason we would recommend it. The views were so beautiful and the kids were so happy… It makes sense to include this in your itinerary.
Lidos – as I mentioned before, there are lidos all over Lake Como. They provide the best access to swim in the lake. We went swimming 4 days our of the 6 we were there so they were great for us.
My conclusion? If you hadn't gathered already Lake Como is an awesome place to visit with or without kids and should definitely be on everyone's bucket lists!
Top tip! If you have an extra day, why not spend it in Milan – the fashion capital of the world?! Here's what Parenthood and Passports think you should do!
Not going to Lake Como but going to Lake Maggiore instead? Travel Loving Family has you covered!