Talk about an expat wife and you think of a gin-swilling platinum blonde who probably plays tennis every morning before lunching with her 3 closest friends (dah-ling) and drifting off to buy some designer clothes.
I'm exaggerating and you know it because you know my feelings about stereotypes particularly when it comes to ones about expat wives. But then I go and do something like have 2 brunches in 2 days and I start to feel a bit sheepish about being so defensive haha.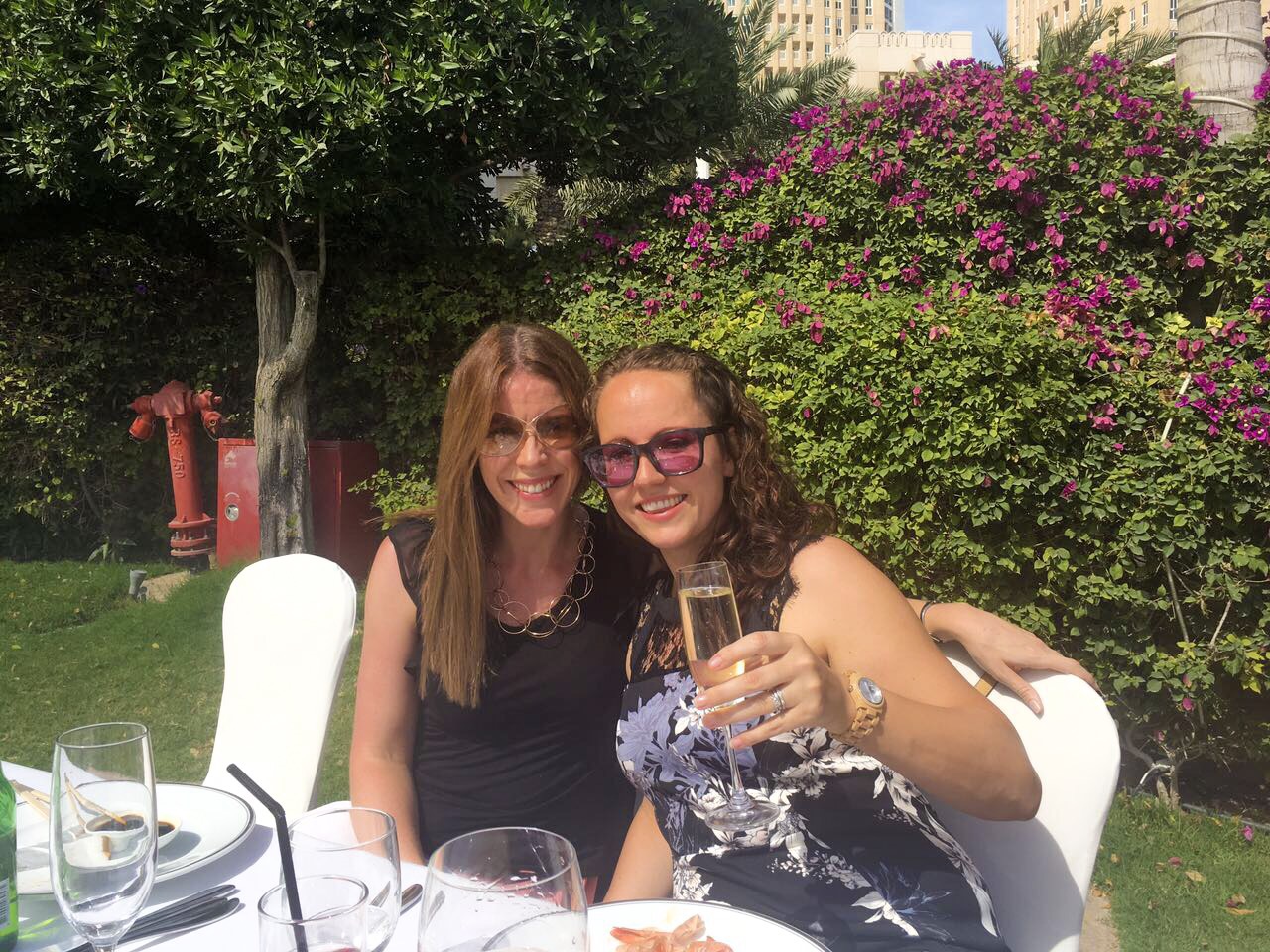 Brunch in the Middle East
Now it's not just expat wives who are lushies when you're in the Middle East, I think most expats here (at least the ones who drink) are pretty renowned for overindulging from time to time thanks to the brunch concept. Brunches in Dubai have to be the most infamous in the region with the ridiculous indulgence at the likes of Bubbalicious, Yalumba, Saffron, Al Qasr or Sky Dubai.
Brunch in Doha
Doha is definitely a less renowned affair all round and brunch is no exception. But just because the brunches aren't as well-known, it's not to say they aren't amazing in their own right. The hotels in restaurants in Doha have had to cater to a very diverse market here with the footloose and fancy free still demanding a good time but the family element of the expats here meaning parents are looking for something else too.
So Where Did I Go?
I don't want to bore you with a list of all the brunches in Doha especially since it would be out-of-date. Suffice to say there are many. They are on Thursdays nights and Friday afternoons AND Saturday afternoons. Don't get me started on what the definition of brunch is because it really should be over and done with by 12.30pm but that's another blog post rant.
A girlfriend had a big birthday coming up. She decided she would like a party at Nobu to celebrate so the planning began with 30 people RSVPing and a couple of Type A party planners as friends. I was pretty excited. I'd only been once before and it had been our first ever brunch. I had memories of eating my body weight in sushi, an a la carte menu of Nobu's signature dishes (so hard to choose just one) and the world's most delicious cocktails.
Why 2 Brunches?!
In the lead up to the event a text came through from another friend (the super positive one). She wanted to know if we'd be interested in going to the brand new Saturday Doha Golf Club Picnic Brunch by InterContinental Doha Hotel & Residences. Mr Wanderlust was travelling, due back at 5am on the morning of the Nobu brunch. Were we interested? I asked. Definitely! He replied. Even though you'll have just arrived off an overnight flight and been to Nobu the day before? I wanted to be sure he understood the dates in his jet-lagged haze. Even then. Came the reply.
I should never have doubted his desire to be at the golf club even if he wasn't there to hit balls. Shame Thing 2 ended up getting ill and he had to stay at home with her. (There's irony in there somewhere!)
So here I was about to have 2 brunches at complete opposite ends of the spectrum and I thought it would be fun to compare them!
The Food
Nobu
I feel like Nobu's name goes before it, conjuring up images of exquisite Japanese food.
The brunch lived up to its name and to my memories. We enjoyed sushi, maki and sashimi starters from a buffet as well as a selection of plates brought to us.
The a la carte main courses were, almost all completely well executed (the wagyu gyoza was deemed too different for a palette accustomed to raw fish and cocktails). The rock shrimp salad (ever my favourite) was as delicious as ever and the black miso cod looked incredible. The guy opposite me had steak which was also amazing.
I'd love to tell you more about the desserts but (and this is why I'll never be a good foodie), I was too full to eat anything but one of the small chocolates on the dish I had ordered (it was delicious).
Doha Golf Club Picnic Brunch
Almost as soon as we arrived, a beautiful picnic basket tied with a bow was delivered to our table.
It was so exciting to open it revealing sandwiches, hummus, salad, biscuits, marshmallows, sparkling grape juice and so much more.
One of the servers explained about the food stations under the main gazebo and I set off to explore. Thing 1 by this point (Things 2 was sadly at home with Mr Wanderlust – oh the irony) had completely disappeared into one of the inflatable games.
Out of the options available (Mexican, Grilled Meats, Pasta, Asian Stir Fry and Shawarma) I decided to start with a couple of quesadillas and some shredded chicken. They were ostensibly for Thing 1 but when he failed to materialise I ate the lot. They were delicious! He proceeded to eat around 2 chicken nuggets the entire time we were there as he was so busy playing!
We were very pleased with the rest of the food – the grilled prawns and steaks were delicious and one of our group had some pasta which looked and smelled divine. He reported that it was, as was the cheeseburger that someone else had ordered.
Dessert was a simple affair with a platter of fruit and another of small cakes and mini desserts – both were also delicious.
The Atmosphere
Nobu
I mean, Nobu has a je ne sais quoi about it from the moment you walk in the door. It really is a beautiful restaurant and honestly I think it's at its best during the day. It is super bright and airy with stunning views of the bay.
Both times we have been to brunch in Nobu we have been with a really fun crowd of people which has totally made the experience. I think you could be in the most fabulous place in the world but if you're with bad company you'll have a bad time. And vice versa. But Nobu makes it pretty easy to have a great time!
Intercontinental Picnic Brunch
The set up at the Golf Club was really lovely. Picnic tables with (optional) sunshades sat next to a large shaded area where all the food stations were.
The picnic tables were set out with retro checked tablecloths and multicoloured glasses. It was pretty striking as you walked in. Around the edge were various drinks stations and some inflatables for Things to play on. It was such a relaxed atmosphere for the whole afternoon. We sat in the sun (and some wind but it actually wasn't that bad) and chatted away while Thing 1 played with his friends.
The Service
Nobu
The guys at Nobu and the Four Seasons Doha really have service nailed. I happen to know a couple of people who work there and when they ask me how something has gone I always tell them it was amazing. As normal!
Since we were an enormous group (27 people!), I should imagine we took a bit of handling. We didn't even sit down for 20 minutes as we were all too busy chatting but the staff took it all in their stride. I wasn't without a drink or water the entire time we were there. Plates were cleared within minutes of finishing to make way for yet more sumptuous food. I never felt rushed or that I was looking around to get someone's attention. Basically they got it just right. (Seriously, I think I'm goldilocks).
Intercontinental Picnic Brunch
The wait staff at the Golf Club were very attentive and we rarely had to look around for long to find someone. Because the food was made to order at the cooking stations we did find that this was a little bit slow as there weren't enough chefs on hand to cook at the peak times.
This was only the second week of picnic brunch running and they made a point of coming to us and asking for feedback. They explained that the week before the opposite had happened and that they were very grateful for our feedback. I would be surprised if this was a problem even next week as they seemed genuinely interested in what we had to say and it seemed like they were taking it all on board.
The Cost
Nobu is up there among the most expensive brunches in Doha at QR 510 including alcoholic beverages and QR 355 excluding them. I would argue that the additional money that you pay is worth it for the quality of food and service.
The Doha Golf Club Picnic Brunch by InterContinental Doha Hotel & Residences is at the complete opposite end of the spectrum. At QR 185 per adult (children under 6 are free of charge) it is great value for money. We spent the entire afternoon there, the Things had an absolute blast and the food was really great quality.
The Verdict
There are so many great places to have brunch in Doha and there really is something for everyone. Looking for something Nobu and Doha Golf Club Picnic Brunch by InterContinental Doha Hotel & Residences are definitely 2 of my favourites. A good brunch needs to be great quality (food and service) and good value regardless of the actual cost and these have both those elements.
The final touch? Awesome company!
Disclaimer: we were guests at the Doha Golf Club Picnic Brunch, all opinions are my own. Want to know more? Check out the small print.