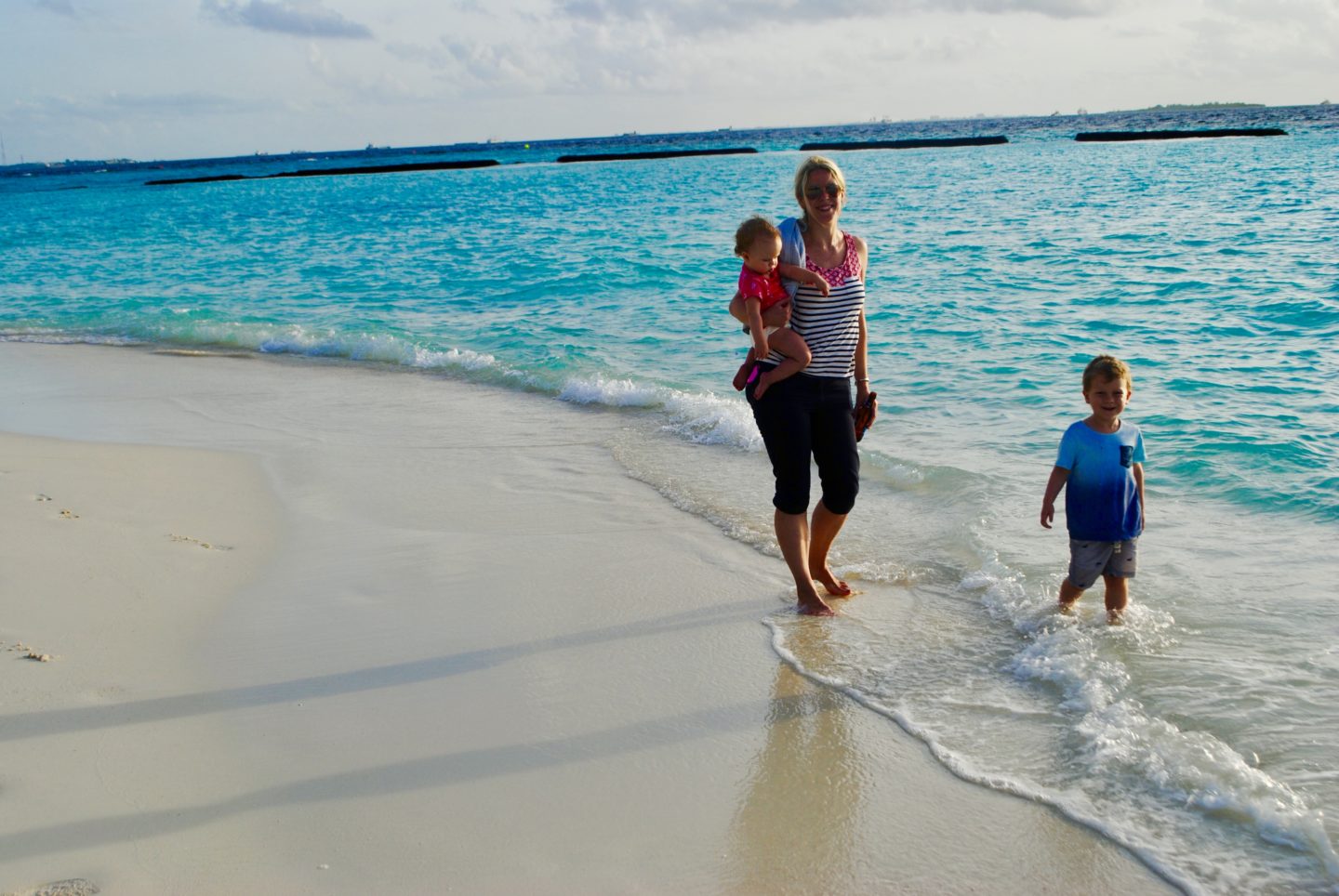 A couple of years ago, I started one of those chat enquiries with a travel agent online. "Hi!" types the chirpy agent at the other end. "How can I help you today?" I didn't know where to start. I couldn't be the only one who didn't know how to choose a Maldives resort?! Surely that was why such agents existed?!
A holiday in the Maldives
"We are looking at booking a holiday in the Maldives…" I say.
I'm a bit nervous. I have no idea if we even have enough money to do this so I've contacted an agent who specialises in Maldives family holidays. We usually book our own travel and accommodation but the choice is overwhelming.
I know, I know. Life is so hard choosing between incredible 5* luxury resorts in a place that can only be described as paradise. First world problems and all that.
But back to my story. "Sure thing!" she writes back (super chirpily). "Can I take a few details? And can I ask why you have contacted us?" I give her the usual information – 2 adults, one toddler, one baby. I supplied the dates of travel and a budget.
"Great!!!" She types. She uses lots of exclamation marks and I'm imagining she's the sort of person who is all sparkly even at 5am on a cold, rainy day in London. "Can I ask what else are you looking for?"
I hesitate.
What else do you want in a Maldives resort?
Sandy beaches? Crystal clear waters? Nice food? Comfy bed?
Aren't all those things features of a Maldives resort?!
"Well, I think we would like to go to one of the larger islands" I type. "You know, with a few restaurants. I don't want to eat all 3 meals in the same restaurant for a week. We'd like to be able to take a walk around the island and for it to take longer than 3 minutes. We will be getting off a long flight with 2 unpredictable kids. So maybe somewhere that's not too far from the mainland."
I pause.
"Oh, and a kids club – they don't need to take the kids but it would be nice to have some place that we can take them to play." I already knew most places wouldn't take the Things as they were so little.
There is a long pause at the other end.
Finally, she asks if there is anything else and I say no.
"That's not really specific enough," she concludes. "How can you expect me to choose a resort out of all the ones we have here? Almost all of them will offer you these things."
…..
…..
…..
I was flabbergasted.
Too MUCH choice?
I fought back the urge to write back in caps "WELL IF YOU CAN'T CHOOSE THEN WHAT HOPE DO THE REST OF US HAVE????". I made my apologies for being such a difficult customer (!!!!!!!!) and left the conversation.
We did go to the Maldives as a family that year but, unsurprisingly, we didn't go with that Maldives agent.
Overwhelming choice
You may find it interesting to know that Mr Wanderlust is actually the one who does most of our booking. I will quite often do a bunch of research especially if it is the sort of holiday where we are direct booking. But I get a bit deer-in-headlights overwhelmed sometimes.
The amount of choice is crazy these days with resorts, hotels, bed and breakfasts and holiday rentals. My FOMO means I have a bit of a struggle actually pulling the trigger. Do we really want to go there? We've been before. We really want to go to this place too. Maybe we should go there? I think this house looks awesome…. But what if I've missed something? Maybe I should just check again… Granny Wanderlust says I have the patience of a saint dealing with the Things sometimes (she's right) but Mr Wanderlust takes patience with me to a whole new level.
How to actually find the perfect family resort in the Maldives
Mr Wanderlust did some research and found another travel agent specialising in the Maldives. This time it was much more straightforward. We gave them our criteria and they made some recommendations. Based on their feedback, we booked our Maldives holiday, sorted our flights and a few weeks later we were in a delightful resort called Kurumba which ticked all the boxes I'd asked Miss Chirpy for.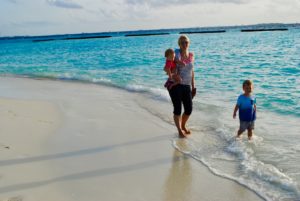 This year, even though it wasn't in our plan we decided we needed to get away and quickly booked a long weekend away. The embargo means there aren't loads of (warm) options for a late October break. We had had a wonderful time in the Maldives 2 years ago so we jumped at the chance to go again.
How Do You Choose?
There is just SO much choice in the Maldives (over 70 resorts!). Here are some tips for narrowing down your search:
If you are travelling as a family you can eliminate some resorts which are couples only.
Have you got a long inbound flight? Do you want a long wait in Male followed by a long transfer?
Do you get motion sick? These are little boats and planes. Chances are everything will be flat calm but you never know. Short transfers could be a safer bet.
What time will you arrive? Most seaplane transfers can't leave after 4pm. A late arrival (scheduled or delayed) could mean spending a night on Male. (Not necessarily a bad thing – day trips to Male are increasingly popular).
Do you want a Kids Club? Do your kids? Even if you don't want to use the child care, we find hotels with kids clubs can more accommodating towards kids. E.g. more likely to have baby equipment and a decent kids menu.
Are your kids toddling about or are they teenagers? We had a garden room to be away from wandering into the sea or off the side of a water bungalow. Some resorts have a minimum age for children sleeping in the water bungalows.
If your kids are napping, is there a space where the adults can go? (Lying silently in the dark was never my favourite thing to do. Nor was sitting in the bath / on the toilet reading a book or eating my dinner).
What is your budget and what does it include? For example, an all inclusive price will be more expensive than bed and breakfast in the same room. If you set a budget but don't say what it should include then B&B at booking will mean your total holiday cost is higher. That might be ok for you. Know that seaplane transfers are always considerably more expensive than speedboat transfers. If you want to get that iconic view looking at the atolls from a seaplane then some resorts offer seaplane transfers one way with a return by speedboat.
Be aware that your resort will have you as a captive audience. Food and drink will be expensive because… well, you literally have no choice.
Are you looking for a more authentic experience? You can do the Maldives on a budget quite easily by staying in a homestay or guesthouse. You won't get the luxurious hotel packages or be able to drink alcohol. But you'll save a ton of money and get to see the real Maldives.
There are still too many family resorts in the Maldives!
Even having thought about all these things, you won't be able to narrow down your search by much. What's more, the prices you would find yourself on a site like, say, booking.com are going to be more expensive than through some agents.
You need Maldives specialists
Against all our instincts, for both bookings we have used a travel agent. They're just one we found on the internet and did some research on to make sure they were reputable.
It's always worth checking these people out. I found another agent with a quote that was $500 cheaper for the exact same room, rate, etc as the one we ended up using. When we did the background checks we remembered that things that look too good to be true generally are.
That being said, our agent was $200 cheaper than another one that had been recommended to us by a friend. All the agents we got quotes from were cheaper than the booking sites AND included extras such as free room upgrades or kids eating free.
What if you're short on time or money?
I've never stayed on Male or even done a day trip there. If you're only around for a couple of days or are looking to keep costs down then this is a great way to do it! Soujourning in Life has some great tips for you if this is your plan.
Here's the exciting news!
The agent we used for each family trip to the Maldives is called Purely Maldives. I loved them so much that I wanted to recommend it to everyone we knew and I did! This isn't a Purely Maldives review nor am I receiving any compensation from them for this recommendation or for you booking with them. I just really like them.
I quickly realised lots of you were taking my advice so I asked the team if they would give some sort of incentive to my readers for booking with them…
And they said YES!
Bear in mind that Purely Maldives was the cheapest agent that we found on a like for like basis (except the too good to be true one). In addition to that, they have given us great advice and we've had upgrades on our stays (obviously that can't be guaranteed).
AND they are now offering Wanderlust and Wet Wipes readers an additional $50 off their website pricing!
You can contact Purely Maldives in the following ways:
I'm super excited about this as it is the first time I have pitched to anyone so it is great that Purely Maldives said yes and that it is to your benefit! So go, book, travel, relax and have fun.
xxx