This is the fourth in a 6 part series of posts – Jordan Adventures Part 4 – Wadi Rum.
Living in the Middle East, we took it for granted that we would visit Jordan while we were here. Even before we arrived I knew it was somewhere we should go. After 2.5 years here and hearing such inspiring stories from our friends it became a must-do destination.
There are 4 other posts on each of the places that we visited in Jordan. There is also a post on the itinerary we took (and would recommend) which you can read as more of a quick read. If you don't have time to read all 5 posts, watch out for it as it will include details on different length itineraries, when to go and what to take. It will come at the end of this series.
Other posts in this series include:
Aqaba (Red Sea)
Itinerary
Background
Jordan
When you think about Jordan you probably immediately think about Petra. You might even think about floating in the Dead Sea. There is SO much more to Jordan than I ever realised until we started planning this trip.
History
Officially known as the Hashemite Kingdom of Jordan, this little country of just 6.5 million people and occupying an area of a little under 90,000 sq km is unique in so many ways. Just starting with its history – it has been inhabited since the Paleolithic period. It has seen the highs and lows of a number of empires including the Nabateans, the Romans and the Ottomans and was once a British Protectorate. A number of serious earthquakes in the region over the years have had the effect of changing the various fortunes of its cities and regions.
Now in modern times, Jordan often finds itself in the middle of a number of conflicts going on around it -both in neighbouring countries and across the region. It has striven to maintain neutrality in ever increasingly tense situations, has succeeded in maintaining a generally peaceful and safe territory, and is now home to millions of Palestinian and Syrian refugees.
Security
One of the first questions people asked us when they heard we were going to Jordan was if it was safe enough. Despite facing increased instability since the Arab Spring in 2011, security has been pretty tight since some high profile attacks in 2005. I know there were some attacks again in late 2016 but, to be honest, I think you could just as easily be caught up in attacks in London or Paris as in Jordan. We were relieved that we felt very safe during the time that we spent there.
Attractions
Jordan is a major tourist destination in the Middle East and, indeed, the world. Iconic photos of the Treasury and Monastry at Petra and of people floating in the Dead Sea are what attract tourists here. But ancient ruins, desert landscapes and the beautiful Red Sea are all additional delights that made us keep extending our itinerary as we planned it.
Wadi Rum
Leaving Petra and heading to Aqaba we decided to stop in Wadi Rum (literally Roman Valley but also known as The Valley of the Moon).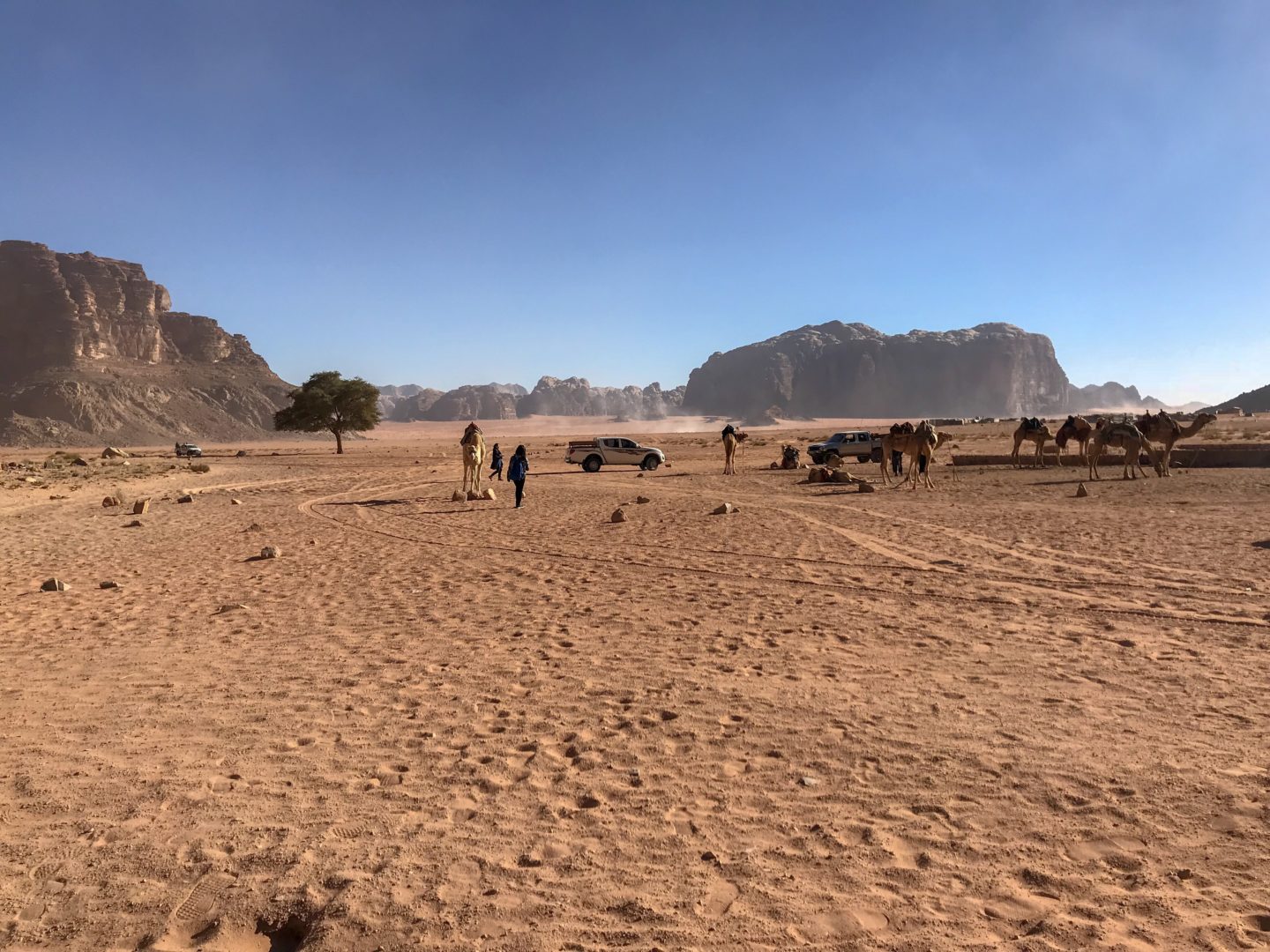 Called a hidden gem by many other bloggers, we wanted to experience desert camping, Bedouin style. This valley is the largest in Jordan and is made of sandstone and granite rock. Wadi Rum is best known for its connection to British Officer T. E. Lawrence – "Lawrence of Arabia".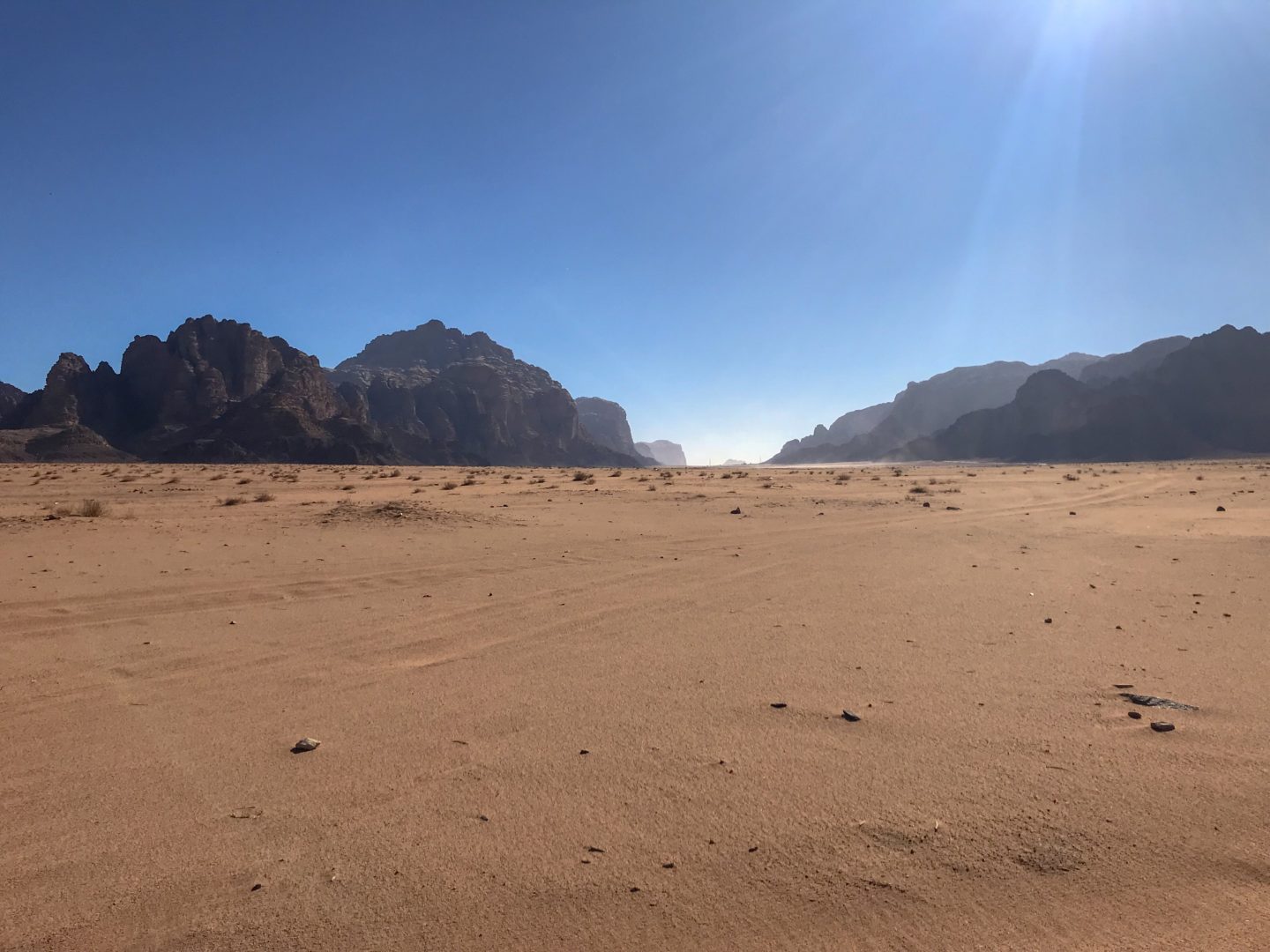 What to do
The best way to see Wadi Rum is to be driven round by a Bedouin driver. Our driver was awesome, spoke excellent English and was brilliant with the Things. He is the preferred driver for Petra Nights Tours and we were really happy to have him drive us around.
We went to see an old train at the station, a beautiful sand dune (although coming from a country with beautiful sand dunes we were impressed with the colour of the sand but that was about it!). He took us to drink Bedouin tea, to see rock formations and ancient inscriptions in the rock before driving across the desert to get to our accommodation.
[easy-image-collage id=1725]
Where to stay
Sun City Camp was our incredible accommodation for the night. We had originally been disappointed that it was not recommended to "camp" (or glamp) while in Wadi Rum during the winter months. The disappointment was short lived after we were offered Martian Domes instead.
These incredible structures had AC / heating, beds, hard floors, en suites and hot water.
But the most amazing this about them was how they looked. It really was like we were on Mars!
Where to eat
Accommodation in Sun City included dinner the night that we stayed and breakfast the next day. The cooking of the evening meal was amazing as it was buried in the ground and, before dinner, we were treated to a display of it being dug up and revealed!
[easy-image-collage id=1726]
There wasn't masses that my picky Things would eat but there was enough that we could convince them to have.
Getting there
International arrivals
Flights arrive daily into the very civilised King Hussein International Airport in Amman. Royal Jordanian Airways is the local carrier but your country's own carrier may well fly direct. Alternatively there are a variety of Middle Eastern airlines who may fly you via their hub for a more competitive price.
From the airport
Chances are if you are coming to Wadi Rum, this is part of a bigger tour for you whether self driven of through a tour company. I'm not aware that there is any other way to get to Wadi Rum.
Getting around
In Wadi Rum
I'd really recommend a driver for this part of your drive. It saves you getting lost in the desert (not cool… literally) and means you can see the main sights quickly and easily.