This is the second in a 6 part series of posts – Jordan Adventures Part 2 – the Dead Sea.
Living in the Middle East, we took it for granted that we would visit Jordan while we were here. Even before we arrived I knew it was somewhere we should go. After 2.5 years here and hearing such inspiring stories from our friends it became a must-do destination.
There are 4 other posts on each of the places that we visited in Jordan. There is also a post on the itinerary we took (and would recommend) which you can read as more of a quick read. If you don't have time to read all 5 posts, watch out for the itinerary post which will include details on when to go and what to take. It will come at the end of this series.
Other posts in this series include:
Background
Jordan
When you think about Jordan you probably immediately think about Petra. You might even think about floating in the Dead Sea. There is SO much more to Jordan than I ever realised until we started planning this trip.
History
Officially known as the Hashemite Kingdom of Jordan, this little country of just 6.5 million people and occupying an area of a little under 90,000 sq km is unique in so many ways. Just starting with its history – it has been inhabited since the Paleolithic period. It has seen the highs and lows of a number of empires including the Nabateans, the Romans and the Ottomans and was once a British Protectorate. A number of serious earthquakes in the region over the years have had the effect of changing the various fortunes of its cities and regions.
Now in modern times, Jordan often finds itself in the middle of a number of conflicts going on around it -both in neighbouring countries and across the region. It has striven to maintain neutrality in ever increasingly tense situations, has succeeded in maintaining a generally peaceful and safe territory, and is now home to millions of Palestinian and Syrian refugees.
Security
One of the first questions people asked us when they heard we were going to Jordan was if it was safe enough. Despite facing increased instability since the Arab Spring in 2011, security has been pretty tight since some high profile attacks in 2005. I know there were some attacks again in late 2016 but, to be honest, I think you could just as easily be caught up in attacks in London or Paris as in Jordan. We were relieved that we felt very safe during the time that we spent there.
Attractions
Jordan is a major tourist destination in the Middle East and, indeed, the world. Iconic photos of the Treasury and Monastry at Petra and of people floating in the Dead Sea are what attract tourists here. But ancient ruins, desert landscapes and the beautiful Red Sea are all additional delights that made us keep extending our itinerary as we planned it.
Dead Sea
The Dead Sea sits right on Jordan's border with Israel and the West Bank and on a clear day you can see right to the other side. At over 400m below sea level, the Dead Sea has hypersaline waters (around 34% salt). It is more than 9 times more salty than the ocean and it has its name because neither plants nor animals can live in it. The salt water and mineral rich mud are supposed to have healing properties particularly for ailments such as Psoriasis, Rhinosinusitis and Osteoarthritis. The Dead Sea levels have been shrinking at an alarming rate and they continue to fall. Since the area is so flat, this has a dramatic impact on the surface area.
[easy-image-collage id=1498]
Where to stay
We stayed in the very nice Mövenpick Dead Sea Resort and Spa and were very happy with the resort. We've been disappointed in the past after asking for adjoining rooms and not getting them. All three Mövenpick hotels were able to accommodate our request!!!
We really liked the layout and style of the hotel which boasted a number of pools, a man-made beach and direct access to the Dead Sea via their own private beach. Beware of off-season work: We hadn't realised at the time of booking that a number of the pools would be too cold to use or that not all of the restaurants would be open. That being said I would definitely return to the Mövenpick if we were to go back.
Other friends have stayed at the Kempinski and also were very happy with it. Check out Family Travel Middle East for more information on where to stay in the Dead Sea.
Discounted bookings
Another thing to know about is that most GCC countries have a discount book and app called The Entertainer which is usually available for the equivalent of around $125. This app includes a number of 2 for 1 offers including at selected hotels in other GCC countries including Jordan. If you're considering staying at the Mövenpick it's worth buying the app as you'll make your money back with a single night's stay.
What to do
There are 2 main reasons to go to the Dead Sea. One is to bob about like a cork in the highly saline waters. The other is to smother yourself in the mineral-rich mud from the sea.
Dead Sea floating experience
Starting with floating around in the sea, it's a very odd sensation from the second you get in the sea. Due to the high salt content, the water feels quite thick and almost syrup-y! It's the weirdest feeling just bobbing about in the water, literally unable to sink. I'll never forget looking over at Thing 1, surrounded by mist and completely vertical in the water even though he was out of his depth. He had the biggest smile on his face and was loving every second.
That right there, Wanderlusters, is why we are such crazy travellers. In that one moment it was all worth it.
A word of warning
The rocks on the way in are quite sharp and scratchy with salt deposits all over them. Since your body isn't used to the buoyancy in the water, it's really hard to keep your balance getting in. Even once you're in, it's quite hard too! If you fall over you can scratch yourself up a bit. Little kids will need help getting in and out. We used flip flops and crocs on our feet which were fine but if you have sandals with straps such as Reefs (we didn't) then those would be better. The Mövenpick has a really lovely lifeguard on hand to help people in and out of the water. More about him later.
Additional warning
The high salinity also means that sensitive little skin, cuts and eyes may start stinging at any time from point of entry to point of exit. We had read horror stories about children getting in and within seconds screaming the place down from the pain for half an hour after. I was pretty sure that was going to end up being us.
What happened to us
Thing 1 (usually with a very low pain threshold) was absolutely fine and had an absolute blast. Thing 2 was less lucky but managed a few minutes before she started complaining that her skin was stinging. An accidental splash from her brother got water in her eyes – it was game over and the screaming started. This was where the lovely lifeguard really came into his own. He hustled us out of the water and, instead of directing us to the shower, he grabbed a nearby hose (not his first rodeo I suspect) and doused her in water. The screaming stopped and peace returned.
Apart from making sure the Things are ok, once you are in the water, the only thing left to do is giggle at the weirdness of the sensation of just floating and to take your stereotypical tourist photos.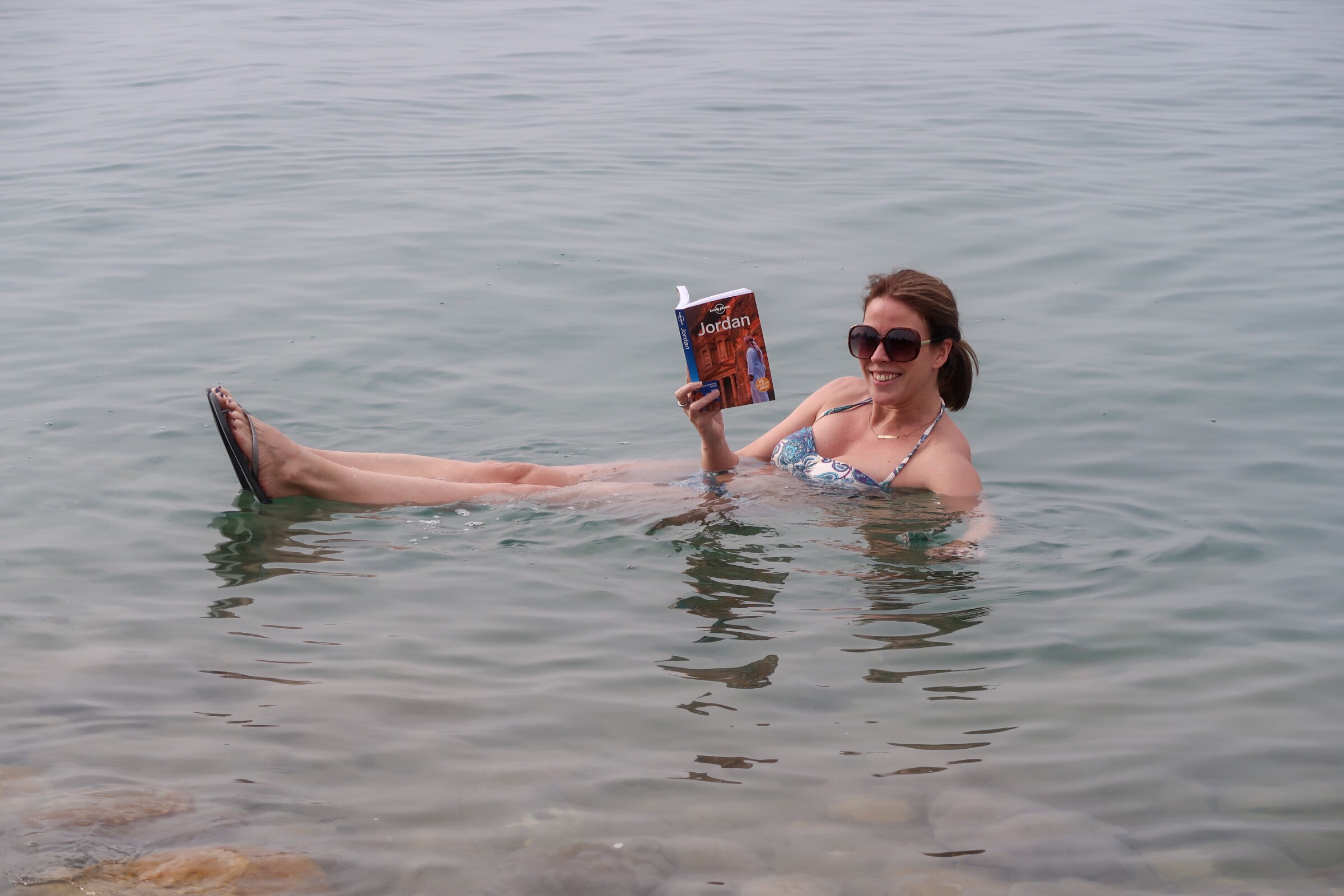 We actually went in twice on the day we were there. Who knows when we will return (if ever) and it seemed silly to waste the opportunity.
Muddy puddles
Forgive the Peppa reference but if ever there was a time for the Things to get completely dirty and covered in mud this was it. And they didn't want to! We were all over it though and slathered ourselves in mud from our faces to our toes!
In the afternoon (on the second visit) Thing 1 decided he would have a go and it turned out to be a highlight of the trip for him, if only for being proud of himself for pushing himself outside of his comfort zone. Thing 2 was still having none of it lol.
Spa treatments
If you have time, a spa treatment using Dead Sea products is also a great way to relax. We enjoyed a couple of facials and a mud wrap while we were there. When Mr Wanderlust expressed disappointment that his treatment hadn't lasted as long as was advertised he was immediately offered a complimentary massage. I do love it when a hotel gets customer service right!
History / Culture
There are a number of places near(ish) to the Dead Sea which are interesting to see on the way in or out of the area:
Mount Nebo is high up in the hills behind the Dead Sea and is mentioned in the Bible as the place where Moses was granted a view of the Promised Land. We visited a basilica at the top which had been build on and inside the remains of a Byzantine church. Inside were amazing mosaics on display from different periods in history.
St George's Church, Madaba – a mosaic map (probably the oldest in the world) dating back to AD 560.
Just outside Madaba is a lovely mosaic factory which sells the work of artists with disabilities. I found the explanation of their art absolutely fascinating and proceeded to buy a few souvenirs.
Other activities
Never mentioned nor recommended to us when planning the trip, I did some research on our return to find there are actually a few other things to do around the Dead Sea including:
Crocoloco Crocodile Farm
Ein Gedi Botanical Garden
Lot's Cave
Neot HaKikar Park
Since not even the tour agency recommended these activities to us, I'd assume that they shouldn't take priority over all the other activities in the area.
Crossing the border
I know some people who have gone on day trips to Jerusalem. We didn't have time for this on our trip but it is possible. If you are travelling with a tour operator like Petra Nights Tours they will be able to help you with the logistics (visa, driver, etc) of including it in your itinerary.
Where to eat
As I mentioned before, there weren't masses of options for us since some of the restaurants were closed. We were pleasantly surprised by Luigi's there. The food was decent and had good options for the Things which is always a winner for a family with picky eaters. We ordered room service one evening having put both Things to bed in one room and that was also pretty good.
The buffet breakfast was quite run-of-the-mill. We liked it well enough but nothing in particular stood out as amazingly good or bad.
What to bring
As with all the destinations we visited in Jordan (and, in fact, all destinations in general), this depends on when you go. Main common sense should really prevail for any season.
If you go in summer then you'll need lots of suncream for hanging out in the Dead Sea and the pool all day if that's what you're doing. In the winter you will need layers and decent jackets if you are heading up to Mt Nebo.
At any time of year you will need old swimming costumes (ours were fine but apparently some don't survive the mud and salt). I'd recommend some decent beach shoes with straps as crocs and flip flops can fall off (or float off) but you can manage if that's all you have. As always, take plenty of water on any day trips out. In the hotel it is easier as you are never too far away from your room or from one of the dining outlets.
Getting there
International flights arrive into Amman which is around a 1.5 hour drive away. If they are doing a tour, most people I know either have a driver for the duration of their stay or have hired a car. If neither of these options are of interest you it's probably best to contact your hotel to arrange a transfer.
Getting around
There's really very little need to go anywhere once you are in your resort in the Dead Sea. As public transport is reportedly non-existent or inconsistent, you'll need a driver, your own car or a hotel shuttle to go anywhere.