Are you in planning mode? I know I am! My page views are up suddenly this month which makes me think you're all looking for inspiration. So do you want to know what the best family holiday destinations are in 2019? Here are my top picks for the year to come!
Now bear with me, Wanderlusters, this is a long post. If you haven't got time to read everything, feel free to save it or Pin it for later. Or you can click on the hyperlinks in the list below to navigate between destinations.
If you're one of my lovely Stateside readers then I'm sure you'll be disappointed not to see any US based ideas in this list but don't worry – Tanya from Rad Family Travel has a great list to inspire you!
Best family holiday destinations for 2019
Best family holiday destinations #10 – Turkey
Why visit Turkey?
We've been to Turkey twice now and I have to say it's a pretty awesome family destination. Turkey doesn't have the same draw that places in South East Asia, Africa and South America have for me, but it's still an incredible family destination and perfect for a week long break.
Turkey is so diverse. I'm a big fan of variety and Turkey can give this to you by the bucketload. Istanbul on it's own can give you variety by the bucketload! With half the city in Europe and the other half in Asia, Istanbul is a unique combination of many different cultures and a fascinatingly diverse history.
But Turkey isn't just Istanbul. If you're in need of some R&R head to Antalya or Bodrum for some all inclusive pampering. If adventure is on the menu then look at going into the hills. It doesn't get get much more iconic than the stunning hot air ballooning in Cappadocia.
Things to do in Turkey
Istanbul City Break
You could easily spend a couple of weeks in Istanbul without getting bored! For some culture go to the Hagia Sofia, the Sultan Ahmed Mosque, Topkapi Palace and the Basilica Cistern. If you're in need of a bit of a break, consider a cruise along the Bosphorus which splits the city over two continents. No trip would complete without some retail therapy – the Grand Bazaar has to be one of the most iconic souq marketplaces in the world!
Turkey Beach break
If you think that the South of Turkey is all all-inclusive resorts then you need to think again. Granted, the coast is littered with every option known to man of huge resorts complete with spas, water parks, beaches and more. But there's much more to it than meets the eye. With a stunning coastline boasting sparkling turquoise waters (always a winner for me), there are still quaint villages to be found nestling in the hills. The area is also rich in history – from Greeks to Byzantines – so there's lots to do and see if you're not all that up for sitting y the pool for a week. (Although you can do that too).
Adventure breaks in Turkey
Smack bang in the middle of the country you'll find canyon style landscapes with villages built into the hills on either side. They're literally carved into the rock! If that's not exciting enough there are underground cities, historic mansions and cave houses to stay in and explore. Spend a few days hiking in the ancient volcanic area and finish your trip with a hot air balloon ride to get a completely different perspective of the landscape.
Why Turkey is good for kids
There's just so much to do and so much for all ages and interests! A hot air balloon ride in Cappadocia only really works for bigger kids but little ones might still enjoy exploring the caves. For something super low maintenance involving sun and lying down a lot, the Turkish coast has plenty of hotels. And if you want a city break there are few cities as diverse and breathtakingly beautiful as Istanbul.
When to visit Turkey
One of my favourite things abut Turkey is that it's a year round destination. The European side gets hot summers and cold winters. In the South it's more Mediterranean in climate. So sun worshippers can enjoy scorching heat in the summer. You can find some late winter sun but there's a higher risk of rain. Generally people prefer to go in so Northern Hemisphere springs, autumns and shoulder seasons to find some great temperatures.
Best family holiday destinations #9 – Cyprus
Why visit Cyprus?
I have to say Cyprus was a logistical choice for us rather than a bucket list one. In the middle of the UK to Doha route, it was an obvious choice for us to meet Granny Wanderlust there. Since we had chosen Cyprus for convenience reasons I didn't know what to expect. I needn't have worried: once we got there I was blown away by Cyprus' rugged beauty. It's another Mediterranean destination so has the great climate for a bit of autumnal sun. It has great history to explore – the entire town of Paphos is a World Heritage site, diverse cultural influences. You can head north to see the Turkish side or stay south for a Greek Cypriot experience. And the stunning beaches? Well, they attract everyone from families to retirees to party animals and everyone in between.
Things to do in Cyprus
We had a blast exploring the ruins in Paphos. If you have more time than we did, there are many old churches and villages to discover. Our favourite day was spent having lunch looking out over the ocean followed by a bit of off-road driving to get to Adonis' Pools. If the weather had been a bit warmer we would have gone to one of the island's popular water parks. For the party animals among you, Aiya Napa has long been a great destination. If you're looking to get off the beaten track a bit, the northern beaches are reportedly incredible.
Why Cyprus is good for kids
Again it comes down to variety for us. We liked staying in Paphos where we had options for mealtimes but could easily drive outside for some exploring. The Things really got into the ruins side of the holiday this time which was amazing. My back up had been to combine the sightseeing with the promise of a trip to the waterpark. Beaches and boat trips are also great options for the whole family.
When to visit Cyprus
The winters in Cyprus are mild but wet while the summers are super hot. If you like the heat then that's a good option. Otherwise it's a good alternative to Turkey for spring, autumn and shoulder season.
Best family holiday destinations #8 – Croatia
Why visit Croatia?
Because it is crazy beautiful that's why! Now, admittedly we went for a long weekend, stayed very close to Dubrovnik and spent half the time at a wedding or catching up with friends. So to say that we haven't even scratched the surface would be an understatement! Everyone I know who has been to Croatia raves about it. The scenery, the history, the food, the people… the list goes on and on. It's definitely been on the up and coming list for a while and I would say is closer to the top than ever. But the novelty hasn't worn off yet, the country has retained it's charm and people keep going back. Definitely one for the list.
Things to do in Croatia
From city breaks in Zagreb and Dubrovnik to beyond stunning national parks like Plitvice. From an incredible expanse of coastline to historical ruins such as Diocletian's Palace in Split. There really is something for everyone in Croatia and it provides all the variety that I absolutely love.
Why Croatia is good for kids
Between beaches and cascading waterfalls, biking and hiking tracks, castles ruins and museums, it's hard to think of a reason why kids wouldn't love Croatia to be honest. But if that wasn't enough, we also found it to be an incredibly child-friendly place to be. The locals all seemed to love kids and welcomed them into their restaurants and hotels. Most places offer discounts for children and Zadar even has a children's festival.
While definitely good for small kids, I have seen some reports that the smaller towns and beaches can be a little too quiet for teenagers. It's just worth bearing in mind if you're travelling with older ones.
When to visit Croatia
Croatia's best time is in the shoulder season months of May, June, September and October. In these months the weather is beautiful but the crowds are limited.
If you're restricted to school holidays then July and August are still perfectly good times to go. The weather is considerably warmer but with opportunities to splash in the sea or a waterfall it's manageable. It does get much busier though so your days might take a bit more planning.
Best family holiday destinations #7 – Georgia
Why visit Georgia?
When your blogging bestie and fellow travel addict comes back from a long weekend in Tblisi and says you must go, you know it's a place to watch and will be in all the lists of top places to visit for an unforgettable 2019.
Things to do in Georgia
Having never been to Georgia I started doing some research on things to do there. I have to say I was completely blown away! Tblisi alone has lots to do including a cable car (always a hit with the Things!), cathedrals, ruins and a 6th century mountain top to explore to name but a few. There's even an amusement park on top of a mountain if you're looking to get off the sightseeing trail for a few hours.
Outside Tblisi I was surprised to learn you can do so many outdoor activities. They seem to have a bit of everything – from skiing to hiking to generally exploring.
My favourite thing would be the caves. You can visit Uplistsikhe cave town ( don't miss the mineral springs), Vardzia cave palace, and the David Gareji Cave Monastary. Another cave complex that looks stunning is Sataplia.
If you're getting bored of caves, try the stunning hikes and waterfalls in the Kazbegi region. Or go to the caves and canyons in and around Kutaisi (note that some have age restrictions on entry). Alternatively I've also seen Borjomi-Kharagauli National Park recommended for hiking.
Other places that looked interesting included the Alazani valley, the Signagi city of love, and the Bodbe Monastary.
For those of you looking for a seaside feel to your trip, head to Ureki in the Svanti region. The sand there is classified as black sand and has magnetic properties.
Why Georgia is good for kids
Laura from Life With Baby Kicks says: "Tblisi was so much fun! While it's not the most child friendly place we've ever been, the kids were welcome everywhere. Even in the restaurants – they dined with us every night! One thing we loved was that no matter what you order, they put all the food in the middle of the table to encourage family style dining. The wine was excellent and cheap. That was very welcome after a long day of sightseeing and when you just need to get through bedtime! One word of warning: It's not a pushchair friendly city. There's lots of walking to be done so make sure you take a sling if your kids are that sort of age."
When visit to Georgia
If you're looking for snow then obviously the winter months are the best time to go to Georgia. However, if you're looking to do more hiking and sightseeing then May, June and September are better.
Best family holiday destinations #6 – Iceland
Why visit Iceland?
Iceland has been a popular destination for quite some time now despite almost everyone I know returning and telling me how insanely expensive it is! Some friends went without Things and recommended it so I was intrigued to follow Travelynn Family's trip there recently. They had so much fun and really inspired me to take ours sometime soon.
Things to do in Iceland
Hands up who has heard of the Blue Lagoon? It's a geothermal spa in a lava field boasting mineral-rich waters. I would have thought that – would be top of anyone's list when visiting Iceland! It's fair to say that most people I know have done this. Other highlights they've told me about include the Golden Circle, geysers and dramatic waterfalls. Oh, and more volcanoes than you can shake a stick at.
Visiting Iceland with kids
Jenny says: "We had put off visiting Iceland for so long, as we thought it was too expensive. But we were tempted by cheap Easy Jet flights and photos of those dramatic landscapes. Admittedly the car hire and accommodation are going to be your biggest outgoings, but self-catering will keep costs down. If you travel independently, exploring Iceland's natural wonders and hiking through it's expansive landscape is totally FREE! We explored the classic Golden Circle, but also ventured off the beaten track and over to the Snæfellsnes Peninsula. If you're a family who love the great outdoors and wild landscapes, Iceland is a perfect destination for you; just ensure you pack layers as the weather is extremely interchangeable."
If you're looking for a bit more adventure and to avoid the crowds I'd really recommend following Jenny's 5 day itinerary.
When to go to Iceland
One of my favourite sites, Responsible Travel, has a post all about when to travel to IcelanI. As with many places, it really depends on what you're looking for. June to August are good for milder temperatures. If it's snow you're after then October to April are your best bet. Go in May to September if you want to go whale wathcing but head there in the winter months if you're chasing the aurora borealis.
Back to topBest family holiday destinations #5 – Japan
Why visit Japan?
Japan has been on my list of unforgettable places to go since forever! For various reasons it just hasn't worked out for us to make it there but I'm determined to do it soon. From the stunning cherry blossoms to eating my bodyweight in sushi to Japan's fascinating history, I really don't have and reasons note to visit Japan!
Things to do in Japan?
All my favourite travel sites have literally hundreds of reasons to go – just check out this post by Atlas Obscura and you'll realise you need about 2 months in the country to do it justice! Top of my list would be seeing the cherry blossoms as well as visiting Kyoto, Hiroshima, Arashiyama and, of course, eating copious amounts of Japanese food. I also don't think I could go without climbing Mount Fuji or hitting one or more of the many theme parks. There's Tokyo Disneyland, DisneySea and Universal Studios Then there would be the cultural side including learning about Japanese history and visiting some of the many temples, castles and shinto shrines around the country. As a linguist I've always been fascinated with learning the language too… Seems like I might need a year there lol.
I've also heard it is great for skiing and snowboarding so if we ever get the chance to travel there I will be really torn between going in the winter or the spring! For more inspiration check out this post from Vanessa over at Wanderlust Crew where she shares her best Japan itinerary.
Why Japan is good for kids
Since we haven't been ourselves, I asked Leona from Wandermust Family to tell us about it.
She says: "When you think of family friendly holiday destinations, Japan may not be top of your list but it really should be. We found Japan, especially big cities such as Kyoto and Tokyo to be really accessible for families even with a stroller ( with a few shrine exceptions). The public transport was the easiest I've used with a toddler and there are so many things they will enjoy doing – not to mention not one but two Disney parks."
Leona has written a few posts on Japan including on Kyoto and Disney so if you're heading to Japan be sure to check her blog out!
When is to visit Japan
Late spring (March to May) and late autumn (September to November) are widely regarded as the best times to visit Japan. Personally I'd be heading there in April to check out the cherry blossoms but I have heard that autumn is also incredibly beautiful there.
Of course Japan is also a very popular skiing destination in which case winter would be the best time!
Best family holiday destinations #4 – Sri Lanka
Why visit Sri Lanka?
I was not expecting to love Sri Lanka as much as I did but on my word it was brilliant. A bit of a combination of South East Asia (which we have always loved) and India (which we have not), it really does have something for everyone.
Things to do in Sri Lanka?
I was blown away by the amount of variety of stuff to do in Sri Lanka. If you want a week by the beach you can get it on pretty much any of the Sri Lankan coasts. Maybe you're feeling more adventurous and want to head inland to check out the train route from Kandy to Ella. You could be super into nature and wildlife and wanting to do wild elephant safaris and to explore Yala National Park (or any of the national parks for that matter). If history and culture is more your thing there are literally hundreds of temples to visit (be sure to check for the Festival of the Tooth if you're into that sort of thing!). Maybe you're super active and want to climb Sigiriya or even Adam's Peak.
The best part for me was that we could combine all of these things in a single week.
Amazing.
Why it's good for kids?
I've got one word for you: Variety. I lost count of the amount of things we did in Sri Lanka in just 6 days! There really was something for all of us – we took a train journey to keep the Things happy. We climbed Sigiriya to keep me and Mr Wanderlust happy (although the Things ended up enjoying it as much as us!). We stayed in a tent one night to add to the adventure and all of us loved it. And we finished up with a couple of days at the beach to make sure we could go home well rested.
When to visit Sri Lanka?
Being on the equator, Sri Lanka does enjoy reasonably steady temperatures all year round. That being said, it's is one of those places that it really depends where you're going and what you want to do before you can find out when the best time to go is because of… Rainfall.
In brief terms, December to March is best for the southern and western coasts while April/May to September is better for the east coast.
If you want more information, Rough Guides has a wonderful resource to help you and give you more detail.
Best family holiday destinations #3 – Vietnam and Cambodia
Why visit Vietnam and Cambodia?
Ok first off, I know Vietnam and Cambodia are completely different countries and you can't necessarily visit both in one trip (especially if it's a 2 week deal!). I also felt like they were both a bit too same-y to include both but yet I couldn't choose which one to go with!
All the countries in South East Asia hold a special draw for me and I don't know why. It could be the fact that Mr Wanderlust and I had our best ever holiday in Indonesia pretty early on in our relationship. It was a holiday that not only set the bar for all future holidays but also one that really set the stage for how we would travel as a couple.
We love the history and the culture as well as the sheer variety of things to in these countries; You could be scuba diving one day, visiting a temple the next and then learning to surf the next. We also love the delicious food and the friendly locals. In short, we find it hard to go wrong with a holiday in the region!
What to do in Vietnam?
From the stunning scenery in the national parks and along the coastline, to the iconic view of Halong Bay, to the bustle of Hanoi and Ho Chi Minh, I feel like Vietnam would give our family the variety we always look for in a trip. Vietnam is a relatively long country meaning that it would be easy to spend a couple of weeks there and not even scratch the surface! I love the idea of going there and being able to combine city activities with some beach time. I've been obsessed with Vietnamese food for some time so the idea of being able to try 'pho' in the very country it originated in is very appealing.
No trip to Vietnam would be complete without taking the time to understand it's tragic history. Ho Chi Minh has a few museums dedicated to this and I would love to take the Things there to show them the other side of the bubble they currently live in.
If you want more ideas of things to do in Vietnam, I loved this post by Wanderlust and this one by Atlas Obscura.
What to do in Cambodia?
Like Vietnam, I find it hard to even know where to start with considering a trip to Cambodia! I don't think you can go and miss seeing the famous temple complex at Angkor Wat but there's so much more to the temples in Angkor than just that one! I love the fact that there are so many outdoorsy things to do (see below) and that you can include some beach time as well.
Cambodian food is considerably less well known than Vietnamese food but people I know who have been there absolutely rave about it and I'm really keen to try it.
Why it's good for kids?
It didn't take me more than a minute to decide who to ask to contribute to this part of the post. Nicky from Go Live Young has written extensively about both Cambodia and Vietnam after she and her family spent significant time travelling in the region.
Vietnam with kids
Nicky says: "Vietnam offers the perfect South-East Asian destination with kids. A culturally interesting country with warm friendly people, amazing food, and the availability of some wonderful beaches for that all important relaxation. Hoi An, Hanoi and Halong Bay were all highlights of our month long trip to Vietnam."
I really enjoyed reading about their cruise in Halong Bay which looked amazing! Head over to Where Is The World for another great post on doing Vietnam with kids.
Cambodia with kids
Nicky says: "Cambodia is a fascinating country, with its ancient temple ruins. While Cambodia is world renowned for the majestic Angkor temples, the country has far more to offer and it's easy to combine a cultural holiday with other fun, family friendly activities. We spent a week in Siem Reap, exploring the impressive temples of Angkor, many of then overgrown and straight out of Indiana Jones, combined with quad biking into the Cambodian countryside, air-boating across Tonle Sap Lake and taking cookery lessons in an outdoor classroom. Phnom Penh has a hard hitting history but we loved our time at Free the Bears in the Phnom Tamao Wildlife Park. Otres beach makes a worthwhile beach extension to any Cambodian trip."
For some inspiration on creating the perfect itinerary do check out Go Live Young's ideas.
When to go?
February to April and August to October are the best times to visit Vietnam while most people visit Cambodia between November and March.
Best family holiday destinations #2 – Lapland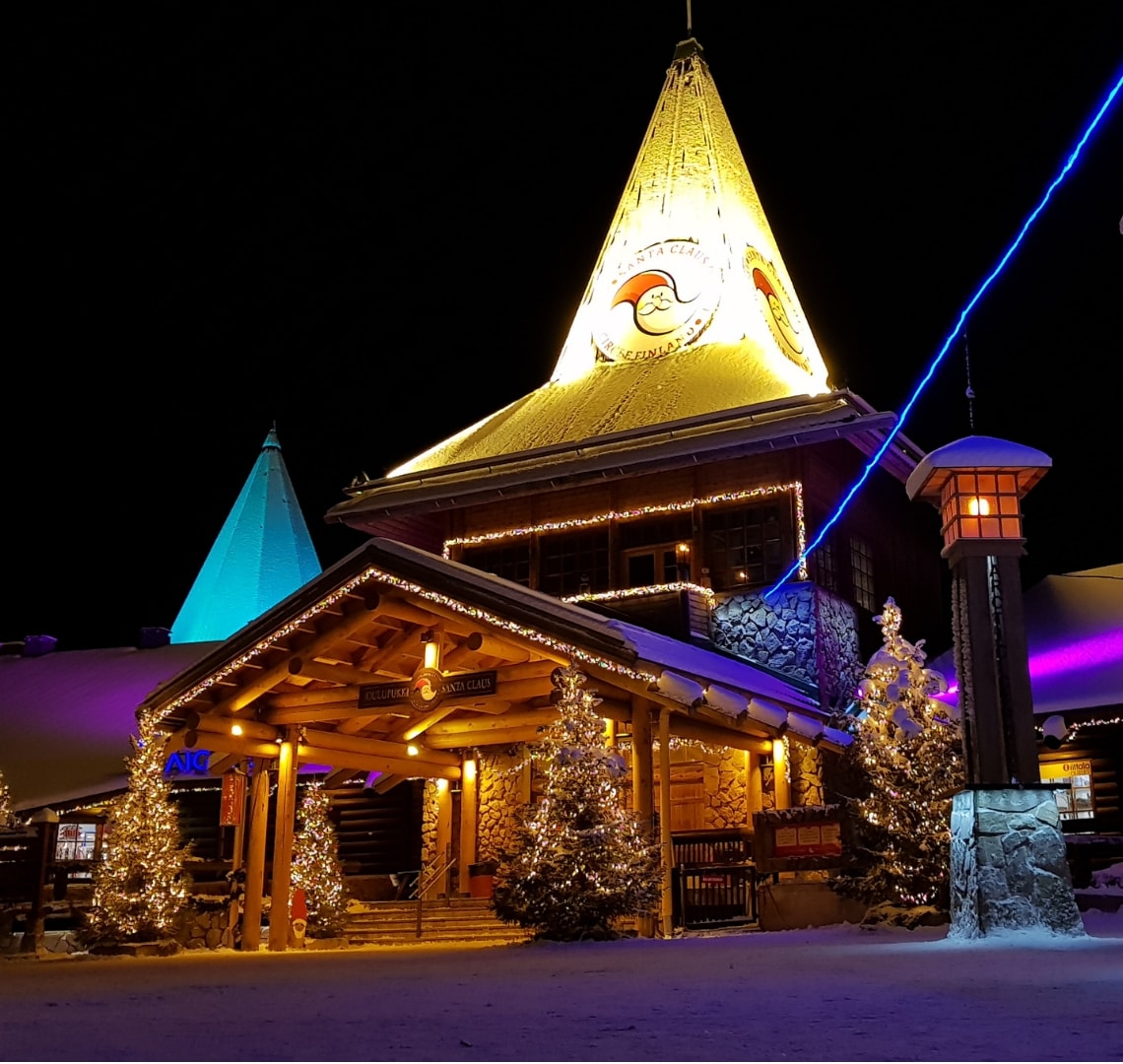 Why visit Lapland?
If you have young Things, I think it would be hard to imagine anything more magical than taking them to see the home of Father Christmas! My Things have only ever seen fake snow or snow when we're skiing. It's my dream to take them somewhere where they can really enjoy all the fun activities that winter snow can offer.
What to do in Lapland?
I mean first on the list has to be a visit to Santa Claus. I'd LOVE to see the looks on my Things faces as they met the 'real' Father Christmas for the first time! Enjoying snowy activities such as a reindeer sigh ride, husky safaris and snow moiling would be pretty close to the top as well. Add to all of this the potential for seeing the Northern Lights and I would be made up but there are many other things to do. We know people who have stayed in igloos, floated in ice, crossed the Arctic Circle and visited some of the museums and other attractions in Rovaniemi to name just a few things.
Almost everyone I know has been at Christmas time but if you visit in milder months there's loads of beautiful hiking, kayaking and biking to be done as well.
Visiting Lapland with children
I loved reading about Passports and Adventures' preparations and planning for their trip to Lapland. Her posts are really informative. My favourites are the one on how to make a Lapland trip affordable (nice to know we won't have to remortgage the house when we go!) and the one about what to pack. (What can I say? I live in the desert and have developed thin blood!). Since they got back I made sure to quiz Catherine about their trip to tell you all about it here.
Catherine says: "Lapland is truly one of the most magical places to visit with kids. From meeting Santa Claus himself, to husky and reindeer sleigh rides, to having snowball fighting in the middle of a wintery forest, it is the perfect place for a family holiday in 2019. Often thought of as an expensive, out-of-reach trip, Lapland can be enjoyed without breaking the bank.
"There are many areas to Lapland where you can visit Santa. The best place is in Rovaniemi, the Official Hometown of Santa Claus. Located at the Arctic Circle, you can visit Santa in two places. Santa Claus Village is the one not to miss. It's a bit like Disneyland, only better. Within Santa Village you can enjoy snowmobiling with kids, have a husky or reindeer sleigh ride, meet Santa and visit Snowman World. There's so much to do there that the kids, even big ones, will never be bored. Just remember to wrap up warm and soak up the atmosphere!"
The best time to visit Lapland
In my opinion, this is another place where it really has to depend on why you're going. For me, I'd be heading there to hit the festive month of December. I'd want to max out on snow activities and Santa fun! Of course, this is their busiest month so book early to avoid disappointment. If you want to make the most of the outdoor activities on offer then the spring and autumn months have more reasonable daylight hours. Bear in mind, though, that the temperatures will still be on the cooler side and snow may still be around. The summer months offer their own unique experience with nearly 24 hours of daylight. For more information check out Visit Rovaniemi which has an incredibly useful page (and website in general).
Best family holiday destinations #1 – Namibia
Why visit Namibia?
Namibia has been on my radar for about a year now. It really came into focus when Travelynn Family went last summer as part of a 3 month road trip around Africa.
But why is it top of my list?
I've been pretty open about the fact that Mr Wanderlust and I both have big birthdays within 7 months of each other and for a few years we've said that we would go on a big family holiday in the middle to celebrate. Not only that but it will be our 10th wedding anniversary in the middle! For our honeymoon we took the most amazing trip through South Africa and Mozambique and we've not been back since. It seemed fitting to do something similar as a once in a life time sort of trip by taking the Things back.
Things to do in Namibia?
Jenny's epic photos of Etosha National Park were the first thing to capture my attention followed closely by some dramatic shots the salt flats and red sand dunes of Sossusvlei. Combine this with rugged coastline (be sure to check out Cape Cross Seal Reserve), some jurassic) history think dinosaur fossils and meteor craters) and some stark attractions (Dead Vlei and the Skeleton Coast). Add the opportunities for a self drive safari and you have a recipe for an incredible holiday.
Why it's good for kids
Jenny says: "If you crave epic lunar landscapes, affordable and rewarding safaris, and a true African adventure, Namibia gets our vote as one of the best places for intrepid family travel. Add to this the good roads, low malaria risk and the high quality campsites, and it's a definite winner in our books."
When to visit Namibia?
The dry season is from June to October while December to March are bestsellers avoided as they have the more humid and rainy days.
Well, Wanderlusters, this post has had me researching and writing for a solid couple of weeks plus with Christmas in between it has been quite the labour of love! I do hope you find it useful and I would LOVE to know what you think.