Believe me, I've been there. We had epic holidays before we had kids. I mean EPIC. We went backpacking in Indonesia and we saw the Taj Mahal. We dived in one of the best dive sites in the world in Borneo before heading off to see orang-utans and watch the sun rise from a mountain that we had climbed. I took a 2 week Californian road trip with my mum while Mr Wanderlust travelled around Belize for 3 weeks. We went skiing every season for 6 years from the Alps to the Rockies. We took our honeymoon in South Africa and Mozambique for crying out loud!
After we had kids we simply couldn't figure out how to get back to those holidays while still giving our Things their naps, routines and food that they would eat. Over the years I think we have started to find the balance we have been searching for and understand better how to have an epic family holiday.
Budget
It is so dull to start here, but unless you know what you want to spend, you'll end up with a disconnect. Budgets set expectations so if everyone is on the same page up front, it will be way easier to decide where to go and what to do. Knowing what you have to spend will help shape where you want to spend the money. Let's say you're a family who likes to spend lots of time in resorts. It stands to reason that you should spend more money on the accommodation. Blow the budget on amazing restaurants if you're a family that likes eating great food. If you are more of an activities and sightseeing family then maybe you stay in more simple accommodation. You get my drift.
Knowing your budget can also help if you have an idea on when you want to go or if you are flexible. If you have fixed dates you can score cheap flights by waiting for the sales. If you can be flexible, try travelling in the off or shoulder seasons to get better deals.
Plan!
Have you heard the saying failing to plan is planning to fail?
Any of you who read my posts regularly are probably rolling your eyes at me. I'm a self-confessed planner and I know it! I love doing research although I'm also so indecisive I often leave booking things until the last minute (too late). That or I get paralysed by the choice…
The reality is that if we plan ahead we always have a great time.
But that doesn't sound like a holiday!
I'm not saying you have to schedule every minute of your holiday – that's just going to be stressful for everyone. But having an idea of what you could do while you are away will give you a focus. If you've done your research you will know how far away an attraction is and how long you will need to spend there. Certain things only happy on certain days (e.g. street markets are often on Saturdays). So knowing that will help you plan out your week. Similarly if Table Mountain in Cape Town is going to be open for the day you arrive and then closed for the rest of the week because of wind… Well then that's your first day's itinerary decided for you!
Discuss the objectives
Gosh that sounds dull doesn't it? I mean talk about taking the spontaneity out of everything! It sounds like we're talking about a business deal not a holiday! But if you all talk about what everyone wants from the holiday (and act on it), it could mean the difference between a good holiday and a disaster.
If your Things are super little, look at what you've all been doing before you make your plans. When we first moved here, we had had several months of craziness. The preparations to move, the moving itself and then arriving in a new country, meeting new people and unpacking… We were all exhausted and burnt out? In that scenario, a whole week on an island in the Maldives was just what we needed. I don't think we could do that again unless we were that tired again!
Everyone matters
We are currently discussing our June plans. While I'd love to go on another adventure, we recognise that we had an intense holiday in Jordan. We had an active ski holiday in February. Thailand was supposed to be a super chilled and relaxed holiday but we ended up doing loads! The realistic decision is to go and chill out somewhere for a a few days for the next holiday.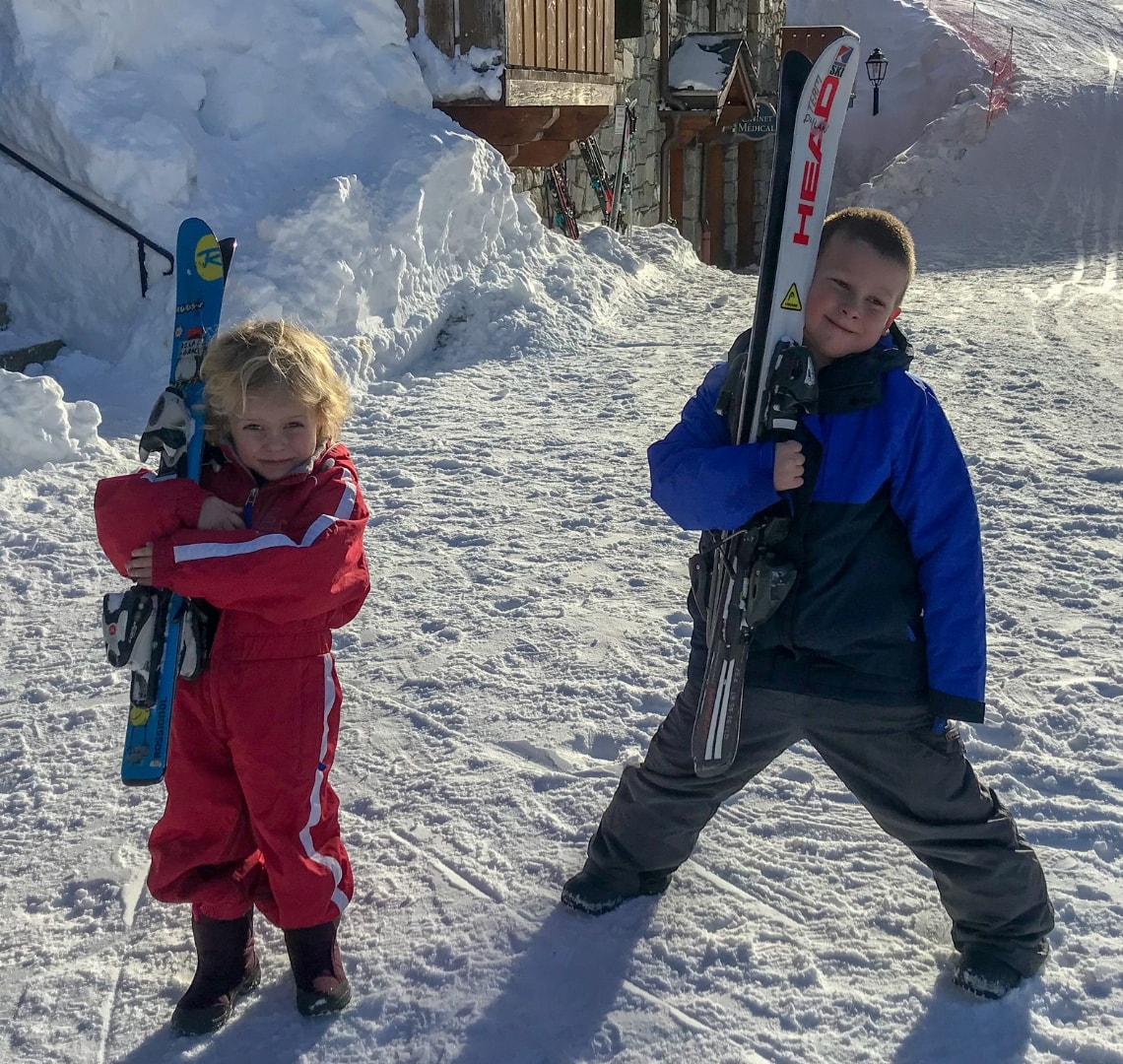 Talk to your partner (and to your kids if you can). If someone wants to be off doing things all the time while someone else has visions of lying on a beach all day then you've got a problem. Figuring out a way to give everyone a bit of what they want surely has to give you the best chances of success!
Be flexible
You have to be prepared to change things at the last minute. Obviously if there is something that you want to do and there are only certain days or times that it can be done then it might need to be more fixed. But in general I like to have a list of things we would like to do in a particular location and then we work around how we are feeling.
So an action packed day of sightseeing might get moved if we are all suffering from jet-lag more than anticipated. Or sometimes the Things just get up super grumpy. Mr Wanderlust and I have pushed on through on those days and regretted it. If the Things are miserable and whining then no-one gets to enjoy the day so its really a waste of time and money. Much better to give everyone a break, take the pressure off, and try again another day.
Location, Location, Location
Know what you want and know how that applies in your destination.
In the thick of it
Stay in a central place if you're doing lots of sightseeing. We had a hectic time in Kerala planned as there was so much we wanted to see. We stayed in 6 places in 10 days!
What we didn't realise was that we weren't staying in central locations and we had to drive quite significant distances when we got there. Our trip to Jordan, while equally jam-packed, was so much better because we weren't in the car on the "off" days.
Off the beaten track
On the total opposite side of the coin, if you're in a busy place and want peace and quiet then look to stay somewhere more remote.
I've got nothing against people going out and partying and having their own fun. It's just not where I am any more. I've no interest in them waking me up in the middle of the night (or worse still waking the Things). I've even less interest in the Things waking other people at 5am (which they would do). So we just stay away from those sorts of places now.
Villa or hotel?
Part of the success or lack thereof has to be connected to your choice of villa or hotel (which I have discussed at length)! I'm not saying one is better than the other because there are far too many variables that come into that equation. We have had some great villa holidays and some great hotel holidays. We've had some less great holidays in both types too!
A lot if it will come down to the discussion and planning stages. Are the kids desperate to go to Kids Club? Do the parents want a break from cooking? Maybe you are going with friends and want some privacy as well as a space to all hang out together in the evening.
As I say, there's no right or wrong per se, just an understanding of what everyone wants to get out of a holiday.
Food, glorious food
Possibly a part of the planning aspect is to consider what food you're going to offer the Things. Now the food aspect is an intersection one that I've already written 2 other posts about. 1 is about tips for travelling with picky eaters and the other is about meals to feed picky eaters whilst on the road.
To eat or not to eat?
I'm always really torn when it comes to getting food in the kids while we are travelling. I totally understand that they are out of their routines and so are going to be much less likely to try new foods. I could let them eat chicken nuggets for 2 weeks, but I'm going to be annoyed that they didn't try anything new. And I'm going to see the side effects of eating junk food all the time pretty quickly. As always my answer is a bit of balance.
So if we've had 24 hours on a boat in the backwaters of Kerala eating only curry (or not eating it as the case may be), a stop in a more Western restaurant will be in order. If we've eaten nothing but pizza and past onto Amalfi Coast for a few days then I'll make more of an effort to get them trying something new off our plates.
Timing is everything
The other thing to think about is eating times. Our Things eat super early for the main reason that they get too tired to eat much later. Many restaurants won't open until later so you have to balance this with wanting to get out for a meal (and not cook or wash up!). Often we try to have a main meal in the middle of the day so it takes the pressure off the evening meal. Or we will get the kids ready for bed and take them to dinner in their PJs so they can get straight to bed afterwards.
Activities
We can't be the only ones in the world who want to go and see cool things in a new place while the Things just want to go to the beach or Kids Club?! Since the Things are only barely old enough to be left in Kids Club, we've mostly spent our time in there with them. I think Kids Club is a wonderful thing in term son allowing us to travel without loads of toys and providing a safe space for kids to play and do activities. But let's face it, its pretty mind numbingly dull for grown-ups!
Equally, Things don't like being dragged around countless churches, temples and ruins. I know. I was shocked too haha.
So how do we get to a place where everyone is happy?
Well, generally we do a bit of everything. And we compromise a lot on stuff. We didn't sacrifice going to Petra while we were in Jordan. In fact we didn't sacrifice much while we were there. But we didn't walk from the gate to the Treasury nor did we hike up to the Monastery. We toured the length and breadth of Rome but we did it in a golf cart on a family friendly tour (thanks again Rome 4 Kids Tours!) and decided to not to push our luck when we got to St Peter's Basilica.
In Bali we went to a Waterpark and to a trampoline park. We went to the beach but we went surfing instead of lying quietly or building sandcastles. We walked to see some costal sights but also had lunch in a "pirate ship". Mr Wanderlust and I did some shopping (the iPads had to come to the rescue for this). And we went to a temple in Ubud (albeit with monkeys in it) and another in Uluwatu (more monkeys). We went to a coffee plantation and ate ice cream near the paddy fields. In Lake Como we played mini-golf (twice) against a simply stunning backdrop.
Balance and variety
Also having an idea of what the entire itinerary looks like will help you plan. A day of travel might be followed by a super chilled day by the pool or on the beach. An intensive day of sight-seeing could be balanced out by a trip to a crazy golf course or a waterpark. And now the things are older they can understand a little better that one day might be a bit more for mummy and daddy but the next day will be for them.
For me, I really think the key to how to have an epic family holiday is having balance and variety. I know I keep banging on about it, but it does really work.