Multiple times a year I find myself overwhelmingly envious of people doing full-time or, at least, long-term travel. When we were planning our Namibia self-drive safari, we looked at where we wanted to go and quickly realised that 2 weeks in Namibia would allow us to just scratch the surface. The more research and reading on Namibia that I did, the more I added to our itinerary! I didn't know how to distill it all down to create the perfect 2 week Namibia itinerary.
Only 2 weeks in Namibia
The reality was that all we just 2 weeks in Namibia to play with and that was that. And that's all most of us have.
The good news is that all the planning definitely paid off. If you followed me on Instagram at the time you'll know I planned this to the point of obsession). The result was that we had the adventure of a lifetime although there were a few more tweaks that we would have made. The best news for you, my lovely Wanderlusters, is that all my research takes the hard work out of the planning for you!
And so, without further ado, I present the perfect 2 week Namibia itinerary.
Note: For the purposes of this post, I am assuming that you are self-driving. You may or may not be camping and I provide options for both campers and non-campers alike. You can find some alternate 2 week Namibia itineraries at teh end of this post. This is not a 2 week fly-drive Namibia itinerary.
Day 1 – Windhoek
Do
You're arriving today and depending on where you're coming in from I'd suggest taking it easy. There's a lot to do even when you get here. Plan on staying in the capital, Windhoek, and getting yourselves orientated.
Head from the airport to the car rental agency. We used Namibia Car Rental (no affiliation) and were very happy with them. There are, however, many rental agencies offering very similar cars to the one we drove. If you are booking through an agent, they may have a preferred provider.
If you're camping, know that picking the car up is not just a case of waiting in line for the next available agent, walking around the car once, and driving off like you would with a "normal" car. It took us almost 2 hours!!! This included a briefing from our tour agent and another from the car rental representative too. Both briefings were incredibly in-depth (the tour agent took us through our itinerary step-by-step) and totally worth the time. Had we known how long they would take, though, we might have been more prepared for handling the Things. They were, at this point, both hungry and bored.
Not a great combination.
From the car rental place head into the centre of Windhoek for something to eat and a wander around. The German Church at the top of the hill was closed when we got there but I understand it's worth a look. It also had some pretty easy parking.
Stay
Stay in the extremely hospitable and beautiful Galton House. Conveniently they have 2 interconnecting rooms that are slightly away from the rest of the house. This was perfect for us travelling with loud Things!
Also recommended to us was the Olive Grove Guesthouse.
Eat
Joes Beerhouse is an absolute must. It's an eclectic restaurant with everything from stuffed animal heads to bits of cars hung off the walls, this restaurant has been inspired by its country. It looks rather like it has evolved over several decades, acquiring number plates and trees with glass bottle branches. We loved the open-air feel of the place and the food was great. We devoured some local delicacies for our first proper meal in Namibia.
If you're looking for something a bit more upscale and have Things that can be trusted with white tablecloths and pretty glassware, head to The Stellenbosch Wine Bar.
Day 2 – Windhoek to Kalahari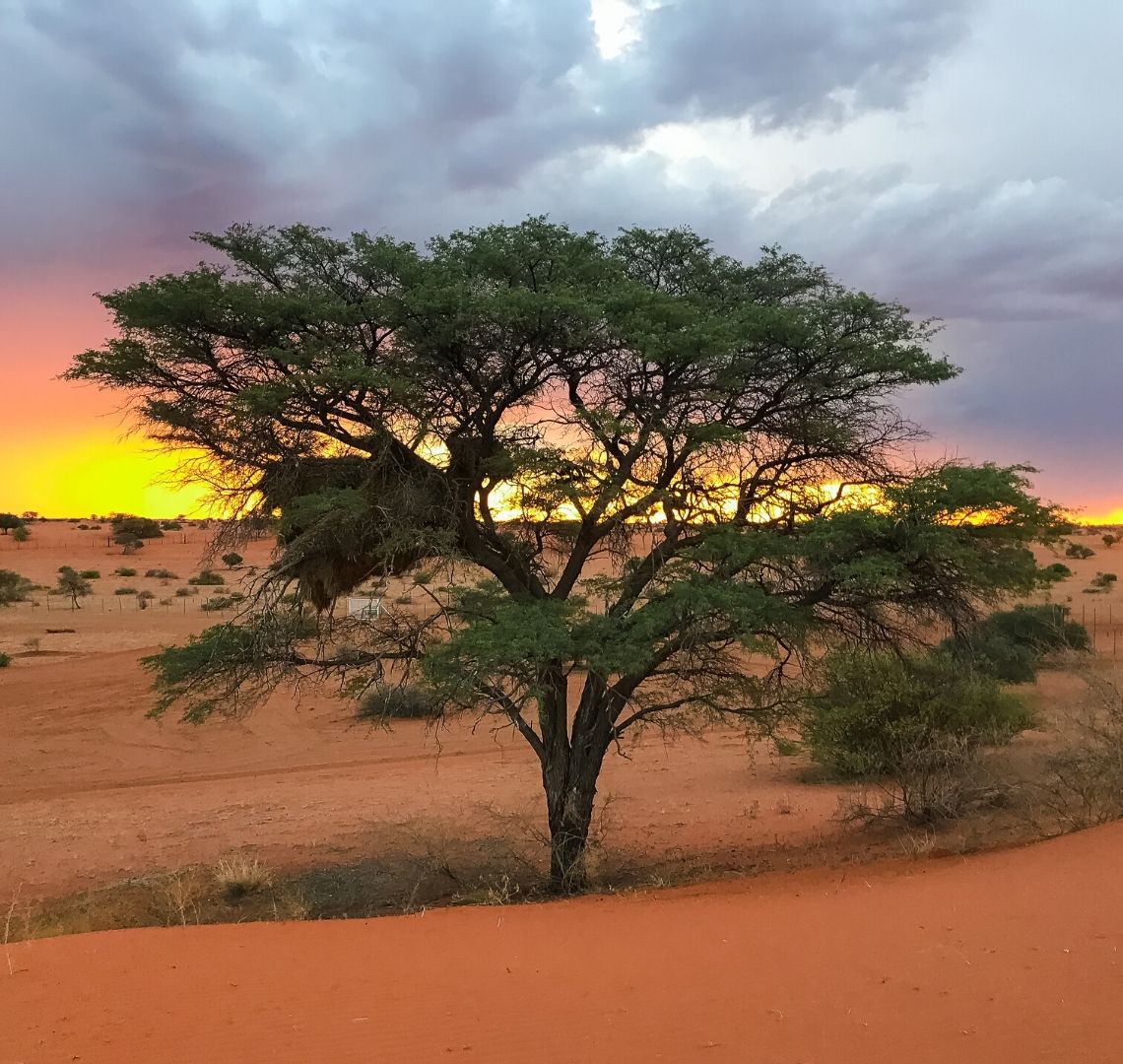 Do
Most of the guesthouses in Windhoek include a delicious breakfast so get up early to take advantage of this! You'll need a reasonably early start as you've got a lot to do.
Pack up the car and head to a supermarket to stock up on lunch supplies (and more if you're camping). Know that there won't be a huge selection of meat options at the next place so if you know you can keep the stuff refrigerated then go nuts.
Head south from Windhoek towards the Namib Desert. The majority of the driving will be on paved roads but it's the last time you'll see them for days so be sure to appreciate the speed and comfort.
When you arrive at your destination you'll probably find a variety of activities on offer as was the case at Bagatelle Kalahari Game Ranch, where we were staying. We wanted to do star gazing but the cloud cover meant this was impossible so we opted for sundowners and some cheetah feeding instead. Bagatelle has 7 orphaned cheetahs that are kept in captivity for various reasons. We were treated to a drink with a spectacular sunset after watching them feed the cheetahs.
Stay
There are a number of game ranches in the area. We had a truly fabulous time at Bagatelle. The rooms are really lovely and the vibe is totally chilled out relaxation. The Things were delighted to spot mere cats running everywhere, were fascinated by the resident peacock and were delighted with the cats (of all things). We were amazed to see ostrich and kudu just hanging out by the pool!
There are also options for camping should you prefer to make the most of your tented car!
Eat
There aren'tany towns around here so you're sort of beholden to what you're offered where you're staying. On arrival in the afternoon we were greeted with a hot or soft drink and an enormous piece of cake. In the evening we were treated to a barbecue of all sorts of meat including kudu and steak. It wasn't the best option for the picky Things but there were some things that they would eat.
Day 3 – Kalahari to Sesriem
Do
It's another long day of driving today heading over to Sossusvlei. This will be your first full day of driving on the gravel roads so get used to the "African Massage!"
Stop in Mariental to stock up on food if you need to – there aren't many options between here and Swakopmund. Take the opportunity to get out and stretch your legs – there's not another town until Maltahohe which is several hours away.
We were surprised by the landscape. The photos of Namibia that you see online are all of very dramatic views of Sossusvlei, and Skeleton Coast and Etosha. You don't see the bits in-between which are vast stretches of scrubland for hundreds of miles all around you. The driving is pretty tough as a result – concentrating on gravel roads with not much to distract you is hard!
Things get much more interesting as you get closer to Sossusvlei. Suddenly huge hills start looming and the landscape looks more dramatic.
Stay
There aren't a whole lot of options in Sesriem – the little collection of campsites and lodges right outside the gate to Sossusvlei ! If you're camping I recommend Sossus Oasis Camp Site. They have 2 sections including one with it's own toilet and shower on the site. Since we missed out on booking this, we ended up with the shared facilities which were very clean and nice. All their sites have a tap with running water and a BBQ pit.
A great alternative to Sossus Oasis is Sesriem Camping. Sesriem Camping is part of Namibia Wildlife Resorts (NWR) and, while slightly less luxurious than Sossus Oasis, it has the invaluable advantage of being inside the park gates which are closed every night at sunset and don't open again until 7am. If you're looking for the stunning shots you see on National Geographic then this is a time advantage you can't avoid.
For those who have chosen not to camp, the very lovely looking Sossusvlei Lodge is a great option as it is also close to the park entrance.
Eat
This may be your first camping night as it was for us in which case build your camp and your fire before throwing some meat on the grill. If you're not in the mood to cook head over to Sossusvlei Lodge's restaurant for a cooked meal.
Day 4 – Sossusvlei and Dead Vlei
Do
You might be staying here for 2 nights but if you're camping, you'll need to break the tents down before you can go anywhere. Lulled into a fall sense of security by the quick set up time, we set our alarms for 6am… Almost 2 hours later we finally got on the road! It turns out eating breakfast, tidying all your stuff away and getting the tents down takes longer than you think! I know some people, particularly with older kids, opted to eat on the road but that's just not an option for our Things so it was what it was.
Head to the entrance to Sossusvlei and start driving. You're on tarmac again now which is a relief and makes for much easier driving. The scenery quickly becomes spectacular and you will find yourself driving past famous dunes such as Dune 45 and the more imaginatively named Big Daddy. You can easily tell which dunes you're not allowed to climb from the signs and lack of people nearby but there's nothing really to stop you. I loved that everyone respected the rules and we didn't see a single soul climbing dunes they weren't supposed to.
Depending on the time of day, you may (as we did) want to continue on to Dead Vlei and Sossusvlei to see them first. There's some interesting sand driving to be done and I'm ashamed to say I chickened out of all of it! (The upside is we didn't get stuck lol).
Sossusvlei is slightly further on from Dead Vlei and there's definitely not as much to do. There is a bit of shade, though so it would make a nice quiet picnic spot compared to the busier Dead Vlei. I was surprised at how many people were at Dead Vlei – having seen almost no-one for hundreds of miles and staying in small campsites, you sort of forget that other people might want to see the same things as you! Don't get me wrong, it's not like the Vatican in August, but in peak season you can still expect to share the experience with up to 1,000 other visitors each day.
It's a short walk to Dead Vlei along some smaller pans. You can take the longer route and head up the dune next to it before sliding down the sand to the bottom. This is super fun and gives you absolutely spectacular views but can get hot and will tire the Things out. Take as many arty pictures of dead trees as you can before heading back to the car.
Depending on the time of day and how hot it is, stop at one of the dunes that are open such as Dug Daddy or Dune 45 and climb up to admire the views.
We did all this in the morning and were back at the campsite by mid-afternoon to enjoy a leisurely swim in the pool. You could also do this the opposite way around and be back near the park gate to enjoy the evening light and maybe a cheeky sundowner. Watch out for the gate closing at sunset!
Stay
Spend the night in Sesriem (wherever you stayed the night before). Note that if you have one of the camping 4x4s with tents on the top, you'll have had to break this all down to drive to Sossusvlei and Dead Vlei. And then put it all up again tonight.
Eat
There are no dining out options inside Sossusvlei park. If you are planning on spending the day there make sure you take supplies with you and, of course, take your litter back out with you! There are, however, quite a few options for dining in Sesriem including the campsite cafe just inside the park gate which offers WiFi connection (for a cost) and has a nice cool restaurant with a breeze blowing through it.
In the evening if you're camping, light a fire and enjoy some outdoor cooked food together again. Alternatively, head back to a restaurant nearby.
Day 5 – Sesriem to Swakopmund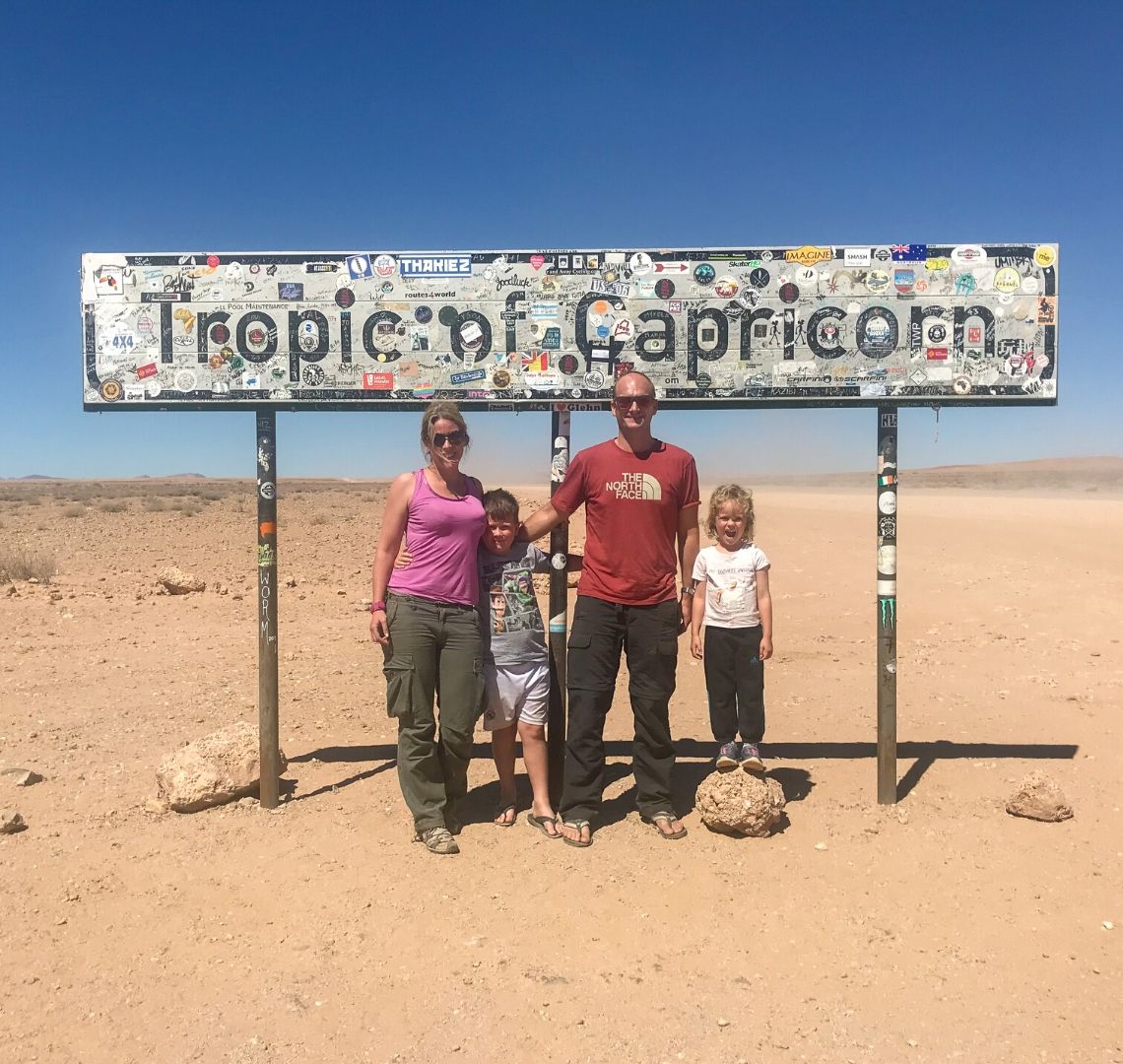 Do
It's a mission of a driving day today as you head over to Swakopmund for some town time. Leave early to get a good start on the driving as you'll be on the road for a good 5-6 hours plus stopping time. You'll cross the Tropic of Capricorn again which is a good chance to get out and stretch your legs while taking some touristy photos.
The landscape varies from flat, arid and uninspiring to some stunning canyons which seem to appear out of nowhere and end just as quickly. Switch driving regularly to keep yourselves as fresh and alert as possible as the driving can be quite hypnotic.
Stay
There is a multitude of guesthouses to choose from. We stayed in Swakopmund Guesthouse in what was described as a luxury room but was actually a 2 bedroom apartment complete with a living area and kitchenette.
This was the perfect place for us to completely unpack and repack the bags. Knowing we had 2 nights here meant we could also get a huge load of laundry done relatively inexpensively.
For those looking for a hotel stay, The Strand Hotel came highly recommended by our travel agent and looked amazing.
Eat
Stop in Solitaire to stretch your legs and have a snack. Once in Swakopmund, you have a myriad of dining options available to you. I highly recommend The Tug which was super kid-friendly, had a great view of the sunset over the sea and served some of the best food we had in Namibia. Other places we ate included Bauhaus Restaurant and Ocean Cellar (although the Things were a little less impressed with the last choice!)
Day 6 – Swakop, Walvis Bay and Sandwich Harbour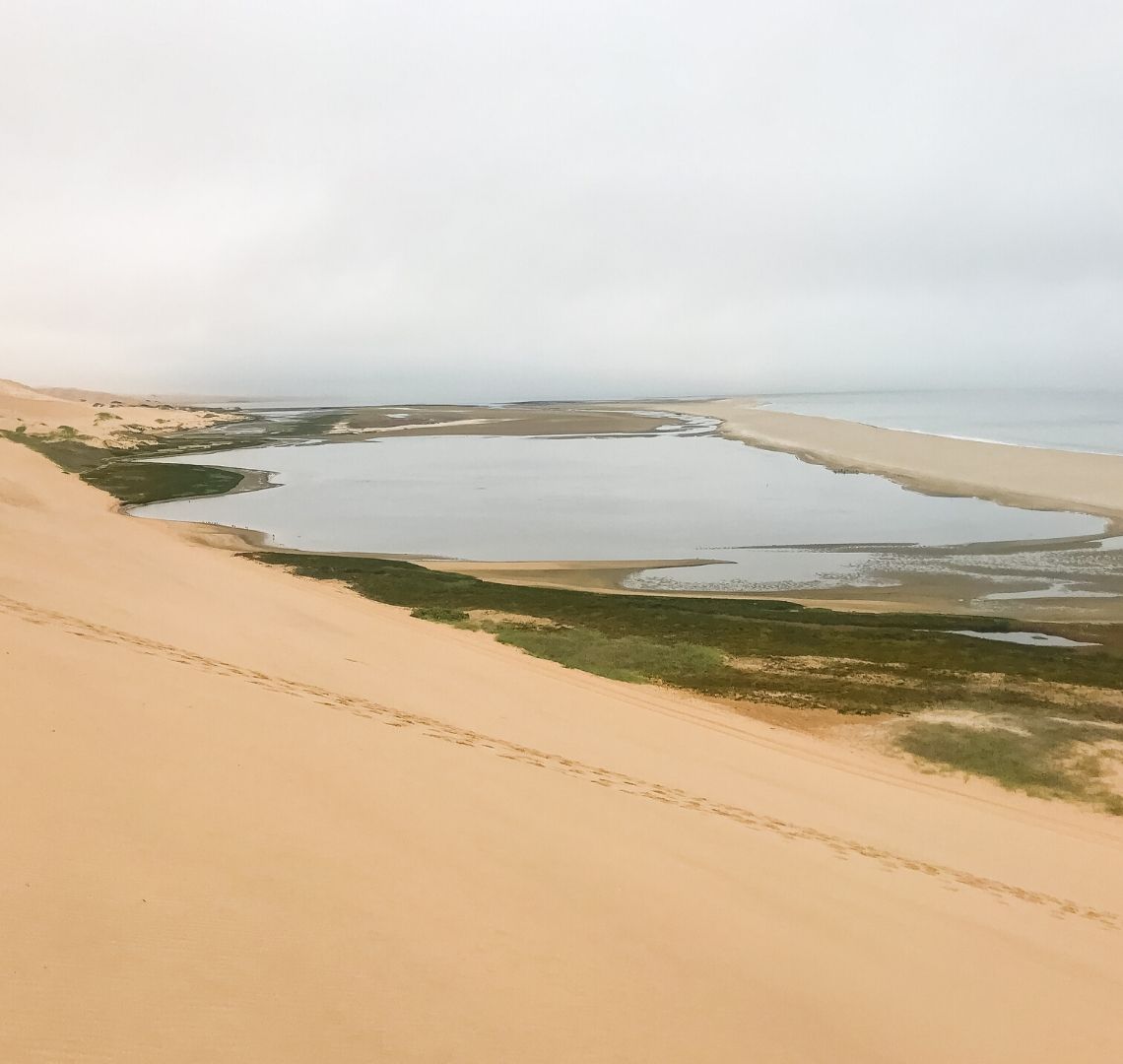 Do
There is so much to do in the are that you are really spoilt for choice.
If you're all in need of a day off, there is lots to do pottering around Swakopmund such as browsing curio shops, strolling around markets, galleries and museums, walking on the beach and enjoying the delights of one of the many coffee shops.
If you're more up for adventure consider one of the following:
Dolphin cruise
Sandwich Harbour excursion (a real Skeleton Coast experience)
Dune quad biking
Sand boarding
Sea kayaking
Keen to see the famous sand dunes that run right into the sea, we decided to go to Sandwich Harbour. We organised a private tour and were treated to some great local knowledge by our guide and driver. While I'm glad we went, this was our only day of the trip without needing to get in a car and… we got in a car. So from that perspective, we probably could have chosen something else to do!
Stay
We continued our stay in Swakopmund at the amazing Swakopmund Guesthouse and were delighted to get our laundry back well before we were expecting it.
Eat
We had a late lunch in Brauhaus Restaurant after our tour. In the evening we went to Ocean Cellar but all the other restaurants at The Strand Hotel looked fabulous as well.
Day 7 – Swakopmund to Damaraland via the Skeleton Coast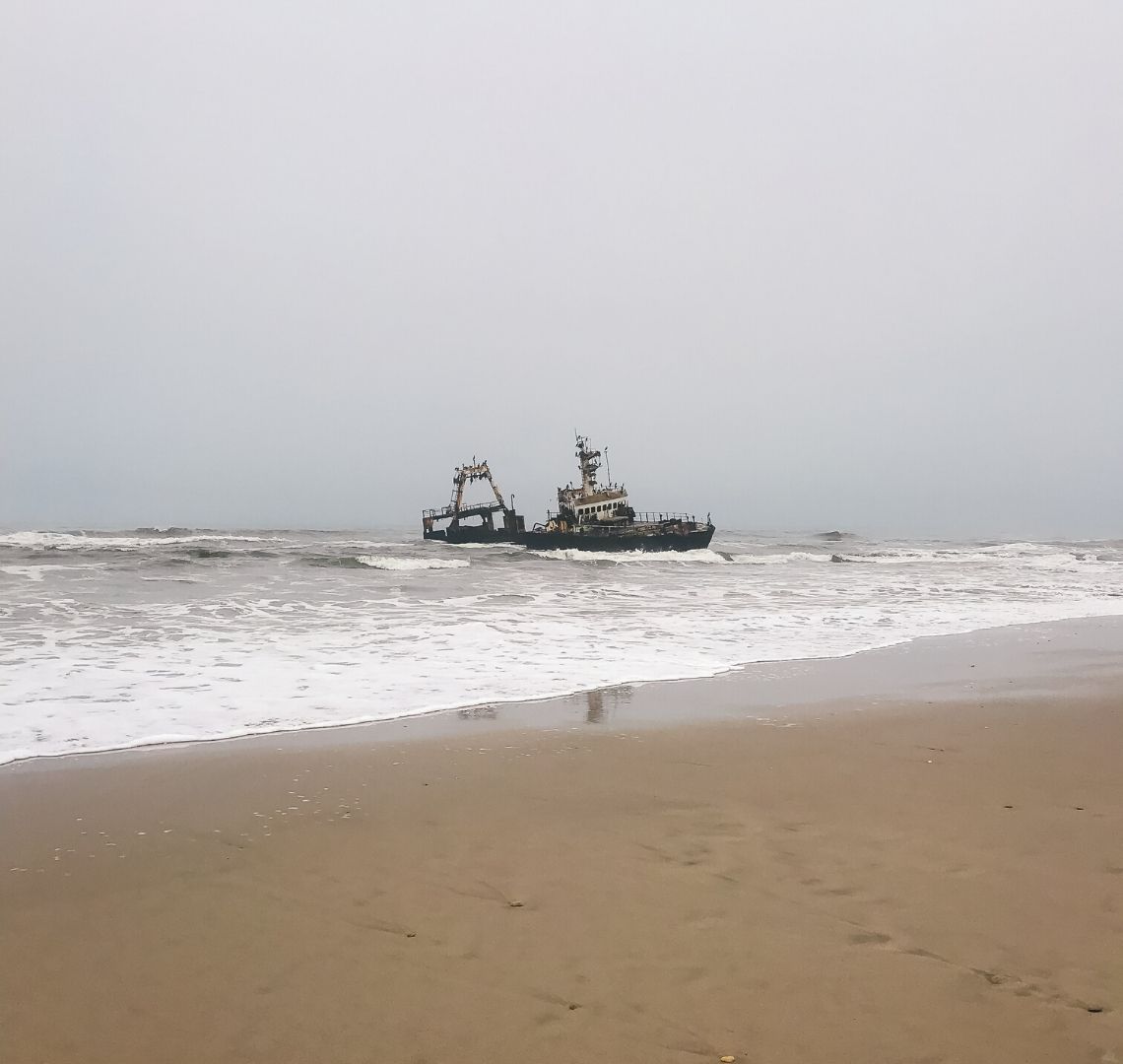 Do
Another day in the car for you – this time driving up Namibia's famous Skeleton Coast. Make sure you stock up on provisions as there won't be any opportunity to do so between Damaraland and Palmwag where you will be camping tomorrow.
Prepare yourselves – whichever route you choose to take, it's a long way and quite hard driving. The Skeleton Coast is famed for its shipwrecks just off the coast but, in between them, the landscape is pretty flat and uninspiring. If you are driving to destinations further up the coast then I think it gets much more interesting. But for the purposes of this itinerary, your final destination is inland to Damaraland. The other awesome Skeleton Coast sight is the Cape Cross Seal Colony. Believe me when I tell you that there is nothing that can prepare you for the stench of 100,000 seals but it is pretty incredible nonetheless.
The further inland you go, the more interesting the scenery and the road quality deteriorates so take it slow and enjoy the drive.
Stay
Malansrus Tented Camp is an incredible place to stay. It's glamping on a whole new level and the staff are incredibly friendly and helpful. There are quite a few high-end glamping options in the area. Camp Kipwe was booked up when we were there but we drove past it and had a look round and it looked amazing too.
Eat
Bear in mind you're in the middle of nowhere so the options are really limited. Malansrus offered a set menu which was absolutely delicious but a little too advanced for our picky eaters. Luckily they had plenty of bread rolls and we had snacks with us.
Day 8 – Twyfelfontein to Palmwag
Do
It's another day in the car today as you drive to Palmwag Campsite for some more nights under the stars.
Before you really get going, though, head to see the Twyfelfontein rock engravings. This is a UNESCO World Heritage Site and well worth a visit. If you can make a day of it then I'd absolutely recommend taking the time to hike around the site to see as much of the paintings and engravings as you can. Go early to avoid the crowds and the heat of the day and take cold water / snacks as the little kiosk has limited offerings.
From Twyfelfontein you can make a short stop at the Organ Pipes and Burnt Mountain on your way to the Damara Living Museum. Here you can learn about the traditional life and culture of the Damara people. We didn't have time to stay for long but really enjoyed our time there.
Drive on to Palmwag from here – it isn't far but still takes a while on gravel roads.
Stay
Palmwag Lodge was an incredible place to stay. We loved the place for it's facilities (lovely pool, restaurant, clean ablutions super private campsites). It also has rooms to rent.
Eat
If you're not in the mood for cooking then Palmwag has options in the main restaurant and at the pool bar. Cheaper (and more atmospheric), however, is to cook over an open fire at the BBQ pits provided at each site. There's nothing quite like eating under the stars.
Day 9 – Palmwag
Do
After so much driving, it's nice to have a day off from time to time. Palmwag is the perfect place to do this. The pool is gorgeous and was very quiet when we were there. There was quite a bit of through traffic – campers leaving and new ones arriving as well as some tours stopping for lunch on the way through.
It's easy to see how Palmwag in non-drought times would have been an even more incredible place to stay and watch the animals just passing by. Due to the drought in the area, much of the wildlife has, unfortunately, moved away to other areas so if you want to see anything, you'll need to drive.
Since there is so much driving on this trip, I wouldn't recommend doing a full-day excursion, especially with little kids. A 4-hour excursion in the late afternoon/evening into the Palmwag Concession Area is doable. You can get a guided excursion from the lodge or do a self-drive – they'll give you a map at reception. The driving is tough, though. I wouldn't have even known where to go to find the wildlife / get back out again so I was glad we had a guide. The drawback is that you're on someone else's timetable so it also means a late night for little ones.
Stay
Camp under the stars for a luxurious second night in a row at Palmwag Lodge.
Eat
If you're coming back late from an excursion, you might want to have something prepared for when you get back. Alternatively book a table at the lodge to take the thought out of the evening. Like many places in Namibia, there's nothing else around so it's a case of eating what they have or DIY.
Day 10 – Palmwag to Etosha
Do
We deliberately planned our trip so that Etosha, one of Namibia's main attractions for us, was at the end. It did not disappoint!
Packing up early was a must for us to get the driving out of the way early. This was a good idea as the driving took considerably longer than we expected. Keen to spend as much time in the park as possible, we drove into Etosha through Moringa Forest Fence Gate in the west. Driving along the "main" roads and going in through Ombika Gate in the south would have been quicker. We were excited to see our first glimpses of many animals like zebras and giraffes.
Stay
There are lots of campsites inside and just outside the park and it can be hard to choose where to go. For us, there was no contest, though. We chose Okaukuejo Campsite because of the amazing watering hole. The whole site is built around Okaukuejo watering hole for maximum access. Like everywhere else we stayed, all the sites at Okaukuejo have their own BBQ area, running water and power and there are clean shared shower facilities, etc.
Eat
Okaukuejo has its own restaurant or you can do your own thing over the campfire. There is a small shop at the site but the stock was underwhelming at best so we were glad we had enough food to last us. Apparently, it usually has more variety and stock.
Day 11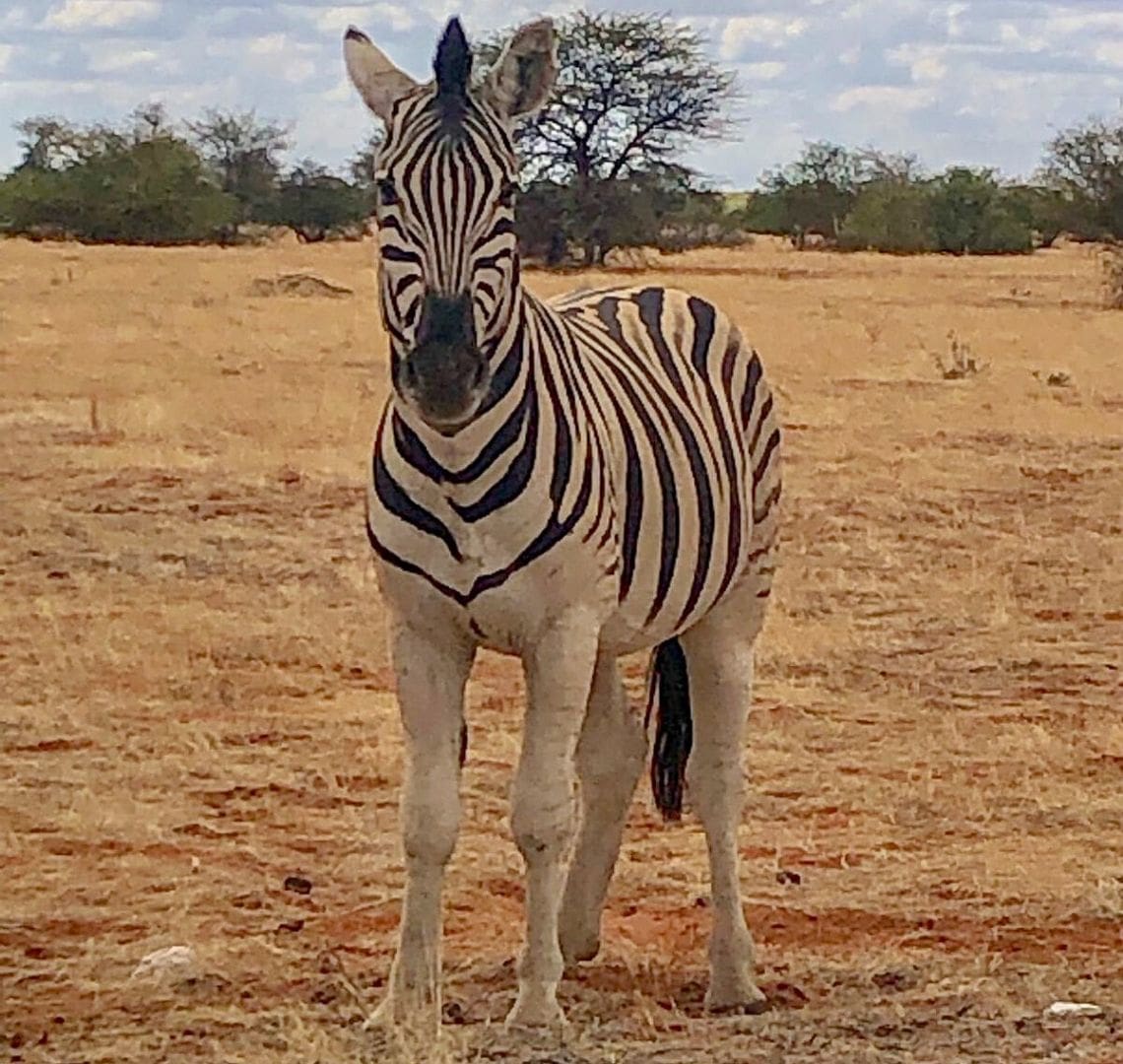 Do
Etosha is the jewel in Namibia's crown for a reason. Pack up early and head out to explore the many watering holes around Etosha. There are around 40 to choose from and the wildlife here is abundant so you'll have plenty to see. Some of the watering holes can be pretty busy if there are lots of animals there so be prepared to wait.
Namibia Wildlife Resorts also runs game drives from Okaukuejo. While I would thoroughly recommend them, there is an age limit for a reason. The drives are long: you need to stay quiet for fellow passengers and other tours and there are no toilet breaks. That being said, if your kids can handle it, the guides have great knowledge to share and know the area like the backs of their hands.
Stay
Enjoy another night under canvas at Okaukuejo. The best part about this place is that if you get insomnia, you can get up and go to sit by the watering hole for a while!
Eat
More of the same on the eating front. Again there aren't many options so you're restricted to the restaurant in Okaukuejo (which has air conditioning for hot days). With supplies in your car, though, cooking over a campfire is still your best bet.
Day 12
Do
Probably the best day of driving of my life! We headed east from Okaukuejo towards Namutoni Gate. It's not a long way but you can make a whole day of it by stopping regularly at the many watering holes along the way. We were just thrilled to see so many animals! This was much more successful than doing the game drive with NWR as the Things could listen to audiobooks while we were driving and we could keep the windows wound up if they wanted to talk or whine!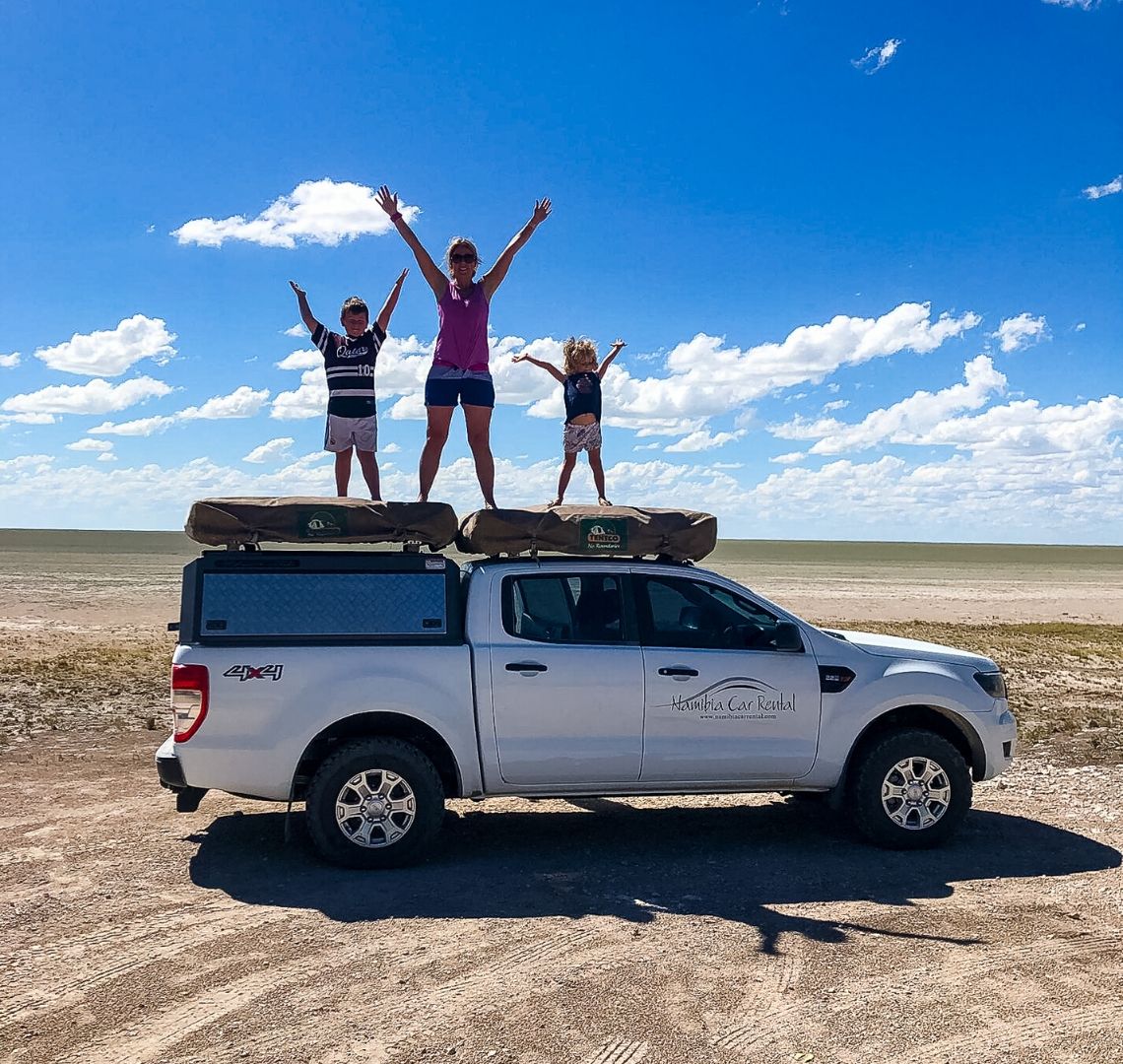 Stay
For a little piece of luxury to end the trip, I'd highly recommend staying at one of the lodges just outside Namutoni Gate. We stayed in Mokuti Lodge and absolutely loved it. After almost 2 weeks of gravel roads and camping it was like an oasis! Some friends had recommended Mushara but it was booked up for our trip.
Eat
The theme of no options continues as everything is so spread out. Luckily, our stay at Mokuti included a delicious dinner and breakfast every day. The freshly cooked game meats outside on the BBQ were just amazing!
Day 13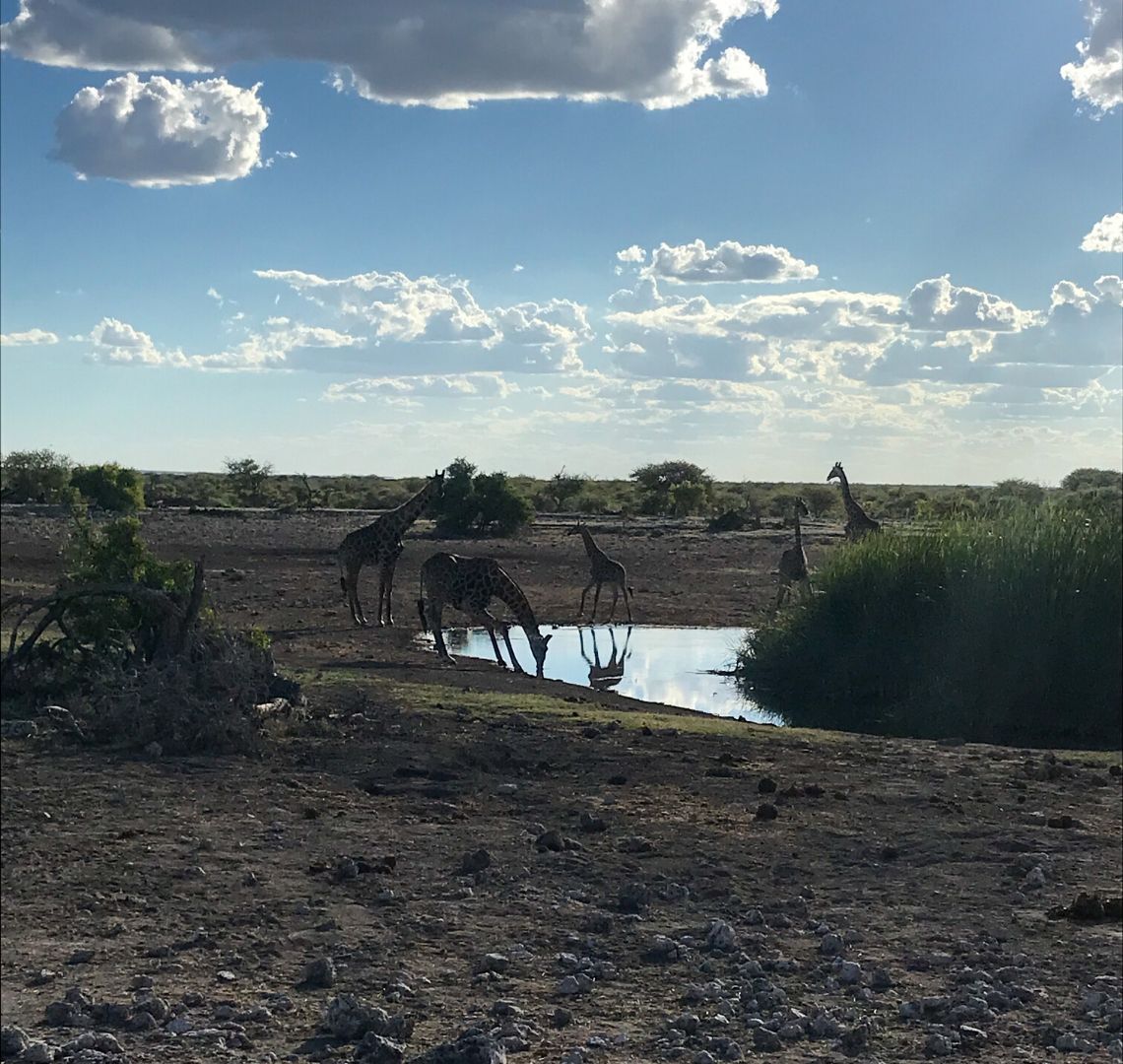 Do
If you've not seen enough elephants, lions, zebras and giraffes then this is the perfect day to head back into Etosha. You can book a private game drive through the lodge which I would highly recommend. Alternatively, jumping back in the car now that you don't have to take the tents down is so much quicker and easier!
The lodges also have amazing facilities including beautiful gardens, a pool, and a spa. This is a great place to wind down after an intense couple of weeks.
Stay
Stay where you are in the lodge and enjoy the luxurious facilities!
Eat
This is a case of eating up whatever you have left and being at the mercy of the lodge. Thankfully the lodge has delicious options!
Day 14
Do
Time to start the first leg of the long journey home. Bear in mind that it's a 5-6 hour drive from Etosha back to Windhoek (further if you're on the other side of the park). Handing back the car takes time to go through everything and then its another hour to get back to the airport. Long story short, if you've got an early flight then you'll need to head back towards the capital a day early.
Reluctantly, we left in good time so we would have time to do everything we needed to do and still get back to our accommodation for the night.
Stay
We had hoped to stay at the Cheetah Foundation for our last night but it was fully booked. Instead we went to Na'ankuse Foundation which was stunningly beautiful but possibly a bit remote for what we needed and not particularly kid-friendly. It wasn't kid unfriendly but just not super easy either. We also found it difficult to stay there without the independence of our own transport; We had to decide in advance when we would want picking up for dinner and breakfast. This seems like a silly thing but when you have hungry kids who have woken early, waiting an hour for a pick up is a long time!
We drove past the Cheetah Foundation on our way back to Windhoek. In hindsight we were glad we didn't stay there as it was still quite a long drive on to the capital. And while we enjoyed our stay at Na'ankuse, I think we could have just as easily stayed in Windhoek for less money and more independence.
Eat
Before dropping the car off we had lunch back at Joes Beerhouse.
Dinner was at Na'ankuse and was a lovely experience. The restaurant there is gorgeous and super tranquil (at least until we showed up!). The food was delicious (albeit not particularly kid friendly) and we really enjoyed the communal style of serving it.
Day 15
Last day
Sad times as you head to the airport from wherever you are and make your way home.
The memories from our Namibia trip are still with me and crystal clear. It was the most amazing trip and we will share those memories with the Things forever.
2 week Namibia Itinerary
Other resources
If you're planning a self-drive safari to Namibia, please check out my other blog posts about it: