Last leg
The plan to finish up in a resort in Nusa Dua was intentional since we arrived on Christmas Eve. I wasn't sure I could muster the energy to create a houseful of Christmas spirit in one evening when, most likely, I would be wanting to have a large drink or four. We chose Nusa Dua as it is a beach resort but close enough to the airport. No-one wants a long transfer time before a long flight home.
We found a 2 bedroom family suite in the Westin Nusa Dua with loads of room for us all. The hotel boasted a couple of great pools – one with a slide – and a decent kids club. After we had booked it we found a number of great Christmas activities starting with Drinks and Canapés with Santa (I figured these must be our people!). I was pleased that we had found a great place to spend our first ever Christmas as just the four of us. If you're looking for more options, Melissa over at Thrifty Family Travels has written a great post about other great Bali hotels with kids clubs.
Itinerary
Day 8 – CHRISTMAS EVE!
More shopping, travel to Nusa Dua, cocktail hour with Santa
There was plenty of time for us to do some exploring when we arrived. The Things were in need of distraction. I had told them about seeing Father Christmas that evening and that was all they could talk about… Until they saw the water slide when Thing 1 announced he wanted to go on it. Immediately.
Finally it was time to hit the party (wine time – yay!) and of course meet the man in red himself. For an event involving Father Christmas it was spectacularly badly targeted at kids, with things like steak tartare canapés. Yes, really. Shockingly the Things weren't remotely interested in these and proceeded to eat their body weight in peanuts and crisps. I had been imagining something more low key, maybe on the beach and involving smug family photos that I could post to Facebook. Not to be.
Always determined to make the most of it, we enjoyed the wine and listened to carols for the first time that season. Christmas music in the Middle East is definitely NOT blasted out of radios or speakers at the mall. It was fun watching the kids get more and more excited to see Santa (even though "He's not the REAL Father Christmas mummy").
It was a great way to get ready for Christmas Day itself and gave the kids an excuse for a later bedtime. We prayed for them to give us a lie-in…
Day 9 – CHRISTMAS!
Nusa Dua, Christmas breakfast, pool day, Christmas lunch
Christmas was totally different for us having never done it as a family without, well, family. Kids are a great leveller though and the simple fact that it was Christmas made them dizzy with excitement. Thing 2 is much more exposed to all this than her brother was at her age. I distinctly remember his Christmas 2 years ago still being a bit of a non-event. This year she was jumping for joy when she saw her stocking packed full of presents!
Predictably there was no lie-in and not having to cook meant we actually had a long day to fill. Breakfast was an inspired event in a huge ballroom complete with kids club who had set up camp in half of it bringing with them a variety of games and things to do.
That distracted the Things for around 5 minutes before they pestered us to hit the pool so off we went again. Its amazing how many hours there are in Christmas Day when you aren't cooking! We spent 3 hours by the lovely pool playing around and only then did we feel ready to go for lunch.
Lunch was a ridiculous affair as it was an all you can eat buffet. Still, it was fun and included no cooking or washing up – WINNER!
The other highlight of the day was several Skype calls to our much missed family. This made me happy and sad at the same time: Sad because obviously we missed everyone terribly. On the other hand it is so nice to know you can see your family even from the other side of the world.
We finished the day with sundowners at the bar on the beach while the kids played in the sand….Bliss.
Day 10
Shopping and water park (yes again)
The kids had talked about little else other than Waterbom, the amazing water park that we had been to when we were in Seminyak. They were desperate to go back so we decided to indulge them. Before we got to Waterbom, we took some time to hit the outlet shops (limited success – boo!).
Second time around they were still as thrilled as the first to be there and we happily spent the whole day splashing our way around the park and back again. You would have thought we would be too tired for any more fun but Mr Wanderlust and I left the kids in the capable hands of one of the hotel babysitters and headed off for a delicious meal down by the sea.
Day 11
Nusa Dua, Kids Club, Dreamlands beach, Uluwatu Temple
The Things had been asking to go to kids club since we had arrived so we finally went to investigate. They absolutely loved it and were happy playing with the new toys and in the playground. The hotel had bikes to borrow so when they got bored we went walking by the beach while they rode around.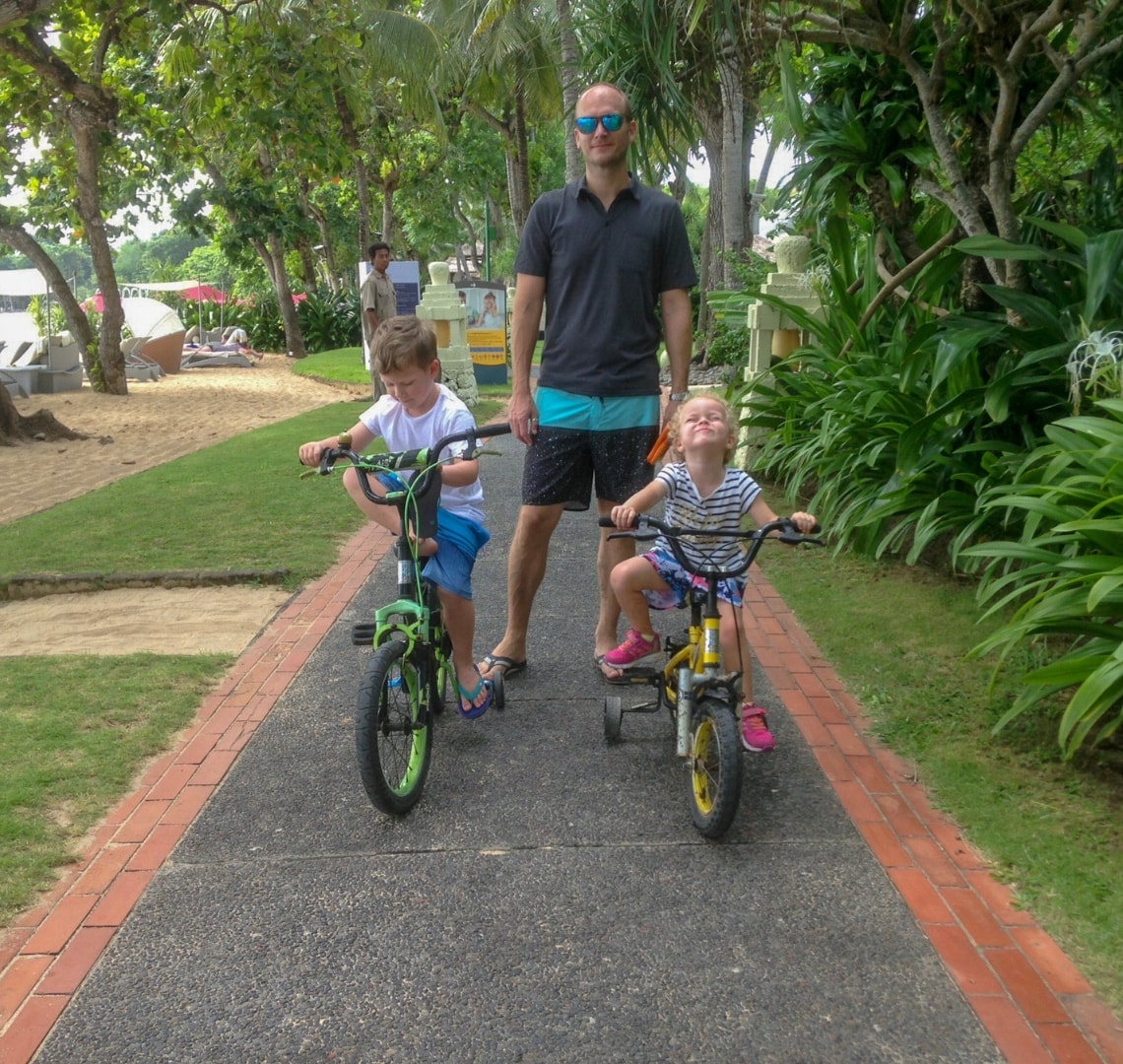 In the afternoon we hired a driver to take us to a popular beach and to a temple to watch the sunset. For the first time since we arrived we had a day when I felt we could have used our time better. Dreamlands beach was dirty and the waves were so big that both kids got knocked over at one point.
We cut our losses and went to Uluwatu. Unfortunately, with it being holidays for many nationalities, it was absolutely heaving, the traffic was appalling and we couldn't see much with so many people there. The highlight of the afternoon was a monkey stealing one of Thing 2's (new) flip flops… Right from off her foot! Much hysteria ensued while one of the employees chased after the monkey and retrieved it for us.
Day 12
Nusa Dua, Kids Club / adult spa, beach and pool
This was the first part of the holiday that involved splitting the family and I had mixed feelings about it… We left the Things at Kids Club with a babysitter and headed to the spa for some alone time. I had an awesome massage and left feeling so relaxed and chilled out. Its so hard to reconcile the feeling of wanting to hang out with the Things with wanting some 'me' time. There is definitely some mummy guilt there (pretty sure there's not so much daddy guilt – what's that about?!). Over time I have gradually become more comfortable justifying my need for alone time and how it actually makes me a better mummy.
The funny thing is that the Things really didn't mind at all. They were happy as clams in Kids Club all morning. They couldn't wait to tell us about all the fun things that they had done. PLUS having spent all morning in Kids Club without Mr Wanderlust and I trying to encourage them to leave to do something more interesting (for us), they were so happy to see us and to go off to do something new as a family. We spent the rest of the afternoon at the beach and in the pool. Dinner for the Things was by the beach while we drank our sundowners.
In the evening we decided to take advantage of the (ridiculously good value) babysitting service again. We sat and talked over cocktails about anything and everything including (as is standard for any holiday) the consideration that we could just jack it all in and move to Bali!
I didn't realise it at the time but, looking back, I think it was here that my idea for a travel blog started to take shape. The holiday atmosphere had well and truly infiltrated our every fibre…
Day 13
Nusa Dua, Kids Spa, water blow, Pirate's Bay, departure
I was excited to get the kids to the spa and we spent some time discussing what they wanted. We settled on facials for each of them followed by painted nails for Thing 2 (they had peeled off by lunchtime) and a 'tattoo' for Thing 1.
Needing to waste time, we set off in search of a blowhole (apparently more impressive on windier days). Lunch was at Pirate's Bay, a kid friendly cafe with a 'pirate ship' for the kids to explore. Our biggest problem was getting them to leave Nusa Dua in time to catch our flight!
And there we have it. We were leaving Bali closer as a family, completely and utterly relaxed and wanting a taste of something more. Feel free to go back and read my posts on Seminyak and Ubud if you missed them.
Next time we go to Bali I'll be using Our Globetrotters' Off The Beaten Track post which I just loved. If you don't want to go to Bali, Lombok is another great option and you can check out Thrifty Family Travel's post about it here.
Now to choose the next trip to review!