One of the best things about being marooned in Singapore has been the ability to explore the island in ways we just would never have done had we been able to travel frequently like we used to. Last week, I headed to Sembawang Hot Spring Park with a couple of friends and I just had to share it with you all. I only recently discovered this place was in Singapore after more than 18 months of living here and it is well worth a visit.
About Sembawang Hot Springs
Sembawang Hot Spring Park is Singapore's only natural hot spring available to the public. The other is on Pulau Tekong which is an island used for military training. The hot spring was discovered in 1909 and locals believed it to have healing powers and medicinal properties. Like other hot springs, the water is heated by hot rock masses as it moves towards the centre of the earth. It is forced back up by pressure and makes its way to the surface through cracks in the rock. At its hottest, the water reaches temperatures of between 100ºC – 150ºC. By the time it reaches the surface, however, it has cooled to a mere 70ºC.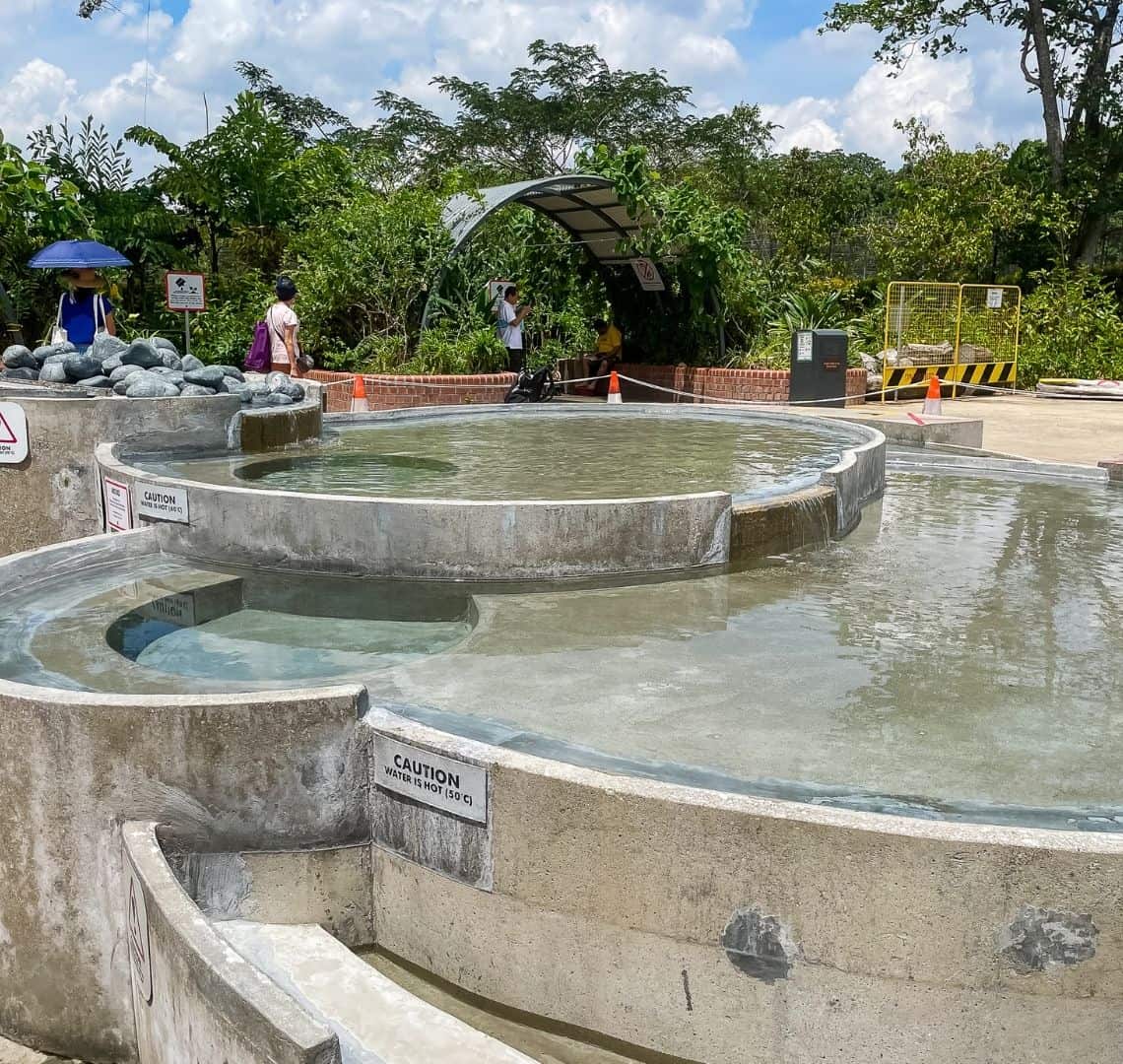 Visitors can learn more about Sembawang Hot Spring Park by walking along the Floral Walk. It hasseveral information panels along the way. They have more details on the geothermal process, fruit trees and edible plants found in Singapore, the history of the springs (including that the Japanese turned them into traditional onsen baths during the occupation!) and much more. There is also an educational play feature for children that is interactive.
This site isn't well visited by tourists but it should be. Here's what you can do while here:
What to do at Sembawang Hot Springs
Bathe your feet
Be warned, Sembawang Hot Spring Park isn't a thermal bath, by any stretch. In fact, for many years it was just a tap coming out of the ground. In January 2020, the National Parks Board reopened the springs having done a complete refurb. It is now a series of cascading shallow pools that mimic how the pools would be created naturally. The hottest water starts at the top and it flows down getting cooler with each pool it reaches.
You can bathe your feet at the edge of the pool, or you can bring your own bucket to collect some water and take it to a few seating areas in the shade. The coolest pool is still seriously hot at around 40ºC so it takes some getting used to! There is a hose with cold water to cool the water down more quickly if you need to.
Boil an egg!
Yes, you read that right: one of the most popular activities at Sembawang Hot Spring Park is to boil an egg! For hygiene purposes, there is an actual egg cooking station so you aren't cooking in the same water that people's feet are in (YUCK!). The cooking station has 70ºC flowing hot spring water
Further inside the park is another stone structure with taps of flowing hot spring water at 70ºC that you can use to cook eggs. Nothing else is supplied at the park so you will need to bring your own eggs and a cooking utensil. Bear in mind that the water isn't boiling so will take quite a bit longer to cook than normal (around 20 mins for a soft boiled egg and 30 for a hard boiled egg). Bring spares in case of accidents.
Hiking and walking
The floral walk that leads up to the cascading pools is really nicely done. This is the area where you can learn about the springs and the surrounding area. It leads past Sembawang Eating House and a gorgeous lawn area complete with an enormous Banyan tree and on to the main area where the cascading pools, shaded seating area and egg cooking station are.
There are a few walking routes around Sembawang Hot Spring Park including one that will take you past an enormous estate of Black and White Houses, through Sembawang Park and past Sembawang Shipyard and Sembawang Beach. To do this and go on to Sembawang Hot Spring Park and back to an MRT station is around 12km.
Look for wildlife
We didn't see much in the way of wildlife on our walk or while we were in Sembawang but we did see a crane really near the military base that is next door to the park and a couple of lizards. Since we were there in the middle of the day, I'd assume there might be more to see in cooler hours.
Sembawang Beach and Sembawang Park
Sembawang Beach is right next to Sembawang Park, not far from Sembawang Hot Spring Park. It's not the biggest nor the most exotic looking beach but you can see across to Malaysia and have a bit of a play if the kids are needing to blow off some steam. There is also a restaurant there (Beaulieu House) but we arrived too early to go in.
Photography
Sembawang is a really interesting place for photography and a bit less touristy than many other areas of Singapore.
Where to eat at Sembawang Hot Springs
As well as hard boiled eggs, you could consider bringing a picnic to the springs. There is a gorgeous lawn close to the springs that is quite secluded and a bit away from the crowds that are sometimes there at weekends and on public holidays.
Where to stay at Sembawang Hot Springs
There isn't an abundance of places to stay in and around Sembawang Hot Springs. Most people stay around Orchard Road, downtown, or on Sentosa and then make their own way up to Sembawang.
Getting around Sembawang Hot Springs
Sembawang Hot Springs Park really isn't a particularly big place so getting around the park is on foot only (bikes are not allowed and you are asked to park them at the entrance).
How to get to Sembawang Hot Springs
By Car
There is no carpark at Sembawang Hot Spring Park. The nearest carpark is at 114 Yishun Ring Road, a 450m walk (8mins) away.
By public transport
Train: The nearest stations are Sembawang, Canberra and Yishun. From there you need to take a bus or walk to Sembawang Hot Spring Park.
Bus: There are several bus routes that go past or near Sembawang Hot Spring Park. For the most up to date information, check out the National Parks Board page on Sembawang Hot Spring Park.
How to plan your trip to Sembawang Hot Springs
There isn't masses around Sembawang Hot Spring Park so go prepared with snacks and plenty of water. There also isn't much in the way of shade so avoid going in the middle of the day. The opening hours are 7am to 7pm daily (Sembawang Eating house is open 8am-8pm) but the park can get busy on weekday evenings, at weekends and on public holidays. Sembawang Hot Spring Park is wheelchair accessible.
If you want more information about Sembawang Hot Spring Park, the National Parks Board website has a good microsite.
When I first heard about Sembawang Hot Springs, I must admit I had assumed they were thermal baths rather than shallow pools that were really hot! Still, it's a fun thing to do one morning as part of an explore Singapore mission!
Other places to visit in Singapore
As part of my Comprehensive Guide series, I have written about several other cool places in Singapore to visit – be sure to check them out!
I'd love to know if you have been to Sembawang Hot Springs Wanderlusters! Feel free to leave me a comment below (I love reading them!) or drop me an email at [email protected]