I stared at the beach. Its soft sand was golden, as if we were on a tropical island, and the water was a warm blue. On the horizon, there was the less that paradisiacal view of an industrial site on the southern tip of Malaysia but even that had a coolness to it – we were almost within touching distance of another country. In the other direction, beyond Serangoon Harbour, I could see the lush vegetation on Pulau Ubin. It stretched away into the distance towards its main jetty.
About Coney Island, Singapore
Coney Island in Singapore can be found to the northeast of Singapore, near Punggol, and right on the border with Malaysia. It is also known as Pulau Serangoon. Pulau means island in Malay and Indonesian. According to Singapore Infopedia, Serangoon is thought to be either a connection to Ranggong, the Malay name for a small marsh bird, or stork. Alternatively, it could have come from the Malay phrase di-serang dengan gong, which translates as to surround with gongs.
Once owned in the 1930s and '40s by the brothers who created Tiger Balm: Aw Boon Haw and Aw Boon Par, the island was also briefly known as referred to as Haw Par Island. In 1950, Pulau Serangoon was first given its alternative name of Coney Island: it was developed into an island health resort called Singapore Coney Island boasting some seaside accommodation, a dance hall, a restaurant, and a bar. It's now owned by the government.
Originally only accessible by boat, there are now two bridges connecting Coney Island to the main island: one in the north, connecting it to Punggol and one in the south connecting it to Pasir Ris Coast Industrial Park. In addition to its stunning 2km beaches, Coney Island is host to a variety of flora and fauna which can be found along its well-kept trails, in the mangrove forests, and among the trees and woodlands that line many of the paths.
This site isn't well visited by tourists but it should be. Here's what you can do while here:
What to do on Coney Island, Singapore
Hiking and walking
By far my favourite way to get around Coney Island is on foot as it gives you the chance to really take in your surroundings. There are a number of different paths weaving their way around and across the island. The total loop is around 5.5km but could be longer if you take a more indirect route. Coney Island also has a Park Connector that runs along the length of its eastern edge. On your way around, be sure to stop at the Casuarina Exploration playground, which is an obstacle course made out of old casuarina trees.
Biking
all-terrainIf you're short on time or have little legs in tow, biking is the other great way to get around Coney Island. The paths aren't paved but they are in decent condition for mountain bikes or all terrain bikes (they're a little bumpy for road bikes!) If you don't have your own wheels, there are a few places in Punggol to hire them (details below). Note that cycling is allowed along the main paths but not the boardwalk.
Look for wildlife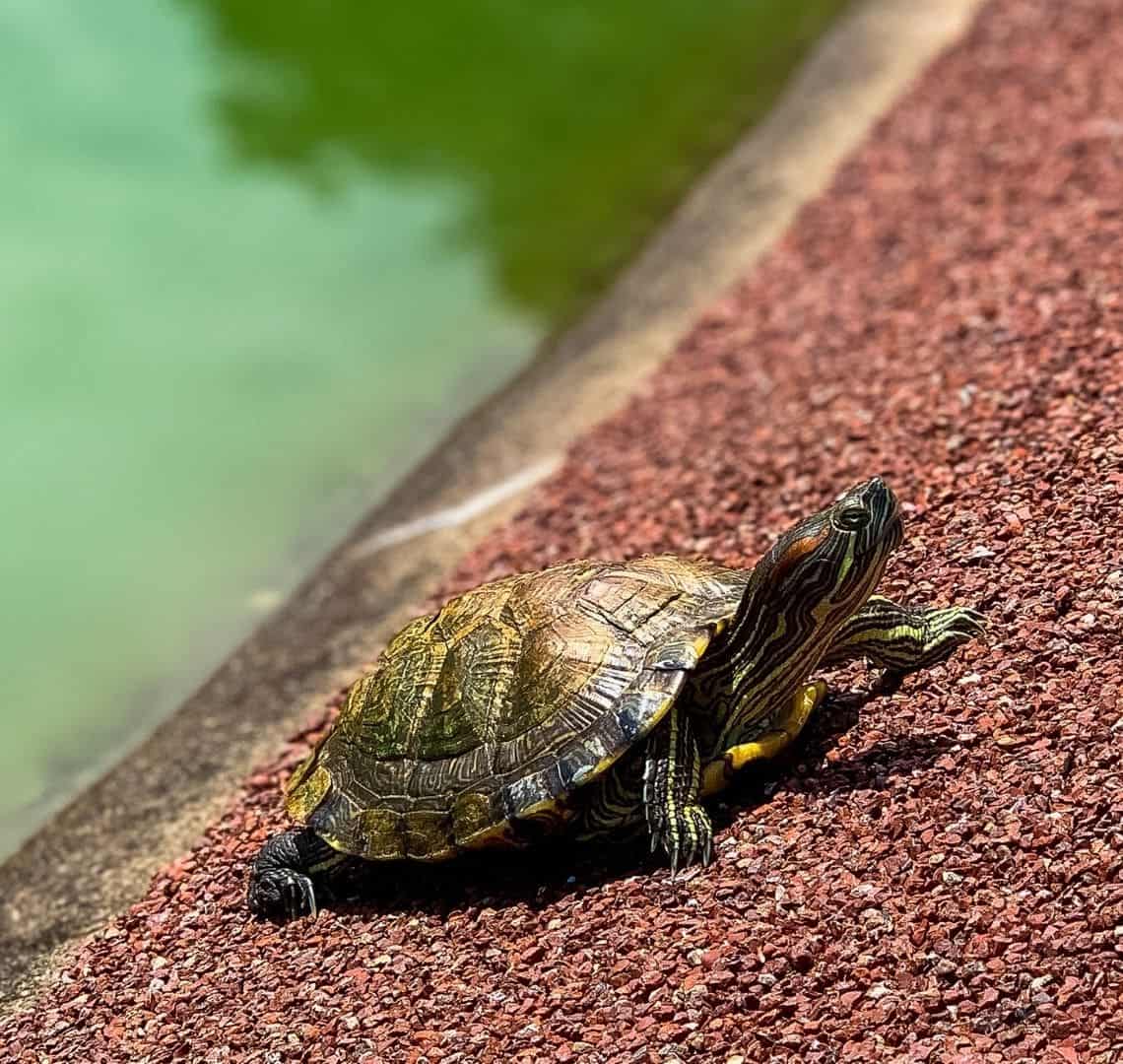 According to the National Parks website, not only is Coney Island home to a wide variety of fauna and flora. Some of it is critically endangered and some plants are believed to be extinct in the wild elsewhere in Singapore. The website also reveals that Coney Island Park has up to 80 species of birds, including Baya Weavers, Oriental Magpie-robins, black-crowned night herons, spotted wood owls, red junglefowls, changeable hawk-eagles, red-wattled lapwings, grey herons, rusty-breasted cuckoos and parakeets. In fact, the park is well known among bird enthusiasts for its ideal location and high diversity. If you're more of an animal person, sadly the cow is now gone but there are plenty of other things to look for including monkeys, snakes, lizards, turtles, otters, and butterflies.
Beach
No trip to an uninhabited island is complete without a trip to the beach. It's not quite paradise. The beaches aren't pristinely kept and the water isn't a crystal clear blue but the five beaches along the 2km western side of the island are still really nice to stop at to take a rest and cool your feet in the water. Beware the sand flies which weren't there when we were there but have been reported by others.
Photography
Coney Island is a great place for photography enthusiasts with an interest in nature. With such an abundance of wildlife, there are plenty of subjects to search for. If getting the perfect landscape shot is more you're thing, the curved beaches and meandering paths offer fabulous leading lines. The trees offer a great backdrop of greens with gaps in the canopy to let the natural flares of sunlight through.
Where to eat on Coney Island, Singapore
There aren't any food or beverage outlets physically on Coney Island so go prepared. That being said, there are a few restaurants in Punggol Settlement, very close to the West Gate of Coney Island. I recommend the well-loved House of Seafood and White Restaurant. At White Restaurant you can try the infamous Sembawang white beehoon, a rather glutinous rice noodle dish with seafood as well as Punggol East Container Park where there are a few more restaurants and bars.
Where to stay on Coney Island, Singapore
There isn't an abundance of places to stay in and around Coney Island. Most people stay around Orchard Road, downtown, or on Sentosa. That being said, there are the usual non-descript hotels out by the airport. There are also a few resorts nearby including D'Resort, the Civil Service Club, and Treehouse Villa. Punggol Ranch where Gallop Gables can be found also offers accommodation in wagons!
Disclaimer: I've not stayed at any of these so I can't vouch for them.
Getting around Coney Island, Singapore
The only way to get around Coney Island is to walk or cycle. Bikes can be hired from either from Jomando Adventure & Recreations (located at the end of Punggol Settlement) or from Go Cycling (located at Punggol Jetty). Slightly further away is Bikes, located at Waterway.
How to get to Coney Island, Singapore
By Car
Drive to Punggol Settlement and either park your car there, or outside Coney Island's exits by the West and East entrances. The East entrance is much less used and there are no restaurants or amenities other than toilets at this end.
By public transport
Train: The nearest station is Punggol. From there you will have to get a bus from the interchange via exit C.
Bus: Bus 84 goes from Punggol interchange to Punggol Point Park/Punggol Settlement.
From Punggol Point Park/Punggol Settlement
Walk about 500m east along Punggol Promenade Nature Walk and following the signs, to get to Coney Island Park West Entrance.
Via Park Connector
Nearby Parks/Park Connectors include Punggol Promenade Nature Walk, Punggol Point Park, Punggol Waterway and Lorong Halus Park Connector.
How to plan your trip to Coney Island, Singapore
Coney Island is completely uninhabited so it is best to go prepared. Consider dressing in long sleeves, trousers and closed shoes if you want to spend much time at the beach. Since it can get so hot, this may not be a popular option though! Alternatively, pack lots of sunscreen, insect repellent and any first aid items you think you might need (particularly if you're going with kids). There have been some recent reports of box jellyfish in Singaporean waters so take care at the beaches.
Park opening hours are 7am to 7pm and note that the restaurants and bike hire places don't open until quite a bit later in the morning. The best times to go to Coney Island are early in the morning or later in the day. There is some shade on the island but if it is sunny there are some paths which are quite exposed and the trees mean there isn't always much of a breeze. Take plenty of water to get you round the island particularly if you are going close to the middle of the day and also bring your own snacks (and take home your rubbish!). It is recommended not to enter the park during inclement weather.
There is Barrier Free Access and Wheelchair access at the East and West ends however, the paths can be quite bumpy so bear this in mind when planning your trip.
Note that camping and fishing are not allowed on the island, nor is feeding the monkeys. In fact, it is recommended to keep a safe distance from all animals, but especially the monkeys. There is no electricity or piped water on the island.
If you want more information about Coney Island, the National Parks website has a good microsite.
I didn't know what to expect when we went to Coney Island as many people had said there isn't much to do there. While there aren't lots of attractions, there is still plenty to do and you could easily spend half a day there plus lunch or dinner. If you want to make a full day of it, there are other places nearby such as Punggol and Pasir Ris.
Other places to visit in Singapore
As part of my Comprehensive Guide series, I have written about several other cool places in Singapore to visit – be sure to check them out!
I'd love to know if you have been to Singapore's version of Coney Island Wanderlusters! Feel free to leave me a comment below (I love reading them!) or drop me an email at [email protected]