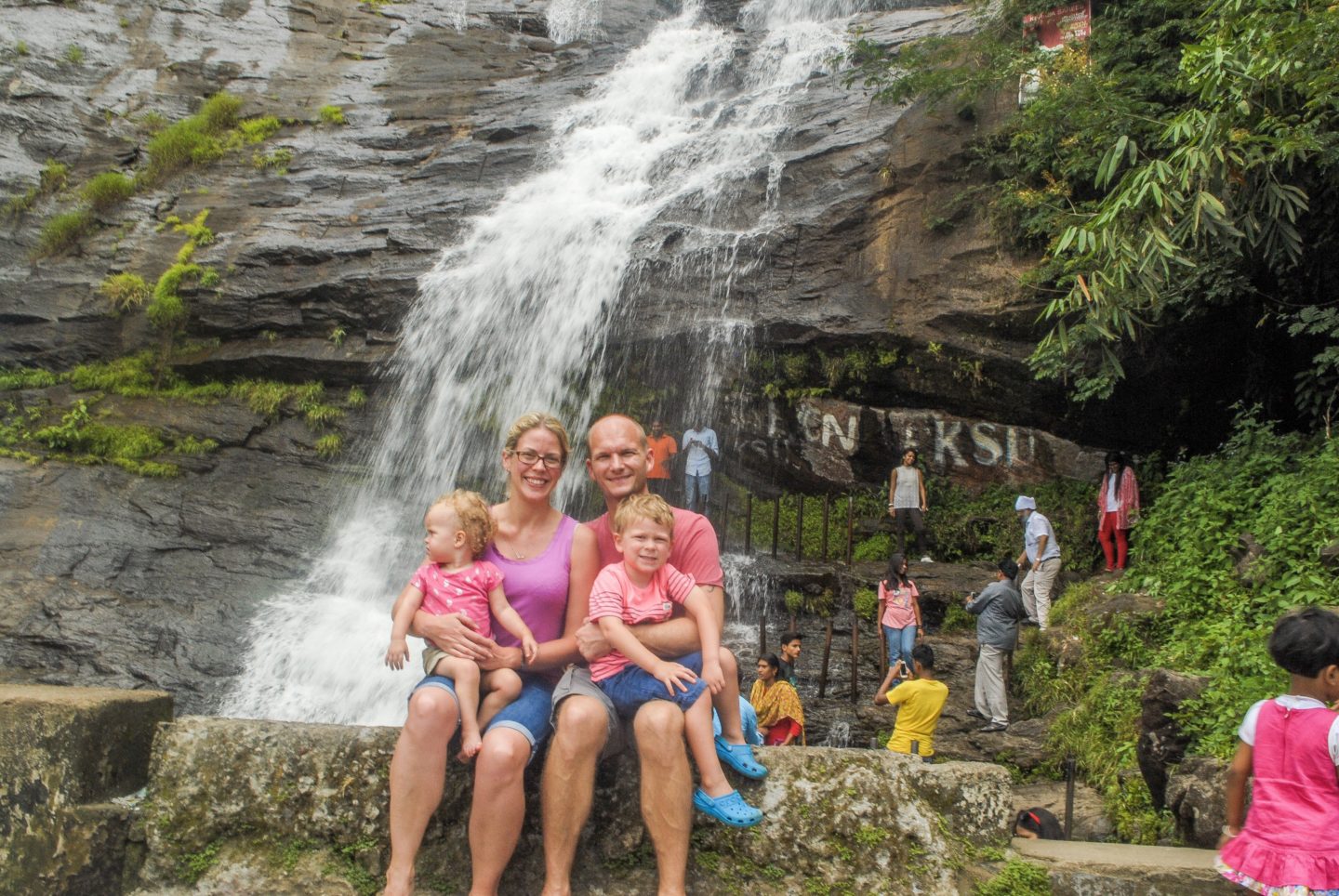 I've been putting off writing this post for a while. I didn't really know where to start to be honest! We spent 10 days in Kerala with kids 2 years ago and… (spoiler alert)… it wasn't a massive success.
Now I know people who went before us and loved it. And I know people who went after us and loved it. To be fair to us, they did NOT go and have the same holiday that we had. Kerala is a beach destination and you can go to Kerala and sit in a resort for a week. I think you know Mr Wanderlust and I well enough by now to know that that is not what we wanted to do!
We'd spent a well needed week in the Maldives a couple of moths prior. We'd needed it because the 4 of us were exhausted after completing an international move. Yet even then, after 4 days of doing not a great deal, we were all starting to look at each other and wonder what to do next with another 2 days left. (Don't get me wrong, if we had been able to go scuba diving then Mr Wanderlust and I would have been happy!)
Anyway, after that we were looking for something that was more active and stimulating. (We also couldn't afford to go on another Maldives style holiday!) We'd been to India before and found it rewarding but quite hard work but had heard that Kerala with its beautiful beaches was truly a great destination. So we set about booking a 10 day break there.
Our Kerala trip plan
Here is the itinerary that we followed: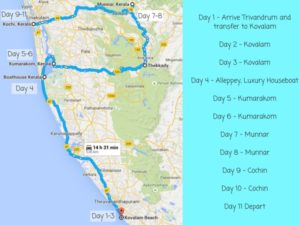 Trivandrum / Kovalam
We arrived at about 3.30am and had thought after such a journey that we'd want a room to crash in and we were right. Our driver for the week, Moni, met us at the airport and took us straight to the hotel. We were completely exhausted and it was great to be able to rest for a few hours.
Things to do with kids in Kovalam
Kovalam is a busy resort and fishing town. It's proximity to Trivandrum means it can get quite crowded. There's loads to do in and around the town.
We thoroughly enjoyed the Kovalam Lighthouse and checking out the local beaches in first few days of our break.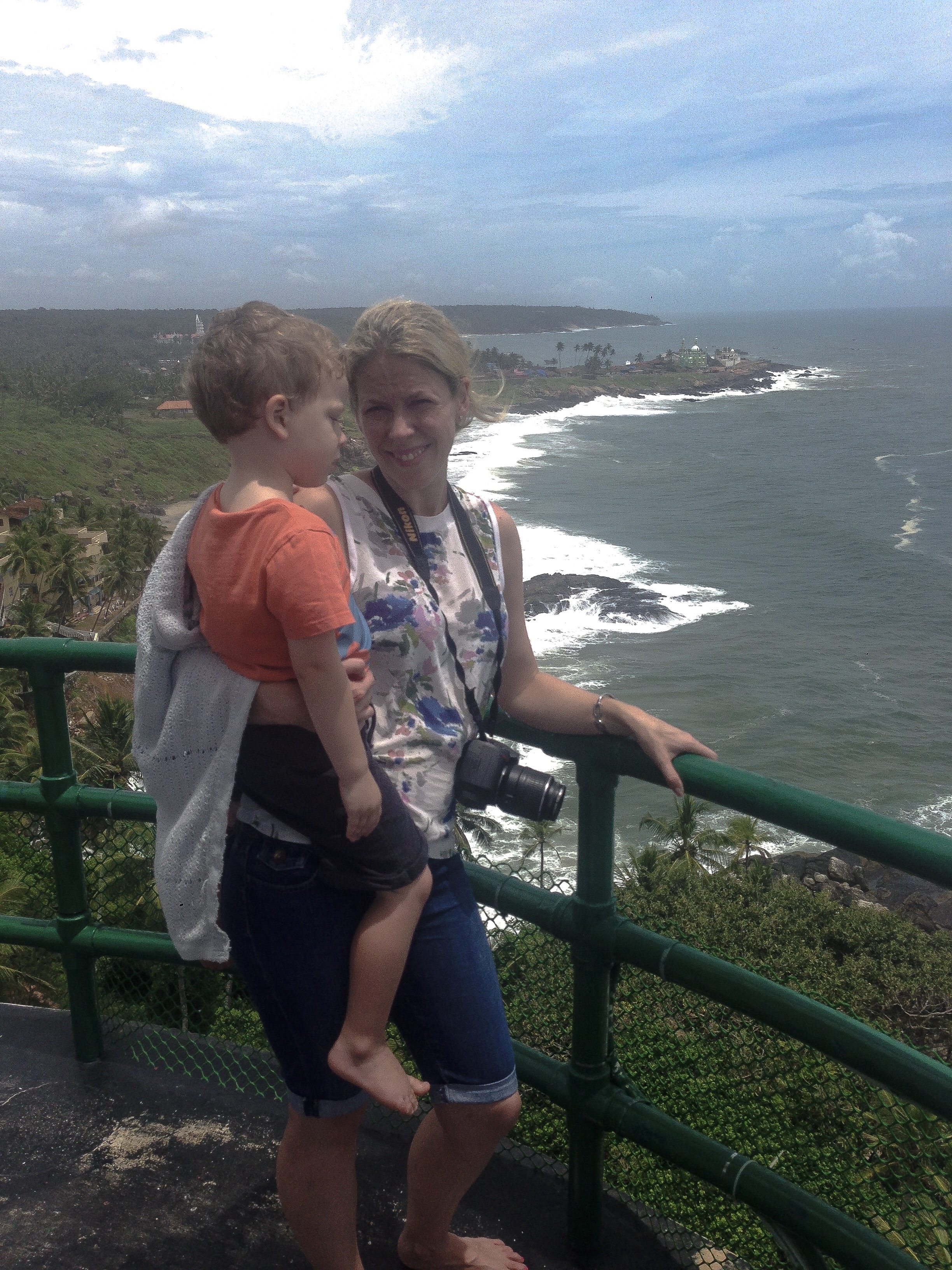 A day or two later, in we decided to go on a little river boat to another beach. I'm pretty sure it was the Karamana River but irritatingly 2 years later I don't remember! A definite side note to this blog is that I am basically preserving all our memories for years to come 🙂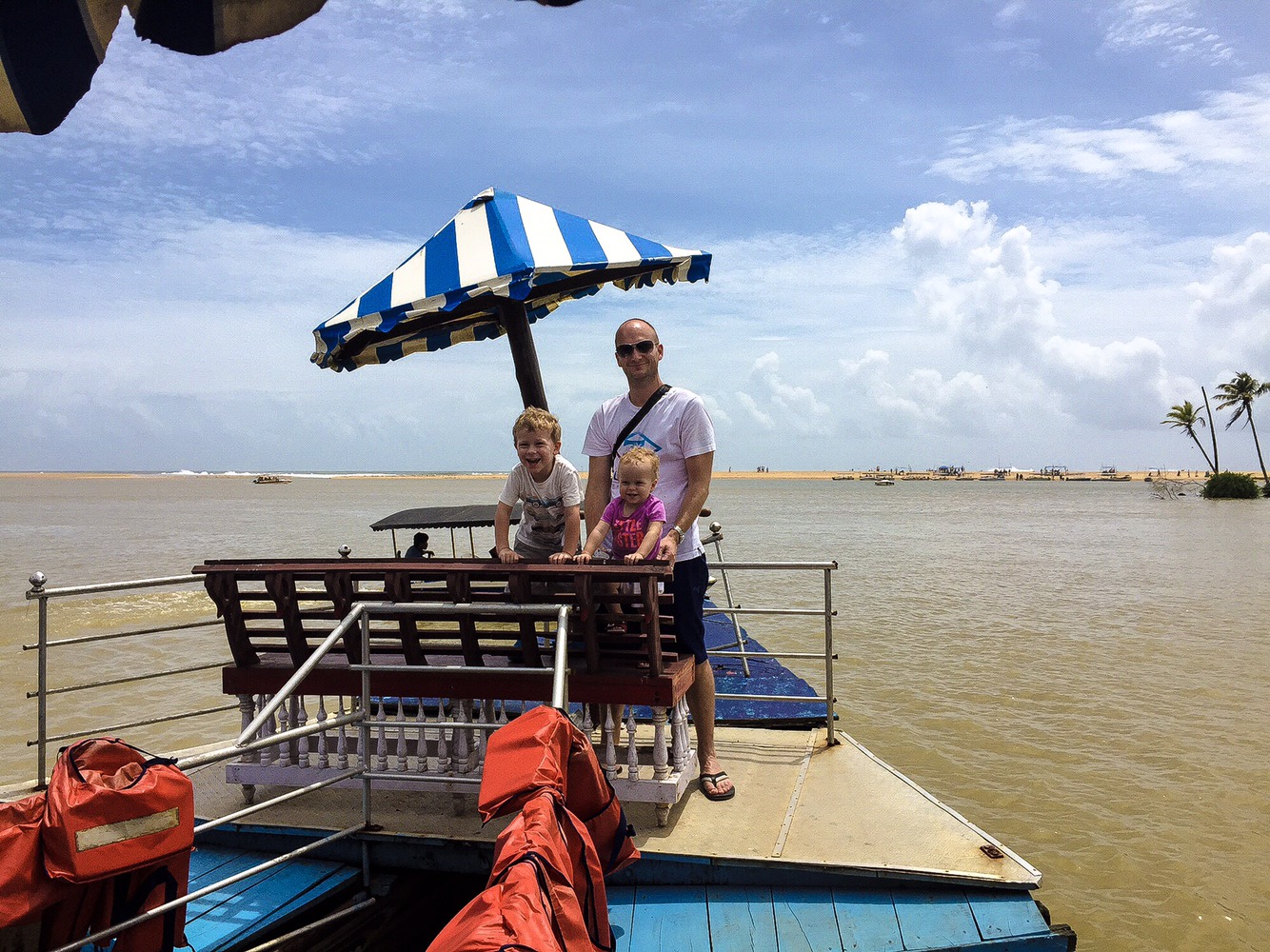 It was fun to walk around the beaches and to see families enjoying an evening together flying kites and hanging out. I must say that I was a bit disappointed by the beaches – they just weren't as spectacular as I was expecting. I guess the Maldives is pretty hard to beat although I genuinely don't think I was expecting that. Beaches aside, the sunsets were amazing and the people were very friendly. Our 2 blonde Things got ALOT of attention!
Other things that we could have done but didn't included: Napier Museum, Neyyar Dam, Vellayani Lake, Kowdiar Palace, Zoological Park, Samudra beach, Hawa Beach and Kovalam Fish Market
Where to eat with kids in Kovalam?
We really enjoyed a few meals in this area of Kerala. The most notable was probably at The Terrace at The Leela Hotel. We also had some very relaxed meals down by the beach which felt more authentic.
Where to stay with kids in Kovalam?
We stayed at a nice hotel called Turtle on the Beach. It was described as 5* by our travel agent. I would say that, while it was very nice, it was definitely not the 5* as I would understand it! Still, it had a nice room with plenty of space for us all. Best of all it had a balcony for Mr Wanderlust and I to escape to with a beer while we waited for the Things to fall asleep. And it had a pool – always a winner for us!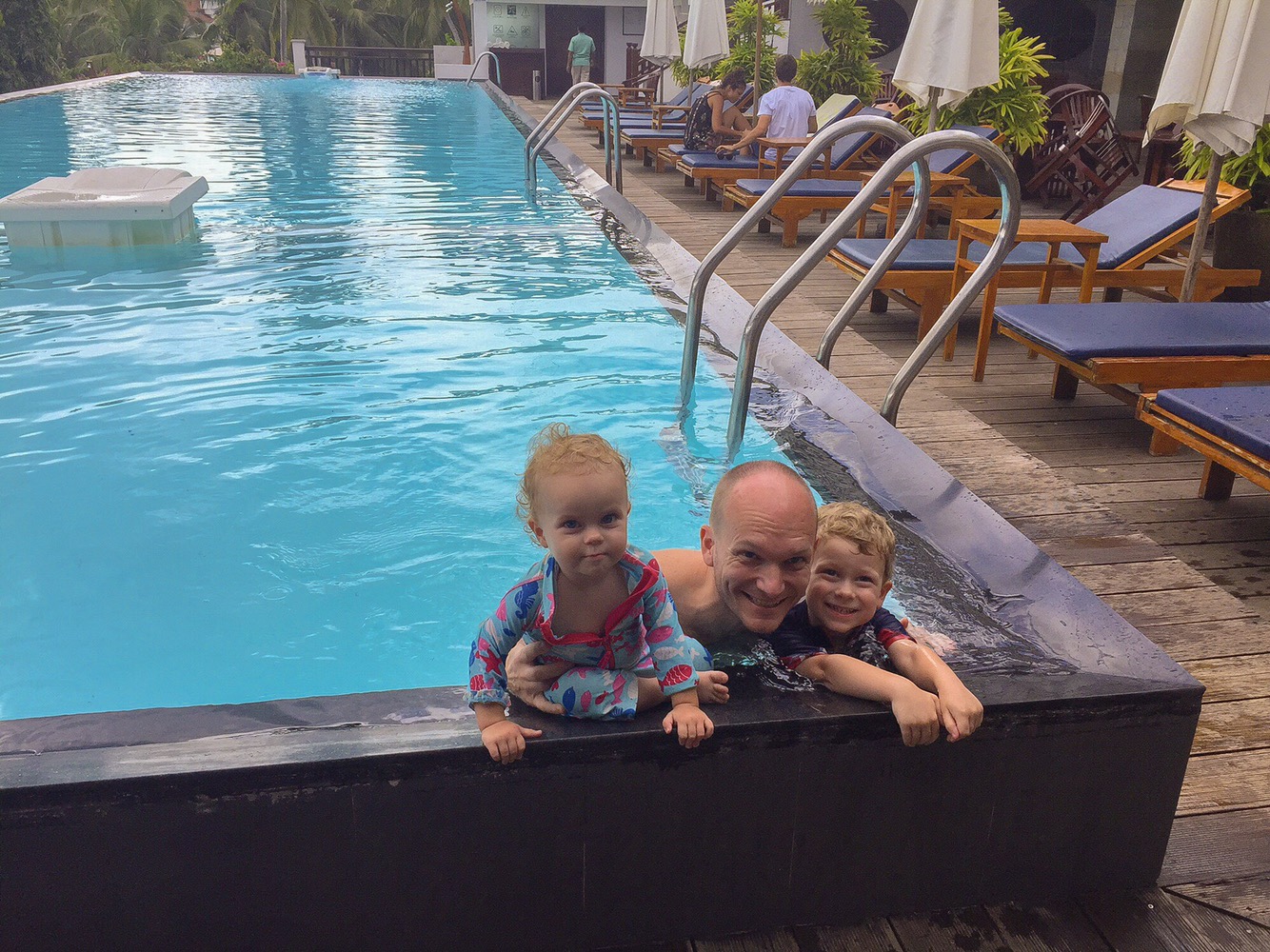 Luxury houseboats on the Alleppey Backwaters
We took a bit of a gamble once days 3, 4 & 5 came around. We really wanted to go on a houseboat in the Alleppey backwaters but with Things aged 3 and 1… what on earth we were thinking? I really don't know as it was 24 hours of hyper vigilance but… it was brilliant!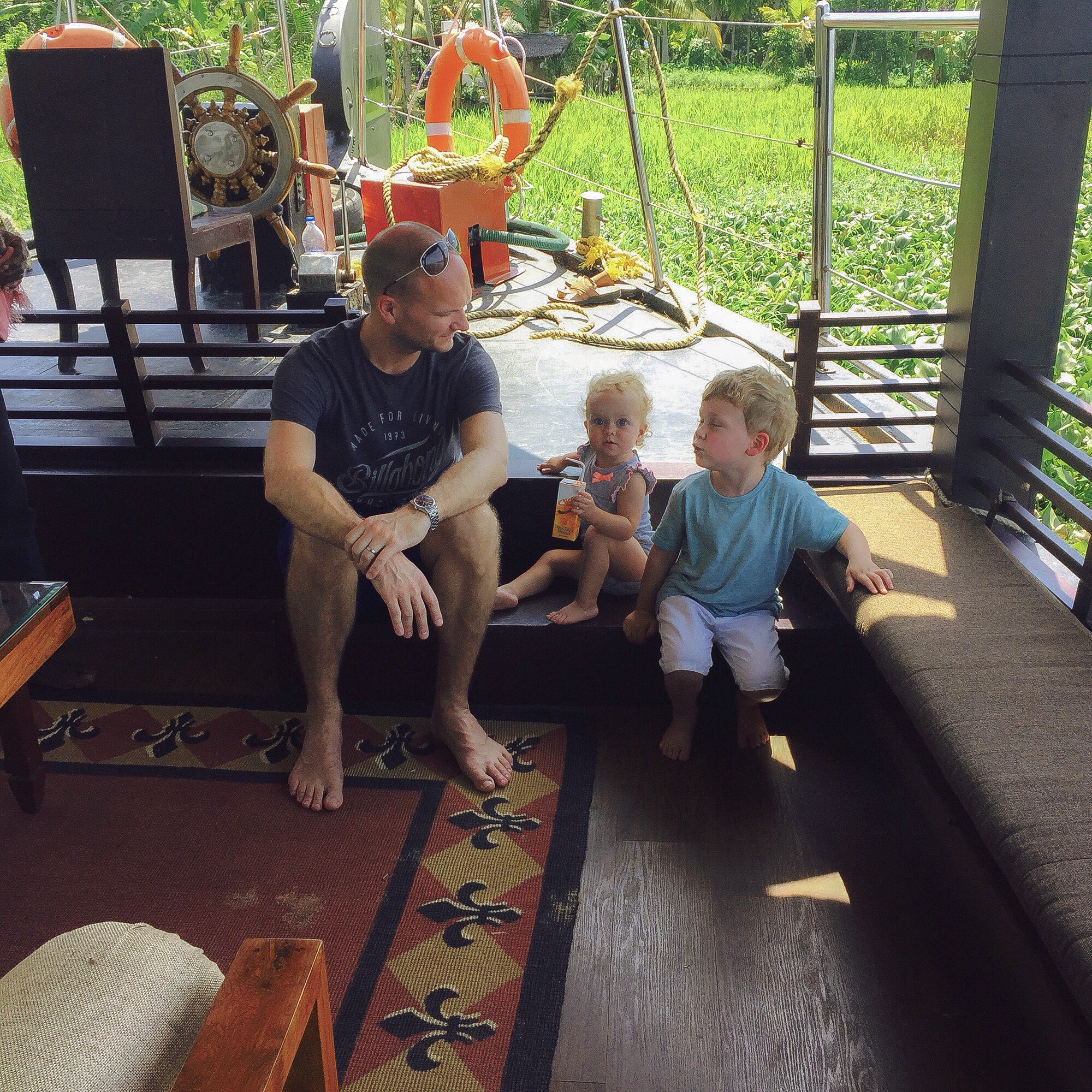 Things to do with kids in Alleppey
We arrived at the jetty where we needed to meet the boat. There was a little shop selling beer and any other drinks you wanted for the journey before we boarded.
Once we set off, the boat meandered around the backwaters at a leisurely pace. The scenery was simply stunning! We played alot, read books and dozed all day. We passed little villages and back gardens and waved at people passing on other boats. It was a complete change of pace from anything I have experienced before.
As I say, though, it was a pretty exhausting 24 hours with the sleeping arrangements (see below) and the constant monitoring of the Things (especially Thing 2 who had just learnt to walk). There was literally nothing to stop them falling overboard except a very small fence which they liked climbing on…
Where to eat with kids in Alleppey
The meals were all included in the price for the night that we stayed. They took us to a fish market where we could choose and buy some fresh fish for the evening meal for additional cost.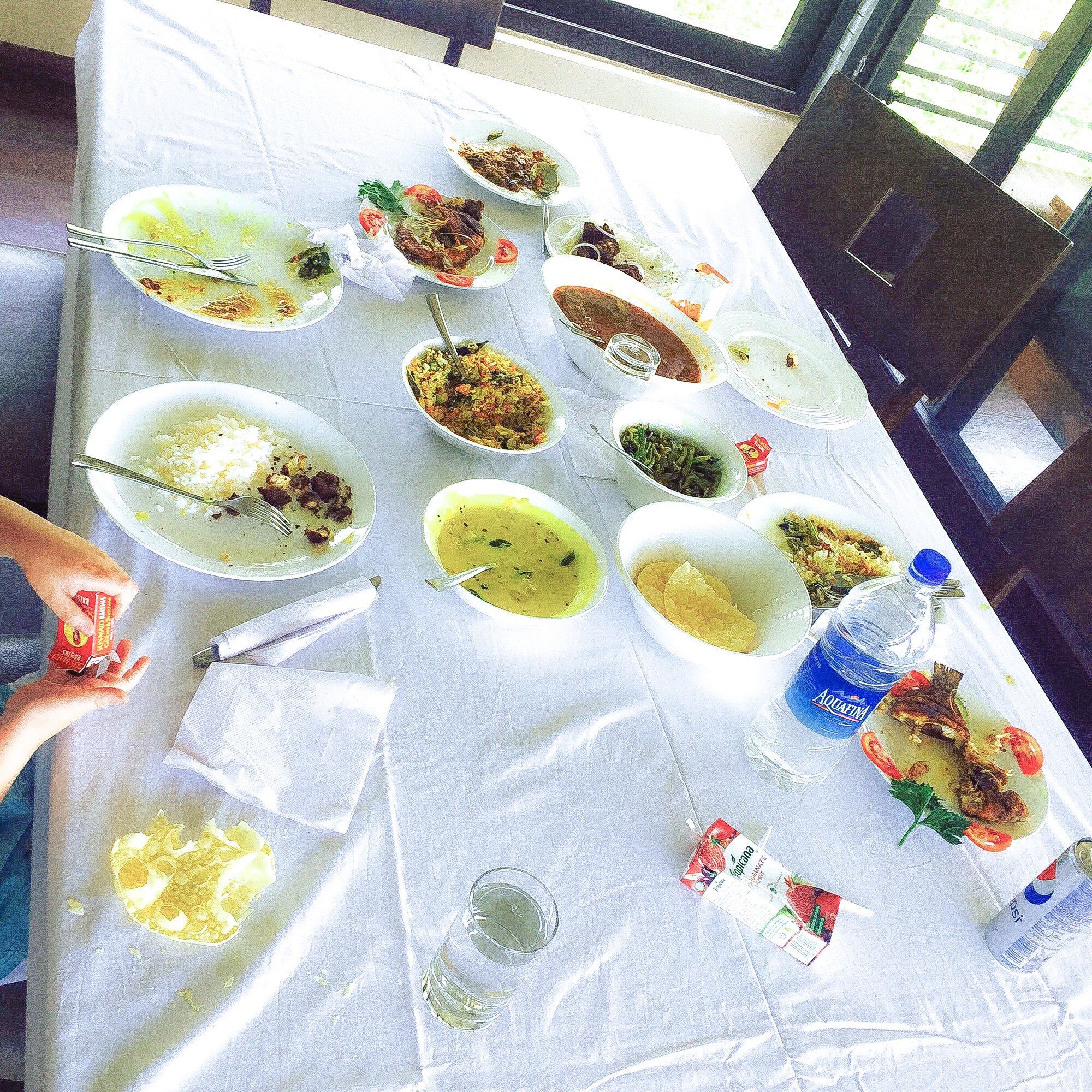 Where to stay with kids in Alleppey
Now the sleeping arrangements were less than ideal – there were 2 bedrooms that we could use. We started with a bit of a row as there was an assumption that we would only be using one.
In the end we did just use the one as all the room doors had to stay shut for the air conditioning to work. I was paranoid that Thing 1 would wander off the boat in the middle of the night without us realising. So we all ended up together.
The air conditioning switched on at 5am in a very noisy manner which meant we were all awake and up for the day from then… NOT ideal. On the plus side we saw a spectacular sunrise.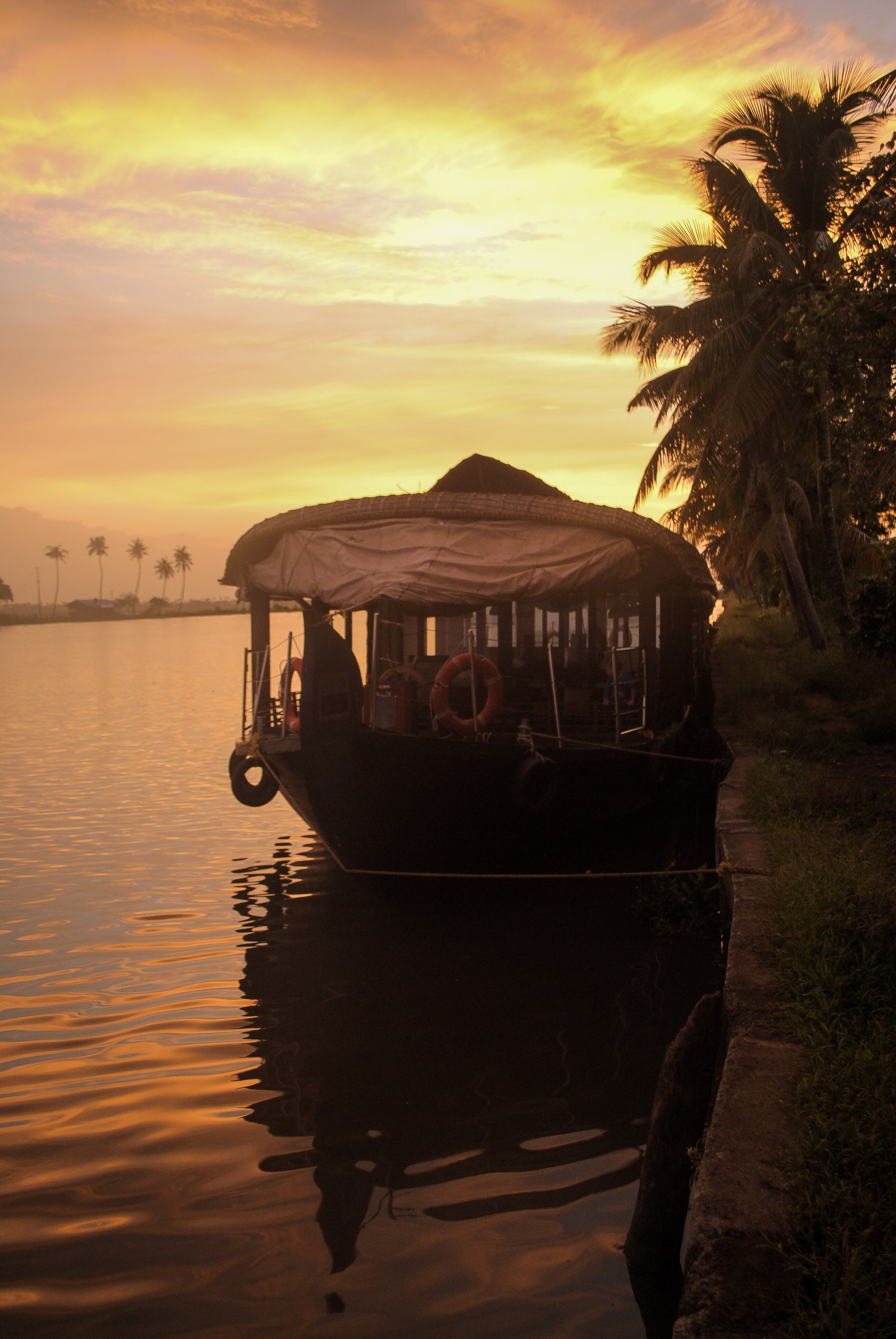 Kumarakom
Things to do with kids in Kumarakom
We had quite a chilled out time in Kumarakom after spending most of day 5 on the road just driving to get there. Moni took us for a walk along a river one day where we were able to see some local villages. This time we attracted lots of attention from the local kids which was really fun. Moni made bracelets for the Things out of long, thick blades of grass. You would think he was a magician the way they watched him do it. Those blades of grass were prized possessions for a good couple of days!
Kumakaron is well known for its ayurvedic treatments so I was lucky enough to enjoy a massage at our hotel. We had also chosen a hotel with a lovely pool with a gorgeous view so the Things were very happy to splash about in it for ages.
Kid friendly Kumakaron restaurants
We had some great meals in Kumakaron. Our hotel offered meals so we ate there a couple of times but it was exclusively Indian food. That would have been fine for us but the Things were in full on mutiny mode by this point.
Kumarakon Lake Resort and Zuri were brilliant places to eat (although the high chairs were…interesting – see my points for consideration below lol).
We actually ate in Zuri two nights in a row as it had a great outdoor area for the Things to run around. We'd really wanted to eat at Vivanta by Taj but their timings didn't work out with the Things' schedules.
Where to stay with kids in Kumakaron
We had a Bamboo Pool Villa in the Abad Whispering Palm hotel. This was a '4* hotel' according to the tour operator. Again, I'm not sure I'd say it was as nice as that but it was clean and had a private pool and a shared pool so we were happy. Kumarakom is quite a spread out place and Whispering Palms was more or less central so we were pretty happy with that too.
Munnar
Things to do with kids in Munnar
We did absolutely masses on this leg of the trip! We were a week in by the time we got to Munnar and was so much to do and it would be hard to think which one to not do to make the time less tight. It might be worth spending another night here if you could to avoid so much driving. Our activities included:
Mattupetty Lake & Dam
We walked around here and Mr Wanderlust took Thing 1 on a paddleboat. I elected to stay on the side with Thing 2 climbing in and out of the paddleboat not being used. She was at the stage of just wanting to Move All The Time and I couldn't handle steering and powering one while keeping her from falling in!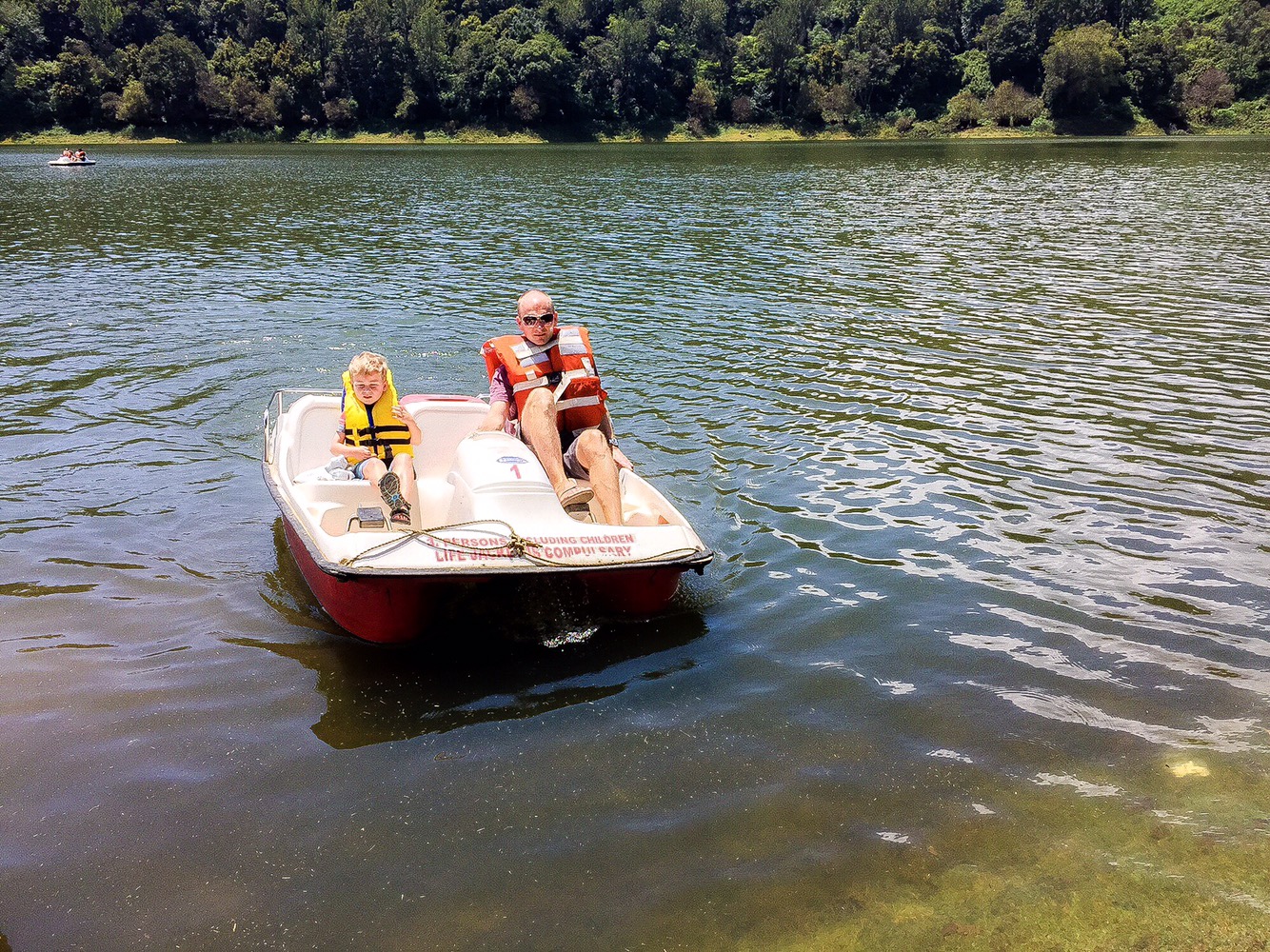 Echo Point
There's not loads and loads to do up at Echo Point but it was quite close to Mattupetty and the Things thought it was absolutely brilliant! Basically it's a lake with a great echo about halfway around it. Perfect for Things 1 and 2 who were itching to run around, shout and generally make some noise. Great fun!
Kundale Lake Blossom Garden
Moni drove us through some beautiful scenery around here. There are some stunning tea and rubber plantations and you can visit them which is really interesting. Even the Things tried some tea! (Unsurprisingly they liked the really sweet ones haha). We did the obligatory tourist purchase of tea and coconut oil before driving on.
Rajamalai / Eravikulam Wildlife Sanctuary
A fun day out is also to come to this sanctuary. It is home to a very rare mountain goat called a Nilgiry Thar.
This is where having Moni on our side really paid dividends as he knew the best time to come so we wouldn't be waiting for ages for the bus to take us up the mountain and it wouldn't be as crowded. You can hike up there for quite a while I think but with 2 small Things, we weren't really up for a long walk! We had a lovely time strolling up the hill, though, and the Things were excited to see the goats! Thing 1 started off his photography career, trying out our DSLR camera.
Where to eat with kids in Munnar
We ate in an assortment of cafes and restaurants while we were staying in Munnar. I wouldn't say any of them were particularly memorable but generally they all served decent curries and delicious naan or paratha breads.
Where to stay with kids in Munnar
You're going to notice a theme here. We stayed in the Rivulet Resort which was supposedly 4* Deluxe. Again, whilst very nice and clean, there is no way that this is what I know as a 4* hotel. The room did have 2 rooms – a bedroom and a sitting room so we were able to put Thing 1 in another room. By this time Thing 2 was sleeping pretty badly so it was good that she wasn't disturbing him. (More on that later).
Cochin (aka Kochi)
Things to do with kids in Cochin / Kochi
We had a lovely time exploring Cochin over days 9, 10 and 11. We visited St.Francis Church which is the oldest European church in India. I don't think the Things were particularly impressed but it was an interesting tour! We also visited the Dutch Palace and the Jewish Synagogue but called it quits and didn't make it to the Spices Auction Rooms. The highlight of Cochin for us was definitely the Chinese Fishing nets. Moni took us to Vasco de Game square and from there we strolled along a walkway to see these enormous cantilevered fishing nets. They are still operational so it is fascinating to watch them working.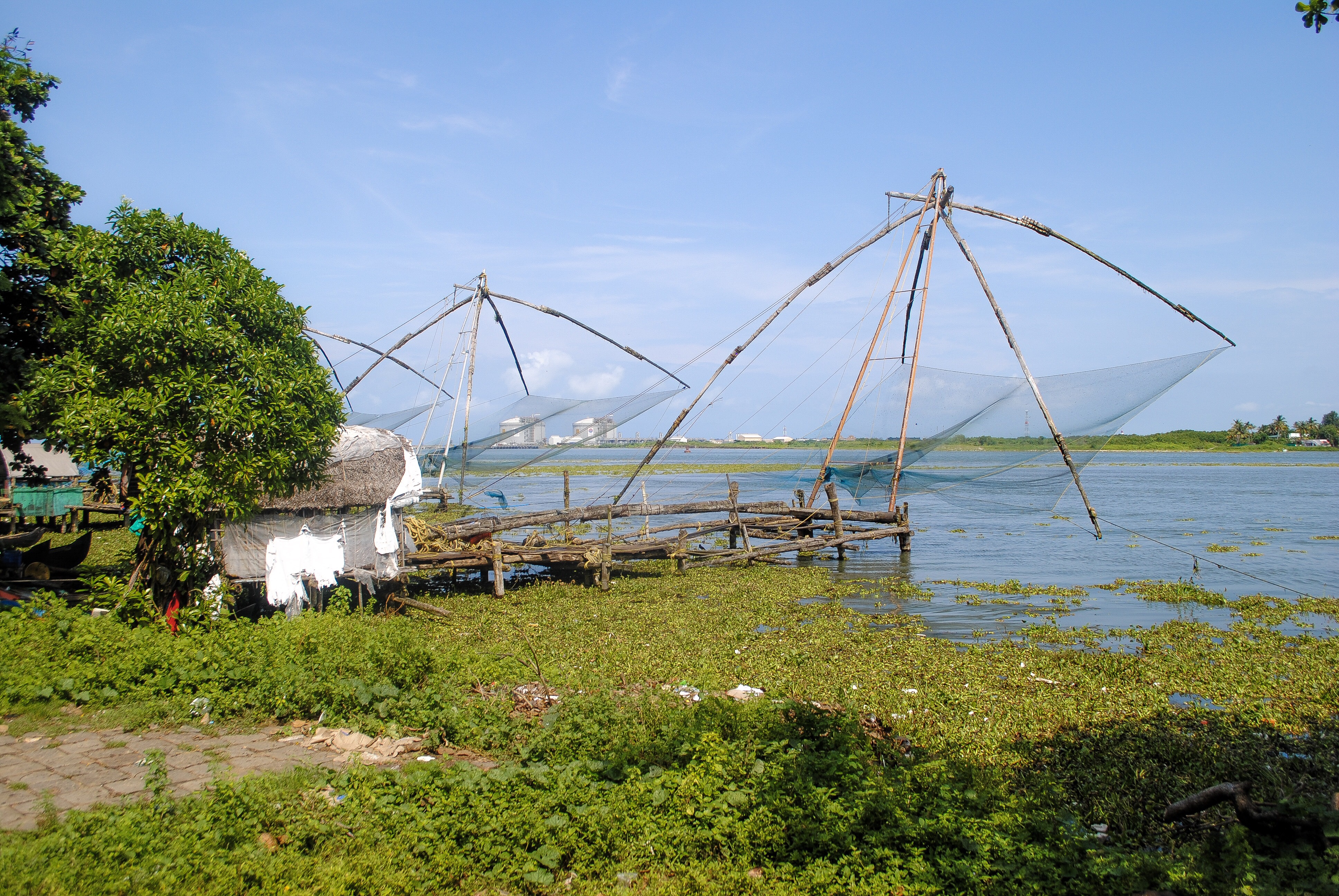 On a very much less cultural note, there are a few malls that you can go to while in Cochin if that is your thing. It was quite interesting from an anthropological point of view – we went on a weekend day and it was absolutely heaving with families on a day out together. I did find it quite stressful with so many people around but, in retrospect, it was pretty good to do.
Where to eat with kids in Cochin / Kochi
Disappointingly there wasn't much that was memorable about our meals in Cochin either. We went to the Kerala answer to Nando's in one of the malls the day we were there – a place called Galitos. That went down pretty well with the Things. We had our last meal at the Holiday Inn one evening but once again the Things' schedule meant we could only have bar snacks in a pretty soulless environment. Not the best way to end our trip!
Where to stay with kids in Cochin / Kochi?
For our final leg we stayed in Dreams. We had a decent room with a sitting area so it worked out well for the Things (and us!!!) to have our own space. Dreams was in a reasonably central area which was a relief after the distances that we had been travelling.
How to get to Kerala
Kerala has 2 international airports – Trivandrum and Cochin. We were lucky to be able to fly into Trivandrum and out of Cochin which meant less time in the car. I would thoroughly recommend this approach if you can make it work.
Travelling around Kerala with kids
You'll see from the driving times that I list below that it was pretty full on just from that perspective. These were given to us by the agency that we used and were slightly on the optimistic side. If you are travelling with small Things you will also want to factor in rest stops to get out and run around or eat. This can make the journey take pretty much the whole day.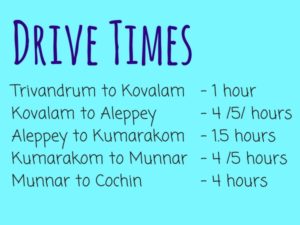 Add even more driving times to our 'rest' days and it all totalled a shed load of time in the car for 2 energetic and curious little Things.I really would recommend looking at where you are staying and where you want to visit in each place as well. We ended up driving quite some distances in a couple of places even on our 'off' days – not ideal.
The Verdict
I really really wanted to enjoy Kerala and I have to say that we were disappointed. Both times we've been to India (once with the Things and once without) it's been really hard work for various reasons.
Time is a great healer and I've been feeling quite nostalgic about this holiday from writing about it even though I know that it was not our best. I've also been feeling quite jealous of Travelynn Family who are living in Bangalore and documenting their explorations around the country. They actually wrote a post on Kochi and they have written some tips on travelling with kids in India. 5 Lost Together have also written an India With Kids Tips post that you might find useful. ALSO… Our 3 Kids v The World are in India now and their Instagram photos are almost making me think about going back!
In all complete fairness to Kerala, we tried to do far too much and I think the Things were just a bit young. As much as those guys are having a fabulous time, for us it wasn't great. I'm sure it has more to do with expectations (we were used to South East Asia prices and standards), what you want to get out of a trip and what stage you are at personally and as a family than with the place itself.
Which brings me to…
Things to consider when planning your trip to Kerala with kids
EDIT: I am re-reading this and thinking about just how HORRIBLY spoilt I am! 293 words on travel cots is probably excessive. And yet I am going to leave this post as it is…. Why? Because I think forewarned is forearmed. If you go to India and have a better time than we did just because you have read my post and taken some different actions then surely that is why I am writing!
This could just as easily be a list somewhere else about general planning tips (maybe I need a post about that too!) but in particular I would really say you need to think about the following factors:
Kerala hotel standards / costs
We knew from the last time that we were in India that our money would not go as far as it had gone in Asia. But last time we went we were rocking up to places with backpacks on our backs and unwilling to spend much money.
This time we were using an agent and had more (not much lol) to spend. The itinerary boasted 4* and 5* hotels. My usual criteria for hotels is that they be clean. I need hot water every couple of days to wash my hair. Other than that I would say I feature pretty far down on the maintenance scale. Still, if I am told I am going to a 4* or 5* then that's what I go in expecting.
Kerala Hotel Location, Itinerary and Travel Times
I was completely unprepared for how much time we would be spending in the car on the days that we had planned to stay in the areas we were staying in. It was alot to ask of the Things. I simply hadn't realised what we had taken on. Definitely look at where you are planning to stay compared to where you want to visit.
Travel Cots in Kerala
We booked a travel cot for Thing 2 and a roll away bed for Thing 1 in every place that we stayed. We double and triple checked the bookings to make sure we didn't have to bring a cot with us.
We had booked a room in our first hotel specifically so that we could arrive and crash immediately. There wasn't a single hotel that we arrived at where the Things' sleeping arrangements had already been set up.
Not a single place.
I mean that's annoying when you arrive at 1pm and want the Things to have a nap. It is eye-wateringly infuriating when it is 5am, neither you nor Thing 1 has slept since the day before, you'd deliberately booked the room so you'd have somewhere to go when you landed and it takes 45 minutes to get the requested things in your room.
The first and last hotels had appropriate travel cots for Thing 2 (aged 1 1/4 at the time). The others provided us with baby cots. You know the sorts that rock and that a toddler will fall out of if they stand up in it…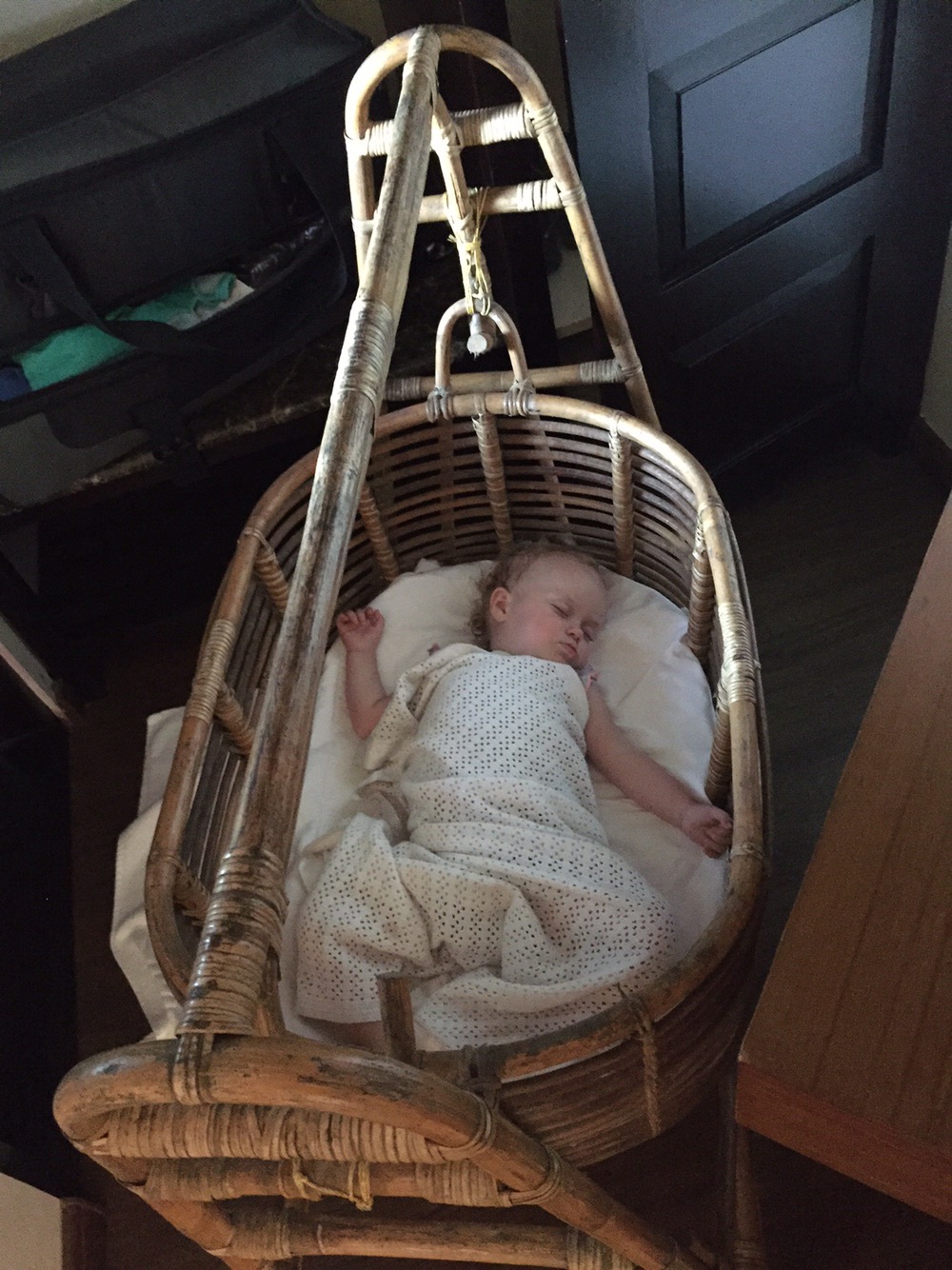 One cot had no mattress on it so Thing 2 would have been literally lying on a metal pole. Even if that had been acceptable to us, the mouldy lining on it was definitely not.
I do think if we had just taken our own cot with us we would have had a much better time all round. Having a 1 year old who wasn't sleeping through, sleeping on a mattress on the floor or about to jump out of a cradle = no sleep for parents. In my sleep deprived state I believe I asked Mr Wanderlust to look into getting us on the next flight home. I was DONE.
High Chairs
On a similar note to travel cots, we found high chairs either to be unavailable or completely inappropriate for ninja Thing 2 who delighted in escaping from pretty much every one we put her in! If this is something that is going to stress you out then you should think about taking something like this. A simple Amazon or Google search for 'portable high chair' will give you a bunch more options – depending on your luggage allowances, this style is the most lightweight and compact.
Hawkers and General Attention
Travelling with 2 blonde Things, we always get a load of attention. We got ALOT of attention in Kerala. I didn't really mind it too much and people were very friendly and curious. If that sort of thing bothers you then its worth considering. We have always had a rule about strangers not taking photos of the Things but here most people just wanted to look at them.
There were also hawkers everywhere and they could get quite pushy in places. I used to be able to ignore hawkers quite easily and maybe you can too. But when they are selling bright plastic tat with flashing lights on it you will find your Things demanding you buys them things they never previously even knew existed!
Commissions
If you have a driver, he may well take you to places where he'll get a commission for you eating / paying entry / buying souvenirs. To be honest, that didn't bother us as Moni took us to great places and I didn't feel pressured to buy anything. If this was a way for him to earn a bit more money then good luck to him. I do know other people who would have been quite offended by this approach.
Food for kids in Kerala
You may know about my trials with picky eaters. The Things were just at the beginning of their journey of torturing me with refusing to eat anything new. We really tried and persevered with it but it was hard work. Hungry things on long journeys is pretty hard going at the best of times.
So there you have it. Our trip to India in 3500 words… Not bad considering I couldn't remember much of the holiday when I started writing!
Let me know what you think of this post – is it too long? Or good to have everything in once place? Is it informative? Or TMI? I love hearing your feedback so please do get in touch!