Why the best secret islands in Thailand?
I couldn't write a series about the best secret islands in Southeast Asia without including Thailand! We have been to Thailand twice with the kids but have been underwhelmed by dirty beaches and enormous crowds. Disappointingly, Thailand has certainly suffered from the phenomenon of over-tourism. There are still many areas that are away from the tourist crowds and are more unspoilt. As we have grown more confident about travelling with kids, I really want to get back to Thailand. I'd love to explore some areas that are more off the beaten track starting with these amazing islands!
If you've missed other posts in my secret islands in Southeast Asia series, check out these:
Koh Lipe
First up is Koh Lipe which has been on my radar for a while. I know a number of super adventurous travelling families who love Koh Lipe. I never really knew all that much about it, though. This post from Melissa over at Camp Essentials was really helpful.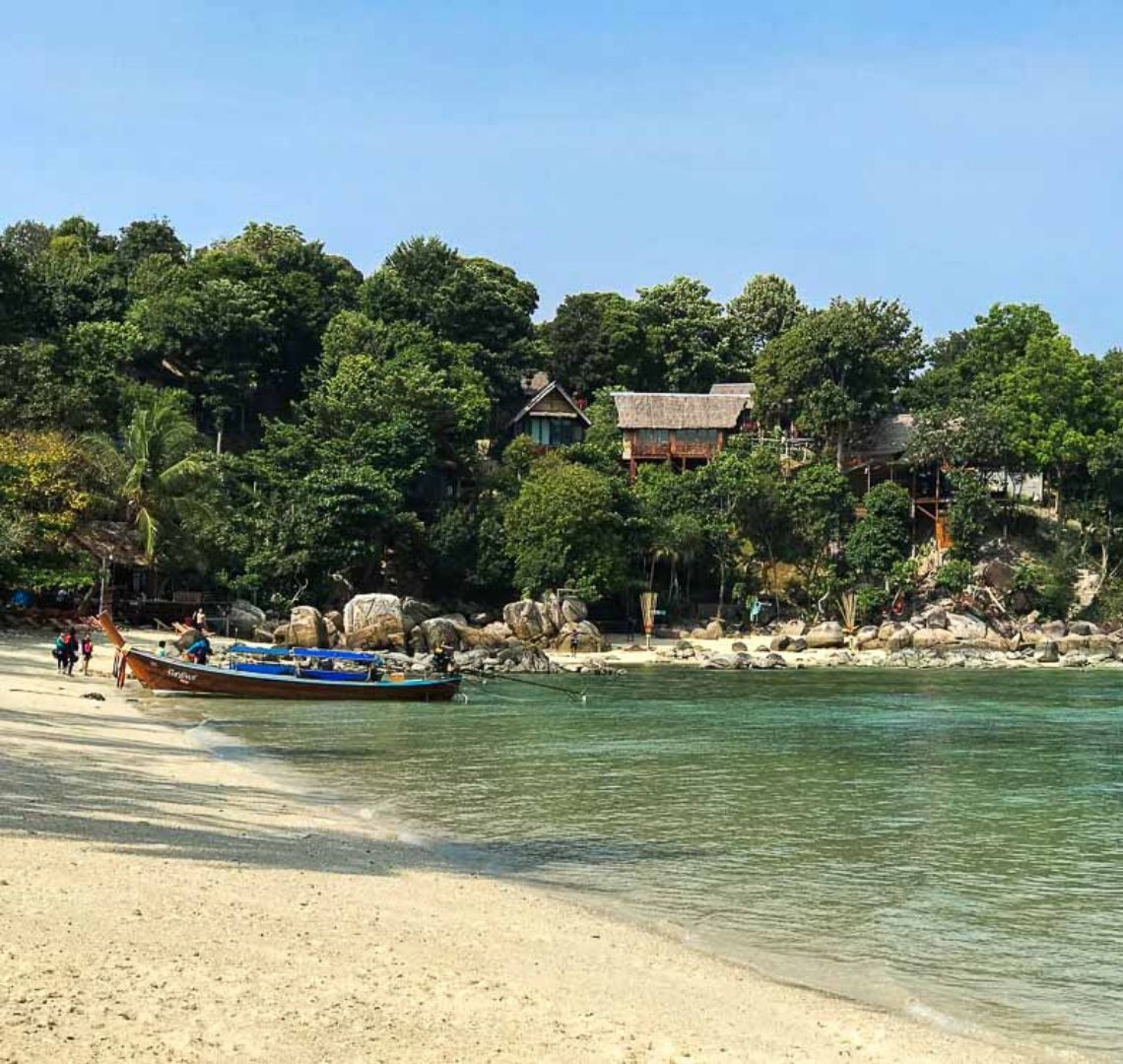 One of our all-time favourite Southeast Asia islands to visit is Koh Lipe. This small Thai island is surrounded by gorgeous postcard-perfect beaches, brightly coloured turquoise waters and spectacular snorkelling and scuba diving. The island is slow-paced and the atmosphere is chilled out. This makes it a fantastic location for a perfect relaxed family holiday.
There's not a lot to do on Koh Lipe. Generally, families spend their days swimming, kayaking, snorkelling, relaxing, eating and then repeat day after day. It's the perfect holiday for those families who love the beach and the water.
My tip is at least one day your there, hire some kayaks, and take the kids in search of some deserted beaches. Be sure to take your snorkelling gear so you can go snorkelling right off the beach. Also, take the island hopping tour so you can visit some of the other idyllic Thai islands in the area.
There is a small town in the centre of Koh Lipe. Here you will find a few shops, massage parlours, restaurants, and bars. This is the perfect place to come and eat some delicious and cheap Thai food. There are some great restaurants along the beaches too, but they are more expensive. After dark, there are also usually some fire dancers that make their way around the different beach restaurants. This is really fun for the kids to watch.
Koh Lipe is just 30km from the Malaysian border. It's actually easier to reach Koh Lipe from Malaysia then it is from Thailand. The best way to get to Koh Lipe is via a 90-minute ferry ride from Langkawi.
Koh Phangan
Full disclosure, I was a little hesitant about including Koh Phangan in a list of best secret islands in Thailand with kids. Veronika from Travel Geekery completely changed my mind. It just goes to show that we can develop opinions about places we have never been to. These might be based on what we read in the media or from blogs. I'm so glad she convinced me to include Koh Phangan!
This goes against the typical picture of Koh Phangan being the venue for the crazy Full Moon Parties attracting alcohol-seeking backpackers. But Koh Phangan IS an amazing family travel destination. Other than 1-3 days around the Full Moon and its southeastern corner Haad Rin where the regular mayhem happens, Koh Phangan is a leisurely paradise.
The majority of the island is a protected nature reserve, so it has resisted overdevelopment. Treks in the jungle range from strenuous to ones even small children can do.
Large number of kids-friendly beaches with shallow waters extending far, occasional swings, and friendly locals in all beach bars make it an easy family vacation spot. Most families spend a lot of time at the beach on the island.
Children can also enjoy a local sheep farm, where they can feed the sheep from a bottle. There are a few playgrounds in the main town Thong Sala with monkey bars. From time to time, kid-oriented events are organized, often by one of the kindergartens on the island.
Two family-friendly locations to stay on the island are the villages of Sri Thanu and Chaloklum. Sri Thanu is a major yoga & expat hotspot, full of vegan restaurants and a hippie vibe. On the other hand, Chaloklum is slow and peaceful and most residents are local Thais. In Chaloklum you can also find a popular café owned by a local expat couple from Russia. It has a ping-pong table, loads of toys and space for various kids' activities called Multi House, .
Getting around can be the only hurdle since you need a motorized vehicle to get anywhere. There are many foreigners who ride rented scooters with no helmets and small children aboard. If you want to be extra safe, either rent a car or make use of local taxis.
You can get to Koh Phangan by flying to Surat Thani or Koh Samui, and then taking a ferry.
Koh Yao Yai
Dani from Diapers in Paradise had me hooked when I realised where Koh Yao Yai is. Our trip to Koh Phi Phi had left me so disillusioned. To be honest, we had found both Krabi and Phuket a little too developed and touristy. Koh Yao Yai sounds much more up our street and I can't wait to visit one day!
Nestled halfway between Phuket and Krabi in Thailand's famous Phang Nga Bay, you'll find one of the most overlooked islands in Southeast Asia: Koh Yao Yai. Unlike the nearby island of Koh Phi Phi, this island remains largely untouched by tourism. Besides a small handful of hotels and resorts (including the breathtakingly beautiful Santhiya Resort), Koh Yao Yai maintains a traditional Thai lifestyle.
One of the greatest benefits of this is that the island is covered with secluded, pristine beaches. They may not look as polished as those at Koh Phi Phi, and will certainly not have any amenities. But the trade-off is spending your days where the local children splash and play, without any of the standard trappings of a heavily-touristed attraction.
You can reach Koh Yao Yai by ferry from either Krabi or Phuket. There are a few adventure activities available on the island that older kids would enjoy, but most of your days will be filled with exploring the fishing villages and playing at the beach. This is also a fabulous jumping-off point for island-hopping tours around Phang Nga Bay.
Koh Yao Yai is a majority-Muslim island, so swimsuits are fine for the beach, but should not be worn around town. The locals are incredibly friendly, and just driving around the small island is an enlightening way to spend a day. Whether you are visiting Thailand with a baby or toddler or with older children, this family-friendly island is a perfect place to escape the crowds for a few days.
Koh Yao Noi
When Ilse from Digital Travel Couple suggested including Koh Yao Noi, I realised that we had missed a trick when we were in Krabi and Phuket. Instead of being led to the super touristy areas such as Koh Phi Phi, Monkey Beach and James Bond Island, we should have invested other more secret islands in Phang Nga Bay. Next time I will know better!
Koh Yao Noi is a beautiful Thai island in Phang Nga Bay with little tourism. This sleepy island takes you back in time with little tourism development, untouched nature, and some of the friendliest Thai people you can encounter. Koh Yao Noi is the perfect island for families and peace seekers who want to have an off the beaten path island experience.
Except for relaxing, exploring the beautiful deserted beaches and rural life of the locals, there is not much else exciting to do on Koh Yao Noi. It's a great island to unwind and have quality time. It is also the perfect base to explore more of beautiful Phang Nga Bay. Koh Hong is one of the closest islands which is definitely worth a day trip to snorkel and admire the impressive limestone cliffs. Other day trips are to James Bond Island or go to the neighbouring island of Koh Yao Yai (see above).
There's accommodation for every budget on Koh Yao Noi. From lovely family bungalows to the most luxury resort of Six Senses. Restaurants are mostly Thai, but for a Western meal head over to Faye's restaurant.
The roads on the island are very decent and well maintained. So if you and your kids are comfortable enough riding a motorbike, it's the most fun way to explore the island. Be aware that you officially need a motorbike license to be insured when renting a motorbike in Thailand. Another option is to explore the island with a local taxi, a Songthaew.
Koh Yao Noi is located in Phang Nga Bay in between Phuket and Krabi. From both sides, it's easy to get to Yao Noi with a daily ferry or speedboat. If you're already island hopping in the Andaman Sea, you can also easily get to Koh Yao Noi from the other islands like Koh Lanta or Koh Phi Phi.
Koh Kood
Last, but by no means least, Josh from The Lost Passport suggests that Koh Kood is the best secret island in Thailand with kids. It might not be the easiest destination to get to but if there's one thing I'm learning, its that the best places to visit take a little work – if it was easy, everyone would be doing it!
Located in the far east of Thailand, Koh Kood is perhaps the best Thai island to visit with kids that you have never heard of. Koh Kood is an island where sandy white beaches are backed by coconut palms rather than large concrete hotels and a group of more than ten people would be considered busy. Oh, and we almost forgot to mention the rope swings hanging from the coconut palms that will keep the kids busy for hours on end!
The west coast of Koh Kood is dotted with a range of beautiful beaches which you can easily spend a week exploring. Kids ignored the request to apply sunscreen and picked up a bit of sunburn? Head just a couple of kilometres inland where you can swim under one of two waterfalls in the shade of the surrounding jungle.
Accommodation on Koh Kood is generally found in the form of budget or boutique beachfront bungalows commonly sleeping between two and four people. Depending on where you stay, booking one or two bungalows might be the best answer for your family.
The travel time from Bangkok is not insignificant, taking around 6 hours one way. The budget-friendly option is to take a minivan from Bangkok to Trat followed by a ferry transfer, while a quicker alternative includes a short domestic flight to Trat followed by a speedboat transfer.
However, you decide to do it, there are plenty of things to do on Koh Kood. This is definitely a family friendly island that should be visited now before it picks up in popularity!
Best secret islands in Thailand with kids?
There are so many secret islands in Thailand to visit with kids and I am thrilled that I was able to find out about so many and to get some ideas for future trips. Please do get in touch if you have been to any that you think we should know about!