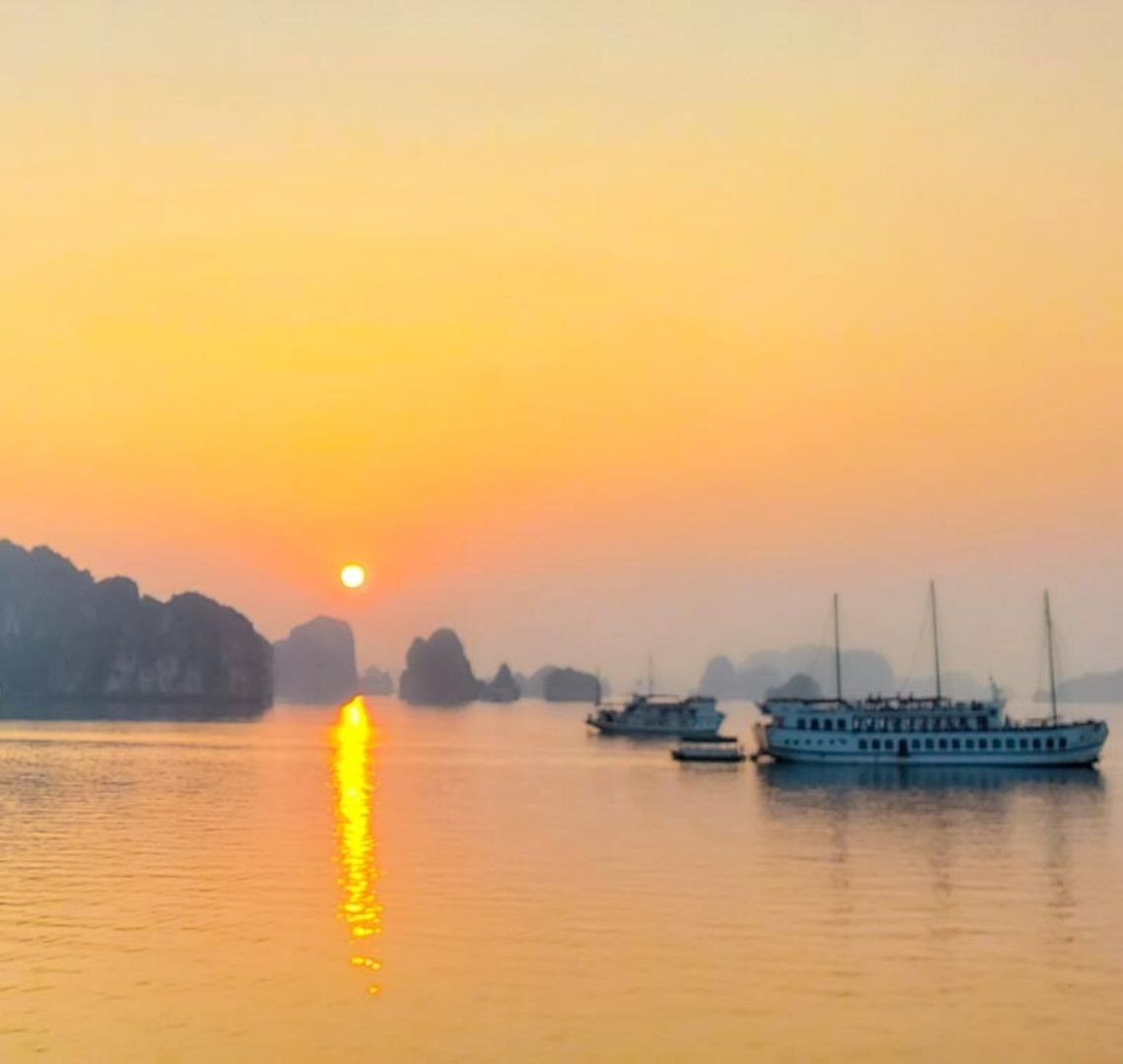 Why the best secret islands in Cambodia, Vietnam and Laos?
I've wanted to visit the islands in Cambodia, Vietnam, and Laos with kids for such a long time. In fact, we cancelled our trip to northern Vietnam with just a day to go as the pandemic crisis escalated across the world. After much planning, we were due to visit Hanoi and Ha Long Bay but it wasn't meant to be. Cambodia, Vietnam, and Laos remain less popular destinations than places like Malaysia and Thailand. I'm hopeful that we can keep them protected from the destruction of over-tourism for as long as possible.
If you've missed other posts in my secret islands in Southeast Asia with kids series, check out these:
Bai Tu Long Bay, Vietnam
There was no question in my mind when Dani from Diapers in Paradise asked to write about Bai Tu Long in Vietnam. I had been desperate to visit Ha Long Bay for a long time. I was really put off by reports of packed bays and cruise ships just following the same routes. I'd found out about Bai Tu Long and knew immediately that it was the place for us. And then the whole adventure got cancelled and I was gutted! I loved finding out about these secret islands in Vietnam.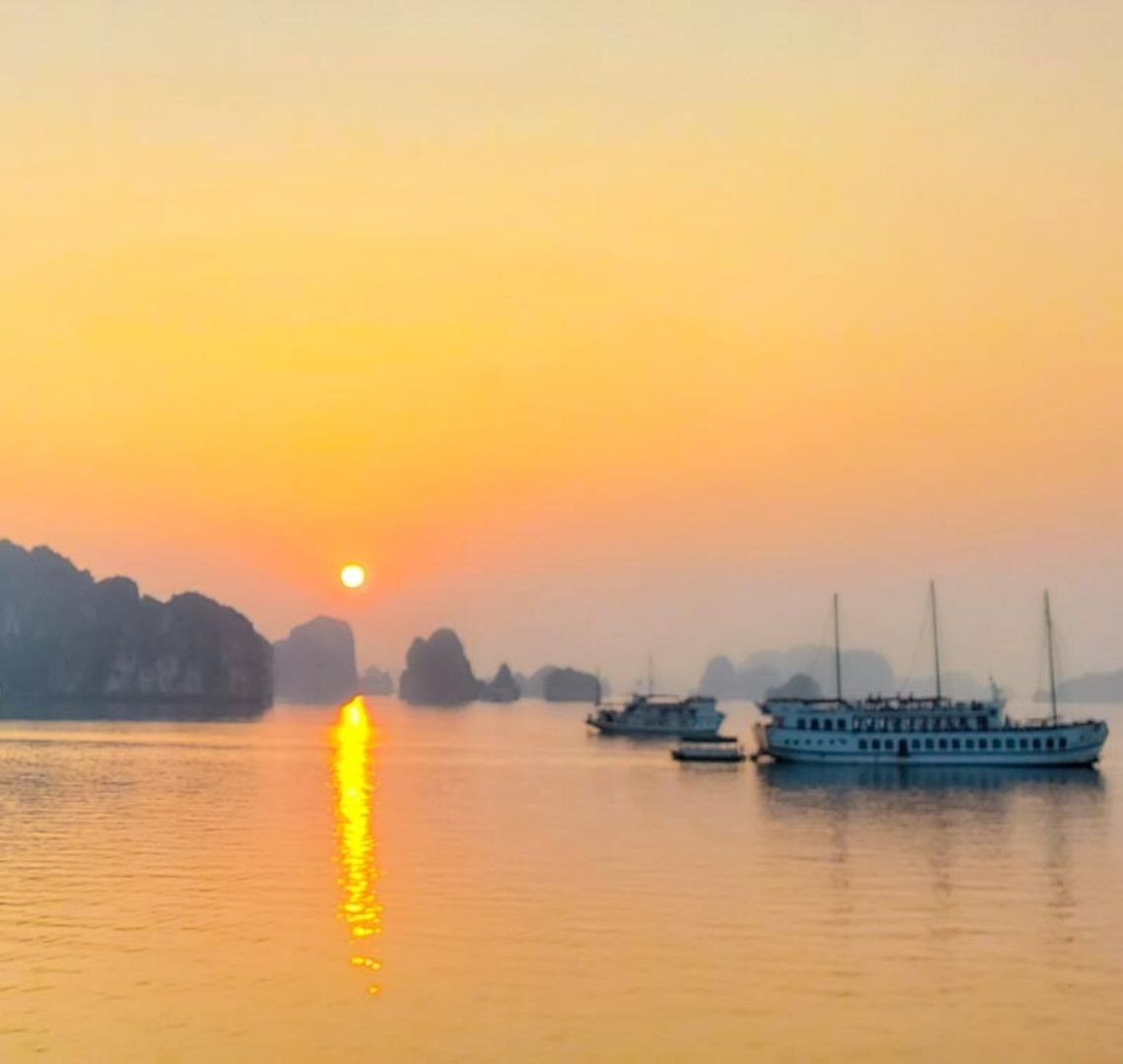 One of the most popular places to visit in Vietnam is Ha Long Bay. It is an idyllic paradise of small islands not far from Hanoi. Unfortunately, Ha Long Bay is now home to hundreds upon hundreds of cruise ships. While the bay is undeniably beautiful, it is not the pristine area that it once was.
If you would still like to explore the small islands and epic karst mountains without all the people, consider visiting Bai Tu Long Bay. This smaller offshoot from Ha Long Bay is more tightly controlled. Only a handful of cruise operators have approval to travel there.
As a result, you can enjoy the incredible natural beauty without feeling the crowds. Most cruises include excursions to kayak through the karst mountains and explore uninhabited islands.
Cruise operators offer anywhere from 1- to 4-day adventures through Bai Tu Long Bay. None of the ships are massive, and you will enjoy a boutique experience in this smaller bay. The tour operator that you choose will greatly influence how family-friendly the experience is. I highly recommend Indochina Junk; they treated our baby and toddler wonderfully. We were worried about whether they would be able to fully take part in all of the activities, but Indochina Junk made sure to find a way to include us.
Most Bai Tu Long Bay cruises offer transportation from Hanoi. Expect to lose close to a full day on either side of the cruise for getting to and from Ha Long and boarding the ship. But this experience is well worth the time that you put into it. To start with, it is incredibly scenic and relaxing. Not only that, but kids will also love the experience of cruising around in a classic junk-style boat and exploring the incredible little islands that dot Bai Tu Long Bay.
Phu Quoc, Vietnam
Phu Quoc comes up time and time again in all of the intrepid family travel groups that I belong to. Note that the comment around visas is not, at the time of writing, accurate information. I would hope as the pandemic crisis eases, more flexibility with travel in and out of Vietnam will return. As always, however, check entry requirements before you travel. Huge thanks to Neha from Travel Melodies for this contribution.
Phu Quoc, an island to the southeast of Vietnam is a perfect place to travel with kids for a relaxing vacation. The island has one of the world's best pristine white sand beaches.
The best part is that you don't even need to worry about visas. If you are just visiting the island, there is no need for a visa (for 30 days). So just book a flight to the Phu Quoc International Airport and savor the beauty. But if you are visiting from other cities in Vietnam, then you will need a visa. Phu Quoc can also be reached by ferries plying from Mekong Delta that take from 1-3 hours.
Kids are gonna love the island with fun theme parks like Vinpearl Land Amusement Park and Vinpearl safari. The amusement park has rides for all ages. There are dolphin shows, a full-blown water park, and much more to keep them entertained. There is a free shuttle service to the theme park from major hotels and areas of the island. Or just rent a bike to explore the island at leisure.
When on the island, one can't miss experiencing the world's first and longest cable car over water at Hon Thom Cable Car. The views from the cable car are magnificent.
There is so much to do for everyone in the family. For adventure-seeking families, hiking the mountains and trails at the Phu Quoc National Park is just amazing.
No trip to Phu Quoc would be complete without visiting the many beautiful beaches on the island. Consider visiting Bai Dai, Bai San, Khem beach, San beach and many more. Build sandcastles or just gaze at the magical sunset, Phu Quoc is sure to cast a spell.
There are many resorts from super luxury to mid-range and budget hotels suiting the pocket. Novotel and Vinpearl are great resorts to choose from to stay especially with families.
Don Det, Laos
I was intrigued when Samantha from Intentional Detours suggested Don Det in Laos. In all honesty, I've not done an enormous amount of research on Laos. We didn't have any upcoming trips there so it hasn't been on my radar and I had never heard of any secret islands in Laos, let alone about Det. Now that I have, it sounds absolutely perfect for us. I love the idea of going somewhere with no motorized vehicles!
Don Det in the very southern part of Laos is one of the absolute best secret islands to visit in Southeast Asia. Unlike other islands in the region that might cater more to parties, the super chill nature of Don Det makes it excellent to visit with kids!
Don Det is one of the 4,000 Islands – a group of river islands in an otherwise landlocked country. Located alongside the famous Mekong River, Don Det is free of motorized vehicles, noise, and stress. Don Det is reachable from the city of Pakse. From Pakse, you can charter a taxi or book a minivan with other travelers. The vehicle will take you to a small town, where you'll then take a very short (5 minutes) boat ride to reach the island. Families looking for a safe place to relax and explore should definitely make the effort!
Not only are there a bunch of cool things to do on the small Laotian Island, but also tons of good eats. The Pumpkin burger is a Don Det specialty, and one of the most delicious things I've tasted in all my travels. You can find this dish all over the island, though I recommend Kea's Restaurant – theirs was the most delicious! Mama Tanon's Cafe is another well-known eatery on the island, and for good reason. They serve up all types of dishes- and their fish is unbelievably fresh.
As for activities, families can rent bicycles and cycle all around Don Det and its sister island, Don Khon. The lack of cars makes Don Det one of the most cycle-friendly spots in Asia. Another must-visit spot is the Li Phi Falls, set in a lush park with a small river beach as well!
Visiting Don Det can also give you a glimpse at some of the rarest dolphins in the world. You can easily charter an afternoon boat trip to scope out the Irrawaddy Dolphins. These dolphins are an endangered species and exclusive to this region of the world. Don Det has some really cute and basic wooden bungalows to stay in. For something a bit more upscale, consider the Little Eden Hotel. It has the perfect outdoor pool for admiring the insanely beautiful daily sunsets that the island has!
Koh Rong Samloem, Cambodia
I actually remember Evie and Emmie going to Cambodia because I've been following their adventures for so long! It was part of their much longer trip and they had spent time in Siam Reap and Kep among other places in Cambodia. And I had massive envy when I saw them in Koh Rong Samloem which looked like the most amazing place to spend some time. Finding secret islands is one of Evie's specialties and I knew she had a few secret islands in Cambodia up her sleeve. I was delighted when Evie wrote about Koh Rong Samloem for me.
Koh Rong Samloem is a family-friendly white-sand island about 30 minutes west of Sihanoukville in southern Cambodia. It's the perfect way to end your travels around this amazing country and is a worthy holiday destination in itself.
Accommodation ranges from backpacker huts to resorts with pools, with the most popular being beachside cottages which, while basic, are more than enough. We stayed at Lazy Beach, on the opposite side of the island from popular Saracen Bay and accessed by private ferry or a 30-minute walk through the jungle. Accommodation is in huts along the shoreline with balconies, hammocks, and beautiful views over the water, and its restaurant and its wooden common area is Robinson Crusoe-esque with nooks, lounges, and hammocks.
The food here is the best on the island and we met some lovely families and ended up extending our stay from four days to 10! You can swim, snorkel and dive here, hike in the jungle or to lookouts around the island, but the most popular activity is lazing or playing on the beach and watching the sunrise and set over the pristine ocean.
I have loved writing these posts on the best secret islands in Southeast Asia with kids over the past few weeks. I know lots of people haven't wanted to even think about travel during all the pandemic restrictions but I've actually been the opposite! I've really enjoyed reading about all these awesome places to go and living through other people's travel memories. If you have been to any of the places we've talked about here or have any that you think I should include then place do get in touch!