Why the best secret islands in Malaysia?
I'm so passionate about changing how we travel. I'm not interested, anymore, in chasing after the dream of a photo in a glossy magazine or from an Insta-perfect influencer. We've done that and arrived, only to find that the place is crawling with tourists. That it's covered in litter and dotted with shops selling what can only be described as plastic tat. So from now on, that stops. We're going to be hunting down our favourite secret islands in Southeast Asia with kids using my secret weapon – the travel blogging community to help us. First up are the best secret islands in Malaysia with kids.
Since writing this post, I've also published posts on the best secret islands in Indonesia with kids, the best secret islands in the Philippines with kids and the best secret islands in Thailand with kids.
Perhentian Islands
I was so excited when Lotte from Phenomenal Globe volunteered to write about the Perhentian Islands. We visited these islands MANY moons ago and had the most incredible time. I would love to take our kids back there.
The Perhentian Islands are located near the Northeast coast of Malaysia. While the archipelago consists of many small inhabited islands, the two main islands are Perhentian Besar and Perhentian Kecil.
Both islands are known for their splendid beaches and beautiful underwater world. If you have young kids, you can enjoy playing with them in the soft sand or in the shallow water. When your kids are a bit older, you can take them on a snorkeling tour. They will be amazed by the rich marine life and if you are lucky, they may even spot a turtle!
If you are traveling with teens who love being in the water, consider going diving on the Perhentian Islands for an unforgettable family adventure.
While most families with kids opt to stay on Perhentian Besar, I personally feel Perhentian Kecil has a lot to offer for families as well. For family-friendly accommodation, I'd suggest staying at either Bubu Resort (the Deluxe Garden Room) or Bubu Villa (in one of their beautiful Family Villa's).
While our kids weren't born yet when we stayed at Bubu Resort, I'd gladly return to the Perhentian Islands for a family vacation and stay here with our son and daughter. The food here is great and there are suitable options for kids as well if they aren't a fan of Malaysian food (yet).
From the restaurant terrace, it's easy to keep an eye on the kids when they are playing on the white sand beach. And even if your kids are a little older and can safely play in the water by themselves, you can still keep an eye on them while enjoying a cocktail or a beer from the restaurant or one of the parasol-covered beach loungers.
The entry point to the Perhentian Islands is Kuala Besut, from there it's a 45-minute boat ride. The boat trip was included in our stay at Bubu Resort and we were picked up by speedboat. However, there are several public boats as well. Boats depart are every hour between 8 am and 5 pm and tickets are 35RM.
Please note that there are no ATM's on the Perhentian Islands, so make sure to bring enough cash. It's possible to pay with a credit card at most dive shops and larger resorts (usually there is an additional charge).
Redang Island
Next, we have Redang Island, as recommended by Sharon over at Dive Into Malaysia. Sharon used to live in Malaysia so I was excited when she offered to write about this one for me.
Redang Island is a gorgeous island in a protected marine park off the east coast of Malaysia near Kuala Terengganu. It is perfect for families and we loved exploring here with our kids!
If your family are nature lovers, you will love it here! The island basically consists of a jungle interior, gorgeous coastline, and great aquatic life. There are barely any roads and it's all about relaxation and getting out there to explore your natural environment.
This doesn't mean there isn't much to do – there is plenty! You can go diving, snorkeling, visit the Redang Marine Park Centre, kayak, swim, play volleyball, explore the island by boat and, trek around parts of the island. You can also release baby turtles during the hatching season from April to October.
There are some great resorts on the island which can give you other options for your kids like a pool, games room and playground. We particularly loved staying at the Laguna Redang Resort. This big resort has many great room options as well as a ton of facilities. They can easily organise everything you want to do and have some good value package deals. You can read more about places to stay in Redang here.
It is easy to get to Redang. At times, there can be charter flights from Kuala Lumpur. The more common way to get here is by a quick ferry from Kuala Terengganu. Your resort can organise this or you can see the timetables at Merang or Shahbandar jetties. Once on the island, you will generally be relying on your own feet, kayaks or boats to get around.
This is a gorgeous and easy place to visit as a family and it should be on your bucket list!
Tioman Island
Suzy at Survey Suze recommends heading to Tioman Island. Since moving to Singapore, I've heard lots about Tioman. Lots of people say they want to go but Suzy was the first person I talked to who had been there. It's now firmly on my list!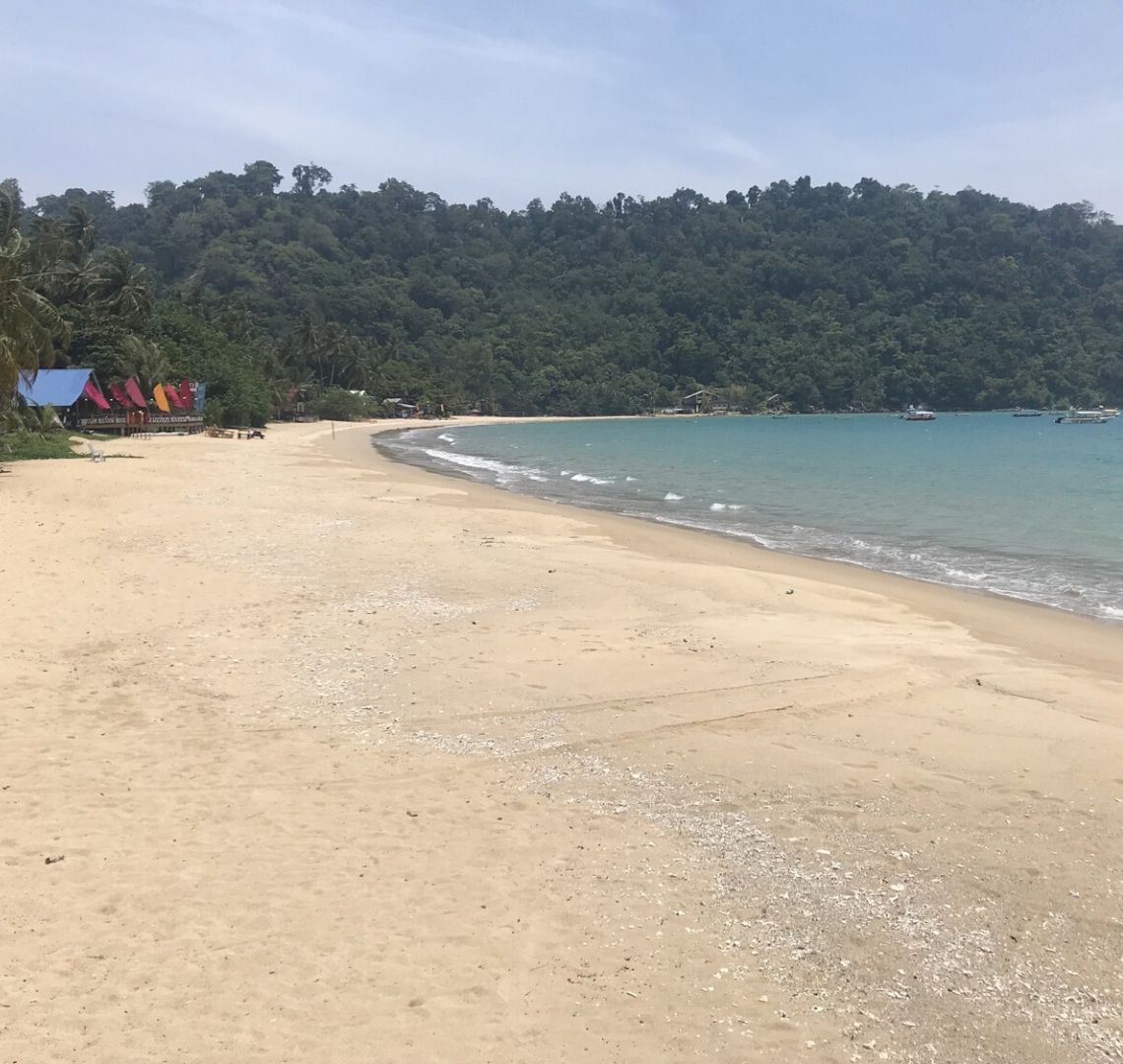 Do you like your islands with a gorgeous coastline, mountainous interior, and great underwater life? Then go to Tioman Island!
Tioman Island is located off the east coast of peninsular Malaysia towards the southern end. It is an easy 1.5 – 2-hour ferry ride from Mersing. Mersing is a short drive from Johor Bahru or Singapore. Ferries run multiple times a day during the dry season (March to October) and it's easy to get here. There are very few roads on the island so most transport is by sea.
It's a great place to visit with kids especially ones who enjoy getting out there in nature. There are many things to do and a huge island to explore. People flock here for the diving and snorkeling. If your kids are younger, a great alternative is to walk along the boardwalk between Tekek and ABC Beach. It is built over the water and my kids loved spotting fish as they walked along. At one end of this is the informative Marine Life At The Marine Park Information Centre.
You can also take a ride across the other side of the island to Juara Beach. Known for its surfing during the wet season, it's also a great place to visit with kids to enjoy the great beach and to visit the Juara Turtle Hatchery.
We enjoyed staying at the Berjaya Tioman Resort. This is the biggest resort on the island just south of the main town of Tekek. It's the perfect place for families. There are many facilities here including pools, games room, playground, tennis courts, golf course and water sports like kayaking. There is also a dive centre on-site and you can organize boat trips. Berjaya Tioman Resort has a range of room types including ones for families. The location is also great as you can travel on one of the few roads on the island from here to Tekek and across to the eastern side of the island.
Gaya Island
Sasha at Mog and Dog Travels says Gaya Island is the place to go. We never made it there when we visited Malaysian Borneo back in 2008 and I really wish we had. We will just have to go back!
Located just off the coast of Malaysian Borneo and within the Tunku Abdul Rahman Marine Park, Gaya Island is one of Malaysia's lesser-visited paradise islands. It's super easy to get to: just a ten-minute ride on a speedboat from the Jesselton Point Ferry Terminal in Kota Kinabalu in Sabah. You can organise it through your resort.
To stay on Gaya island you have to choose between three resorts. We chose the Gaya Island Resort. It offers a selection of elegant villas that each have superb views of the sea and the surrounding lush rainforest as well as its own private beach. As this is an eco-friendly resort, the whole place is easily walkable. The only vehicles that you will see are ones that the hotel staff use for getting around.
The resort has five different restaurants catering to all tastes and dietary requirements. Importantly, the chefs are really creative and more than happy to make things that aren't on the menu for kids.
Gaya Island is particularly great for families because there's a whole range of family-friendly activities that can be organised around the island through your resort. The guided jungle walk with a naturalist is a must for kids and adults interested in wildlife. It takes place during the day or in the early evening. We saw lizards, hornbills, a viper, and some interesting insects! There are also mangrove kayaking trips, visits to see proboscis monkeys, coral garden snorkelling excursions, arts and crafts workshops and, boat trips to visit the Sunday market in Kota Kinabalu. Basically, there's lots of fun stuff to do!
If all of that sounds like too much activity, you don't have to leave the hotel. You can happily lounge beside the gorgeous pool which has a separate section suitable for young children. Gaya Island Resort also has a kids' club. This includes a well-stocked playroom with lots of toys and a games room for older kids with an Xbox and Wii. In the evening you can choose to watch a movie under the stars. If parents want to have a couples' night on their own, the resort offers a babysitting service too!
Pulau Tenggol
I was one of those people who hadn't heard about Pulau Tenggol. When Marco from Monkey Rock World got in touch, I was intrigued! I love hearing about new places so this was a great recommendation for me. Photo credit goes to Marco's wife, Kit Yeng Chan.
Few people know about Pulau Tenggol, an idyllic tropical island set in front of Dungun, in Terengganu, on the most conservative coast of Peninsular Malaysia.
Pulau Tenggol it's great with kids because, believe it or not, you'll have it all for yourself. Why? Truth be told, Tenggol is a private island. It is owned and operated by the only three diving operators on the main beach, Teluk Air Tawar. There's nobody else on this tiny island ringed by the turquoise sea.
Most visitors to Pulau Tenggol come for the excellent diving: the southernmost among Terengganu's marine parks, it has almost perfect, untouched reefs, and it's a passage for elusive whale sharks. Try to come in season, between March and October, as the island closes due to the monsoon.
The best place to stay is Tenggol Coral Beach Resort. It has its five sea-facing cozy bungalows with verandahs and a few simpler chalets. They are all smack on the beach, in metres from the water, and from the restaurants where the buffet meals are served. And, of course, they organize boat transfers from Dungun, PADI diving courses, and fun dives.
If you don't dive, you can still come to visit Pulau Tenggol to experience a low-key, stunning Malaysian island that very few people know. Your children will love having a beach all to themselves or spending some time on one of the island's couple of hiking trails. The one to Sunset Rock is, as the name implies, an easy stroll to a boulder perched over the sea. And if you like stargazing, Teluk Air Tawar is also very good to spread a towel, sit down, and glance at perfect constellations without light pollution.
Kapas Island
Kapas was another island I wasn't familiar with so I loved reading about Hannah's experience from Hannah's Happy Adventure.
Malaysia has many amazing things to offer but none are more amazing than Kapas Island off the eastern side of the Malay peninsula. Kapas Island has white beaches and stunning blue waters, and the best part about it is its secrecy. The island is not part of the popular travelling routes through Malaysia. This makes it the perfect place to hideaway with your family and enjoy the sun and sea.
Kapas is just 15 minutes by boat from the mainland. Take a flight or bus to Kuala Terengganu, before switching to a taxi to go the last 15 minutes to Kuala Besut Jetty. The boats to the island run around every 2 hours. Expect them to be bustling with domestic tourists rather than foreigners.
The island is a great place to explore with kids. One side of the island is full of beaches with small walkways joining them. Spend an afternoon relaxing and building sandcastles, before taking them snorkelling from the beaches. It's second to none and you don't even need the faff of a tour to see some amazing fish. If you do fancy going further afield, consider a snorkelling or diving tour from the island, but this is more suitable for older kids! Once your family tire of the beaches, explore the jungle a bit more by following the trail from the beaches. The entire walk is around 2 hours total. However, with younger children, I recommend venturing just into the jungle so they can try to spot some wildlife! There's also the option for many other water based activities, like sailing and kayaking.
I recommend staying at Qimi's Chalet or Kapas Island Resort. Qimi's has its own private beach and restaurant, and is a quiet place where it's easy to relax as a family. Kapas Island Resort has an on-site pool, so could be a better option for some families looking for a more resort feel.
Penang
Penang isn't all that secret, or all that quiet if you live in South East Asia. It's still a much lesser-known island on a more global scale. We spent a long weekend there shortly after moving to Singapore and very much enjoyed it.
Penang isn't a huge island but it's still a decent size with loads to do. We spent 4 days in Batu Ferringhi but you could also stay in Georgetown or split your time between the two. We found Penang an incredibly easy place to take kids. There's loads for the whole family and we easily found food that the kids would eat (the hawker market served pizza for the evenings when they were too tired to try new things).
We particularly loved Penang National Park and Kek Lok Si temple. There wasn't time to visit Penang Hill which was a shame as I think the kids would have loved the cable car. We also went to the ESCAPE AquaPark and Entopia Butterfly Farm which were hugely popular with the Things. They were also super happy just to hang out in our hotel because it was epic! Another thing that we really enjoyed was strolling around in the evenings, visiting the night market and eating at the hawker centre.
We stayed in the PARKROYAL Penang Resort. We chose it because it offered a small suite that we could all sleep in which not all hotels had. It's a really beautiful resort located right on the beach. It has great amenities including 2 pools (1 with 2 water slides!!!), a splash pad, a good gym, a fun kids club, and friendly staff. There were good restaurants but we didn't eat there much as – we ate out a lot as the hawker market was close by. The night we arrived there was a loud party going on but it was a one-off and was finished by 10.30 pm. We had been put in a room as far away from the party as possible.
Penang has an international airport so many major cities in Southeast Asia fly directly there. Alternatively, you can combine your trip with a city break in somewhere like Singapore or Kuala Lumpur and go on from there.
Have you visited any secret islands in Malaysia, Wanderlusters? Where did you go? Would you recommend it? I'm always looking to expand this post with extra recommendations!