It's become a tradition that every summer we spend a week away with Mr Wanderlust's family. Rather than going back to the same place each year, we like to try out somewhere new. This was our third year of doing it and I have to say the first two years took some beating! What a week! There are so many super fun things to do in Lagos!
Family holidays in Portugal
Our previous family holidays in Europe
Year 1 we spent in Greece. We headed to the nearest island to the mainland, reluctant to travel much after getting off long flights to and from Athens.
While Aegina had definitely seen more prosperous days, we were charmed by the little island and its super friendly, helpful people. Our villa was a little remote – too far up a hill to walk to and from the nearest village where we ended up most days for lunch. The villa itself was gorgeous – spacious and with multiple out door dining areas, it boasted an enormous pool and spectacular views of the coast. It was absolutely exactly what we all needed.
Year 2 saw us head to the Amalfi Coast in Italy in search of our favourite cuisine. I fell in love with Positano with it's bougainvillea lined cobbled streets. The food didn't fail to disappoint and once again the stunning sunsets had me snapping away wildly at the pastel colours that seemed to get more and more vibrant every day. As the first week of our 3 week Italian tour, it got us off to an awesome start.
I can't even remember how we landed on Portugal for this years trip though! In previous years we'd all done a bit of research but this year Grandad Wanderlust found us an incredible villa in the popular Algarve region in the South of Portugal. It was hard to argue with what he'd found so flights were booked and we started counting sleeps 6 months in advance.
Things to do in Portugal
I'll be perfectly honest with you – this particular annual holiday is never intended to have a particularly crammed itinerary. In past years it's been known for us not even to leave the villa some days! That being said, we always like to explore the local surroundings a little. Here's how we keep ourselves occupied over the course of what seems like quite a laid-back week:
Algarve beaches
We love going to the beach and no visit to the Algarve is complete without a trip to the beach.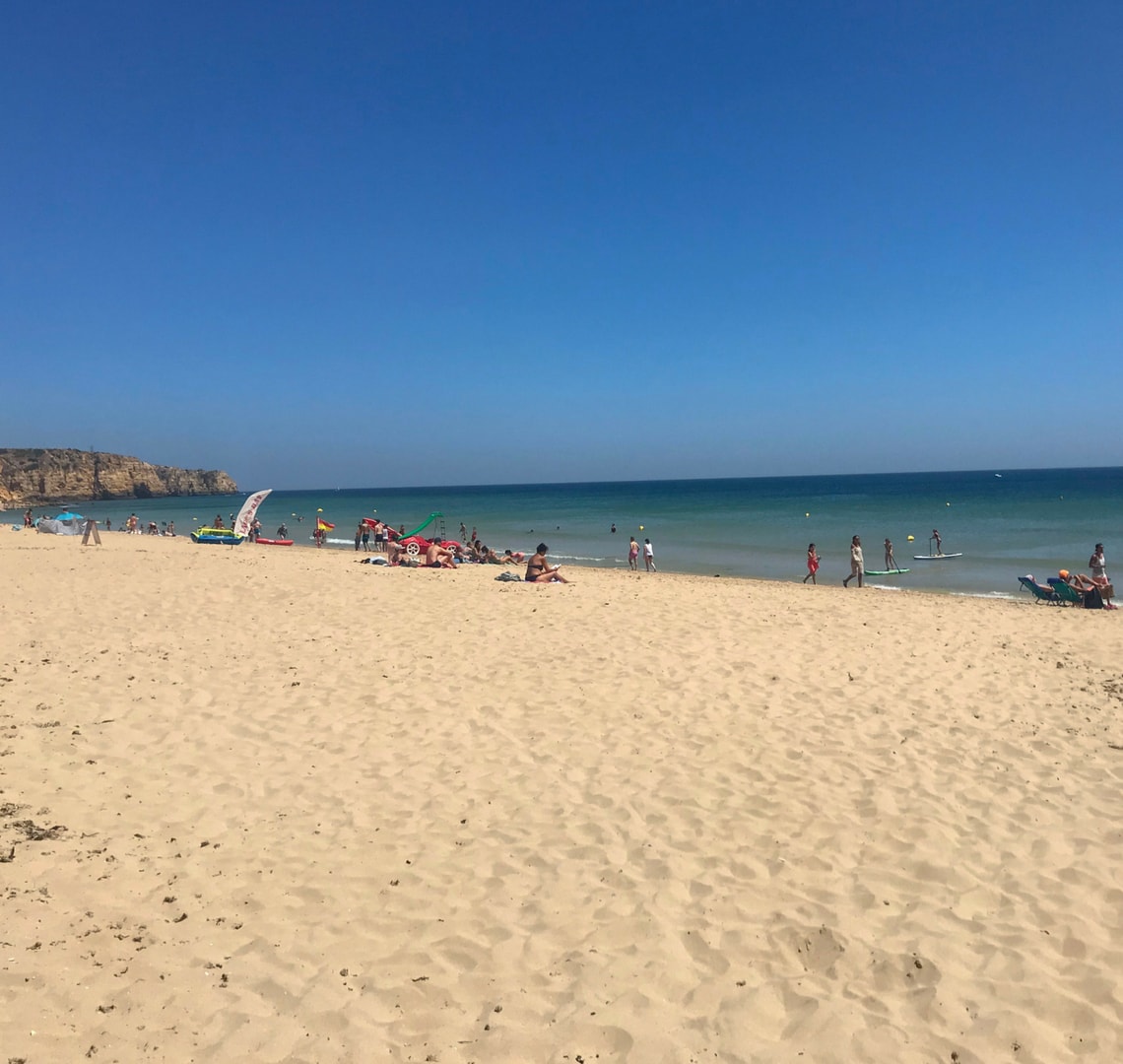 We loved the attractive beach at Porto de Mos but to be honest I think it's pretty hard to go wrong with any of the beaches in the Algarve region. While I preferred these sandy beaches to the stony ones on the Amalfi Coast, the Atlantic Ocean was absolutely baltic! Only Thing 1 with his apparent lack of sensitivity to cold and crazy swimmer Uncle Wanderlust were able to brave the water past their knees.
There was also the option of hiring pedalos including ones with slides off the back… They looked absolutely amazing!!! But with the water temperature the way it was I was worried the Things might go into hypothermic shock. And you can be sure none of us were keen on going in after them!
Eat out and eat in
Lunch out at least 3 times in the week is a must do for us on this holiday. We made it to Lagos twice to test out the restaurants there. If you're travelling in a big group be warned: quite a few places turned us away, unwilling to accommodate a group of 10 even though they clearly had the space (and in some cases even had a table big enough or bigger!). See the where to eat section below for my recommendations.
One thing we love to do is to have a big evening meal cooked on the barbecue (grill). It totally takes the pressure off as we aren't worried about feeding hangry tired Things.
Things to do in Lagos
After our lunches both times we found ourselves strolling around the pretty cobbled streets of Lagos. It really is a very pretty town with most shops and restaurants steering clear of the tourist tat you so often find in popular areas. We were happy to buy ice creams after lunch and to take a slow meander as we explored.
Golf in Portugal
Don't worry I haven't been brainwashed into the golfing world. But…you can't mention the Algarve without mentioning golf, particularly with Mr and Uncle Wanderlust being hugely keen golfers. Not usually an inclusion in the family holiday, they took themselves off for 2 mornings to test out the local courses. I'm told the conditions can be a bit challenging with gusty winds in the Lagos area (obviously that was the only reason Mr Wanderlust lost 24 balls in 4 hours lol).
Anyway, there's a huge selection to choose from but they went for Espiche and Onyria Palmeira. Onyria Palmeira was apparently one of the best courses either of them had ever played so if you're a golfer I'd definitely suggest you pay them a visit. Beware the high winds – Lagos is renowned for being a windy destination and it can really affect your game… Apparently.
Cascade wellness & lifestyle resort
Massively sexist but if the boys get golf then the girls get a spa day. To say thank you to Grammy Wanderlust for all her help with the Things for the week, my sister in law and I whisked her off to Cascades spa for the afternoon. I can thoroughly recommend their dreamy 70 minute collagen facial both for the relaxing nature of the treatment as well as the noticeable effects!
Hiking in Portugal
Our running route included an absolutely glorious walk on a purpose built boardwalk path. It sits right on the cliff tops leading from Porto de Mos to the local lighthouse. The 180 degree views are amazing and definitely worth a look.
Workout!
One of the best things about having a ratio of 6 adults to 4 Things was that I could work out every day. Not bad for a holiday that involved drinking my body weight in wine and over eating every day!
With not much else on the agenda it was so much easier to fit in than it is at home.
Boat tours in Portugal
Just down some (a lot) of (steep) steps are some grotto caves. Boats come to collect people to go on boat tours from the bottom and the caves are really pretty. We didn't look into the details of doing a boat tour but it did look super fun. Since we didn't do it ourselves, I'd hate to link to something I haven't tested personally. A quick google search will bring up loads of options for you though.
Note my comment about the steps – you'll need energetic Things to get them all the way down and up again. I'm pretty sure I'd have been having the heebie jeebies watching ours going down, convinced they were about to fall head over heels at any moment. (To be fair with our track record it would be pretty likely!) If they hadn't fallen down the stars they'd probably have fallen in the sea what with the narrow Boat Zone waiting area. And if all that had gone successfully, I know getting them back up without whining, fighting, a race that ended in tears and / or bribery/blackmail would have been a miracle.
Mini Golf
There's a gorgeous mini golf area in the middle of Lagos. The Things had a blast both times although following the rather strict rules was a challenge and a bit confusing. Opt for the 18 hole course which is much more a crazy golf option than the 9 hole which is more mini golf.
Pool Day
Honestly, I think The Things would have been happy swimming all day every day! From 9am (the earliest we would let them go in the pool for fear of waking the other neighbours), they were like little fish. We had cannon ball competitions, they dived for coins and pool toys, swimming races and water fights. To add to the relaxation, the grown ups took it in turns to play, sunbathe, workout and make drinks / snacks / lunch.
Water parks in Portugal
Last but not least are the Aqua Parks. They were all being advertised at the airport as we left. Had we been there for a bit longer I think we'd probably have made a trip to once of them. In the heat of the day it's great for the Things to be in the water and keeping cool. Plus, water parks are Thing 1's favourite holiday activity!
Where to stay in the Algarve
The Algarve has lots of great towns to choose from.
Our villa was in the tiny town of Porto de Mos right next to Lagos. Halfway up a little hill we had great views of the beach and sea. Where last year we had incredible sunsets, here we saw some lovely sunrises – nice to have a bonus to the early mornings our Things insist on treating us to! The Beach at Porto de Mos is at the bottom of said hill, so bear this in mind when selecting your location. I was glad we weren't at the top of the hill on the other side of the bay!
Next to Porto de Mos is the bigger and busier town of Lagos. We really enjoyed the tranquility of Porto de Mos but were glad of the wider dining options in Lagos.
Whether you choose to stay in a villa or a hotel, in my opinion, really depends on the sort of holiday you're looking for and the size of your group.
For this type of holiday, and given the size of our group, a villa really suits us perfectly. The ability to eat when we want including having breakfast at 4 or 4 different times of the morning makes it easier to still be sociable. I do like not being tied to a hotel restaurant schedule or menu. And when the Things are fighting (which was quite a lot!), it's nice not to have to worry about other people being around.
If you're looking for a break from the cooking, some broader facilities like kids club, gyms, water sports and the like, then there's also a great selection of places to choose from.
Where to eat in Lagos
If you're in Lagos I'd thoroughly recommend Cafe do Mar with it's awesome clifftop location or Millennium in the main part of the town (although I have subsequently seen that Millennium gets some pretty bad Trip Advisor reviews). Both places were incredibly patient and accommodating for a large party with lots of requests and several whiny spirited Things. At Millennium try the garlic prawns, clams, sea bass or golden bream). At Cafe do Mar we loved all the fish dishes that we tried but the seafood linguine was a clear winner – probably dish of the week.
In Porto de Mos we tried Antonio's twice, drawn by the beachfront location. It was too busy so the first attempt failed. The second time we made sure we booked and, while the food was good, it was definitely not in the same league as the restaurants we tried in Lagos.
While we were there I asked in my favourite travel Facebook group for recommendations and they came back with another 3: Mar d'Estorias (apparently there are quite a few steps to get to it but it's worth it), Casa Do Prego (which we did try but they were reluctant to accept a large group and wanted us to sit on 2 tables) and O Camilo (great view, booking advised).
Getting to Faro Spain
Faro International Airport has dozens of flights arriving daily from the UK and the rest of Europe. There are even a few International flights from further afield places like Mozambique and Angola. Check your preferred airline for schedules and routes.
Getting around Portugal
Once in Faro, you can easily get a taxi from the airport. Our driver seemed pretty pleased to get a fare to Lagos and offered us his card to call in for the return leg. Taxis are widely available in Lagos (there's a taxi rank on the road by the sea front) and you can also use Uber.
We also hired a small car for getting around day to day which meant we didn't have to load and unload car seats all the time. It also saved us getting 2 taxis from the airport.
Where next?
The short list for next year is somewhere in Spain or France. Our criteria is always a large villa with pool (we are now 10 people!). We like to be near the beach and to a town but walking distance isn't a must. We're always on the lookout for great places to eat or interesting places to walk around to potentially make it another one of the best family holidays we've had!
Where would you recommend?