Half term is creeping up on us Wanderlust's! So I'm wondering where you are all going? If you haven't booked anything and are looking for some last minute inspiration then I've come up with my favourite winter sun picks for you!
1. Cyprus
Top of the list is Cyprus and it's top because, well, I'm going there so it surely must be the best! In all seriousness, I hadn't really considered Cyprus before and, now that I've done some research, I'm wondering why!
On the beaten track:
We are only going for a few days so will restrict ourselves to the West coast where we are staying. Since Paphos is a UNESCO World Heritage Site and there are 2 immense water parks there I can't think we will struggle to fill our time. Larnaca and Ayia Napa are also very popular destinations.
Off the beaten track:
If you're looking to escape the crowds, head up to explore the quieter beaches, Byzantine castles and ancient ruins in Turkish-owned Northern Cyprus.
October weather / winter sun stats
Average temperature: 22°C
Average high: 27°C
Average low: 16°C
Research
I'm obsessed with Cyprus for Travellers' site with great ideas of things to do. Also one of my fave travel bloggers – Journalist on the Run has been to Paphos so I enjoyed her post about it too.
2. Middle East
I might be slightly biased here since we live in the region but the Middle East has long been a popular destination for winter sun hunters. It's a bit of a cop-out to say the Middle East since it isn't a country in itself but there are so many options around here I wanted to mention them all!
On the beaten track:
Head to Dubai, Abu Dhabi or Muscat for some city fun. Although both very different to each other (think completely different), there are quite a few similarities too. You can find typical regional things to do such as heading to the Souq or the Grand Mosque or trying local cuisines. If you're looking for a resort holiday they both have those too.
Off the beaten track:
Lesser popular in Oman are the beach state of Salalah and the Wadis in the North. They both are much quieter than the cities, offering a more relaxing escape but in the loveliness of the 5* resorts that you can find there.
If you're looking more for a city break that isn't as hectic and expensive as Dubai, head to Doha! Here you can find culture (so many museums and an art installation in the desert!), adventure (head to the desert for some dune bashing, go kayaking or stand up paddle boarding) and great food (Chefs Nobu, Nozomi, Ducasse and Ramsay all have restaurants here).
For something completely different head to Jordan which we absolutely loved. From Amman and Jerash to Petra and the Dead Sea, to bedouin camps in Wadi Rum to R&R in Aqaba on the Red Sea there really is something for everyone.
October weather / winter sun stats
Average temperature: 29°C
Average high: 22°C
Average low: 35°C
Research
I love the Family Travel Middle East Facebook Group for brilliant recommendations on places to go and see as a family in the region.
3. Florida
One of our favourite destinations since we have multiple family members living in the state, this is a place we have been to many times both with the Things and without.
On the beaten track:
I mean the main attractions here have to be Miami in Orlando. Both completely different in terms of what they offer I would have thought they each speak for themselves! Head to Miami for the ultimate city break taking in every thing from Art Deco to foodie heaven to amazing nightlife to nearby state parks. If you want to diversify you can venture down to the very popular Florida Keys for some R&R.
Go to Orlando to max out on theme parks ranging from Disney World to Gateland to Aquatica… The fact that Orlando.com had to make a post listing the top 10 theme parks is all the evidence you need! Not a theme park person? Check out Top Ten Travel List's list of non-theme park activities.
Off the beaten track:
There is sooo much more to Florida than theme parks and Art Deco! If you're looking for pristine beaches you can literally find them up and down the coast. Sanibel Island and Destine have both been recommended to me for their stunning beaches and clear waters. If you want a bit more culture consider St Petersburg, Sarasota, Naples and Fort Myers for their diverse dining, arts and culture, shopping and beaches.
October weather / winter sun stats
Average temperature: 24°C
Average high: 29°C
Average low: 22°C
Research
For Florida research I love Time Out and Lonely Planet for great ideas and suggestions.
4. Greece
Greece was one that surprised me somewhat. We had been looking for somewhere in between the Middle East and the UK and it came up as good value, great climate and beautiful.
On the beaten track:
As the capital city, Athens is your ultimate on the beaten track destination. With ruins literally at every turn (our favourite ice cream parlour was build over some!), you absolutely must spend a couple of days here doing things like checking out the iconic Acropolis. For some island adventure, the most popular islands are Santorini (think iconic , Mykonos, Naxos, Paros, and Crete.
Off the beaten track:
If you go outside Athens you'll find lots more to do such as exploring Lake Vougliameni or hiking Mount Lycabettus (best done at sunset). I loved this Lonely Planet post with more suggestions.
Since most people who go to Greece go to the islands, consider going to one of the lesser known islands to save money and get away from the crowds. Not all are going to be family friendly so it takes a bit more research but the insiders tell me it's worth the research.
October weather / winter sun stats
Average temperature: 19°C
Average daytime high: 23°C
Average nighttime low: 15°C
Research
Santorini Dave and Kids Love Greece are my go to places for Greek holiday research but I also found this article by the Telegraph very informative.
5. Malta
Thing 1's first international destination was Malta! We headed there for a wedding from the US when he was just 9 weeks old. It was a bit of a baptism of fire but was my first experience of travel with him showing me that it is, in fact, possible.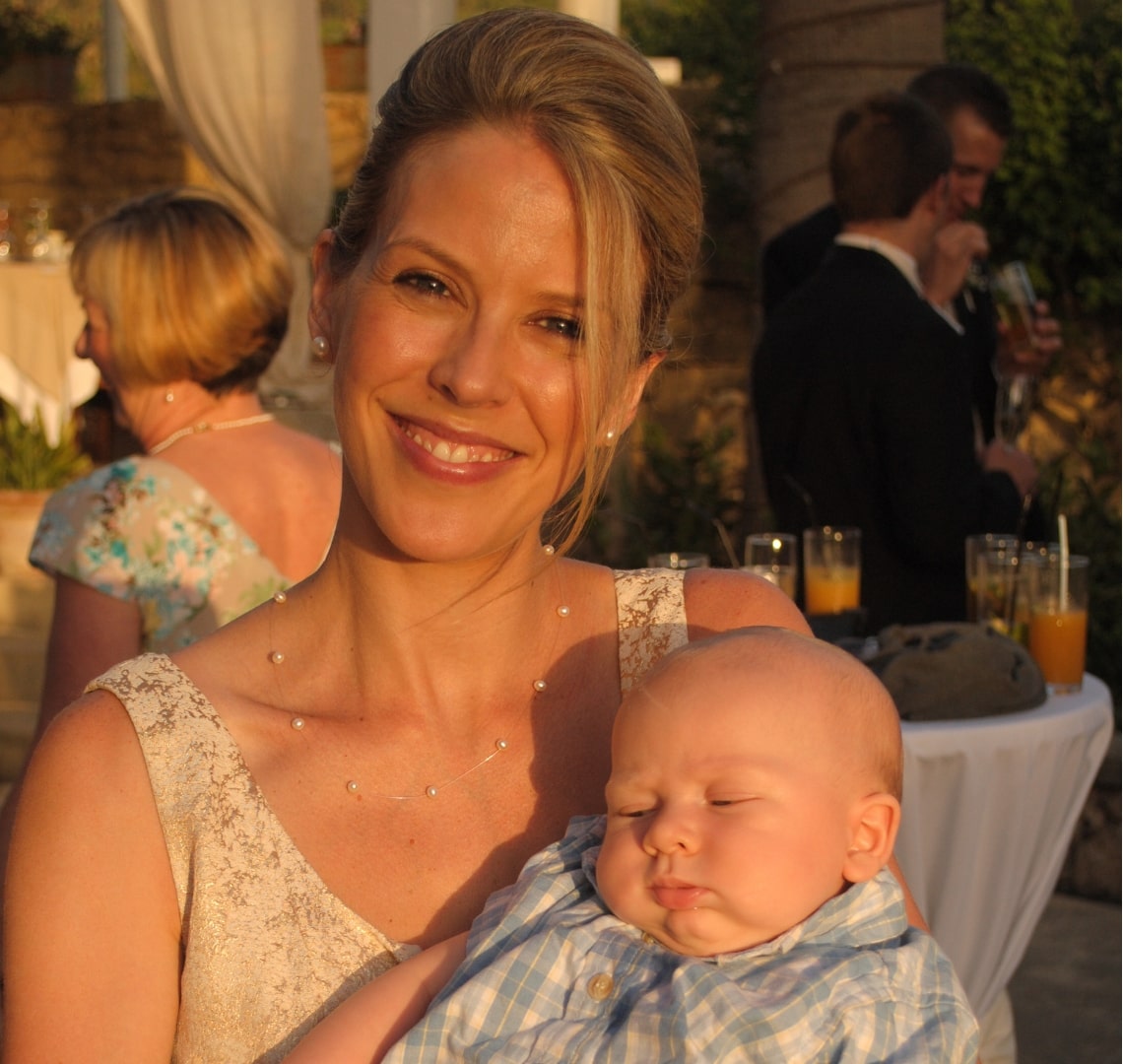 On the beaten track:
The capital of Malta is Valletta and is a really gorgeous town. Just south of Valletta is Sliema which is also worth a visit. Take the time to explore the back streets or Valletta and head to some of Malta's sandy beaches for a bit of sun.
Off the beaten track:
This piece by Travelista Club was really helpful with some great ideas of other things to do in Malta. In it you'll find my personal favourite which is the little Maltese island of Gozo where you can go to see the Ggantija Temples, the salt flats, the Inland Sea, The Citadel, and the Azure Window. You can also take a day trip to Comino from either Malta or Gozo.
October weather / winter sun stats
Average temperature: 20°C
Average daytime high: 25°C
Average nighttime low: 18°C
Research
The Crazy Tourist actually comes up a lot when I research places to go and they have a great post on Malta.
6. Turkey
Turkey is a super family-friendly destination that we have had several great holidays in. It has a lot to offer including amazing beaches and a boat load of history. (That's a technical term in case you were wondering).
On the beaten track:
Another vote for a city! Istanbul is one of my all time favourite capital cities which is no mean feat. You could spend a week here and still not do everything there is to do. Great attractions include Haggia Sofia, Sultan Ahmed Mosque, a cruise on the Bosphorus, Topkapi Palace, the Grand Bazaar, the Basilica Cistern, Taksim Square and the Constantinople Hippodrome to name just a few.
If cities aren't your thing and you fancy more of a beach holiday think about Antalya or Side which have stunning waterfalls nearby and some ancient ruins to explore. Or go to Bodrum and check out it's castle and underwater museum.
Still on my list to do is a balloon ride in Cappadocia. You can't have missed the iconic images of what looks like hundreds of hot air balloons in the volcanic landscape.
Off the beaten track:
I really liked these ideas from World Nomads which include off the beaten track within Istanbul and Cappadocia but also make some other more remote suggestions (which are now also on my list lol). One place it doesn't mention is the hot springs in Pamukkale which is literally breathtaking.
October weather / winter sun stats
Average temperature: 20°C
Average daytime high: 26°C
Average nighttime low: 14°C
Research
Google itself has been impressing me recently with it's own results on travel destinations. I found Touropia really helpful too.
7. Canary Islands
Being so far South, the Canary Islands are a popular destination pretty much year round. It's temperate climate and mild winters means it's great for families in a not-too-hot, not-too-cold kind of way.
On the beaten track:
The main islands in the Canaries are Tenerife, Gran Canaria, Lanzarote and Fuerteventura. All with their own international airports and highly developed, if you're looking for a cheap and easy resort holiday then this could be the place for you.
Off the beaten track:
There are some much quieter areas of the main four islands. Or you can take yourself off to one of the less popular islands like La Palma to enjoy some unspoilt natural beauty.
October weather / winter sun stats
Average temperature: 22°C
Average high: 25°C
Average low: 19°C
Research
I loved this post describing each island to really figure out which would would be best for you.
Are you going away for half term Wanderlust's? Where are you going?