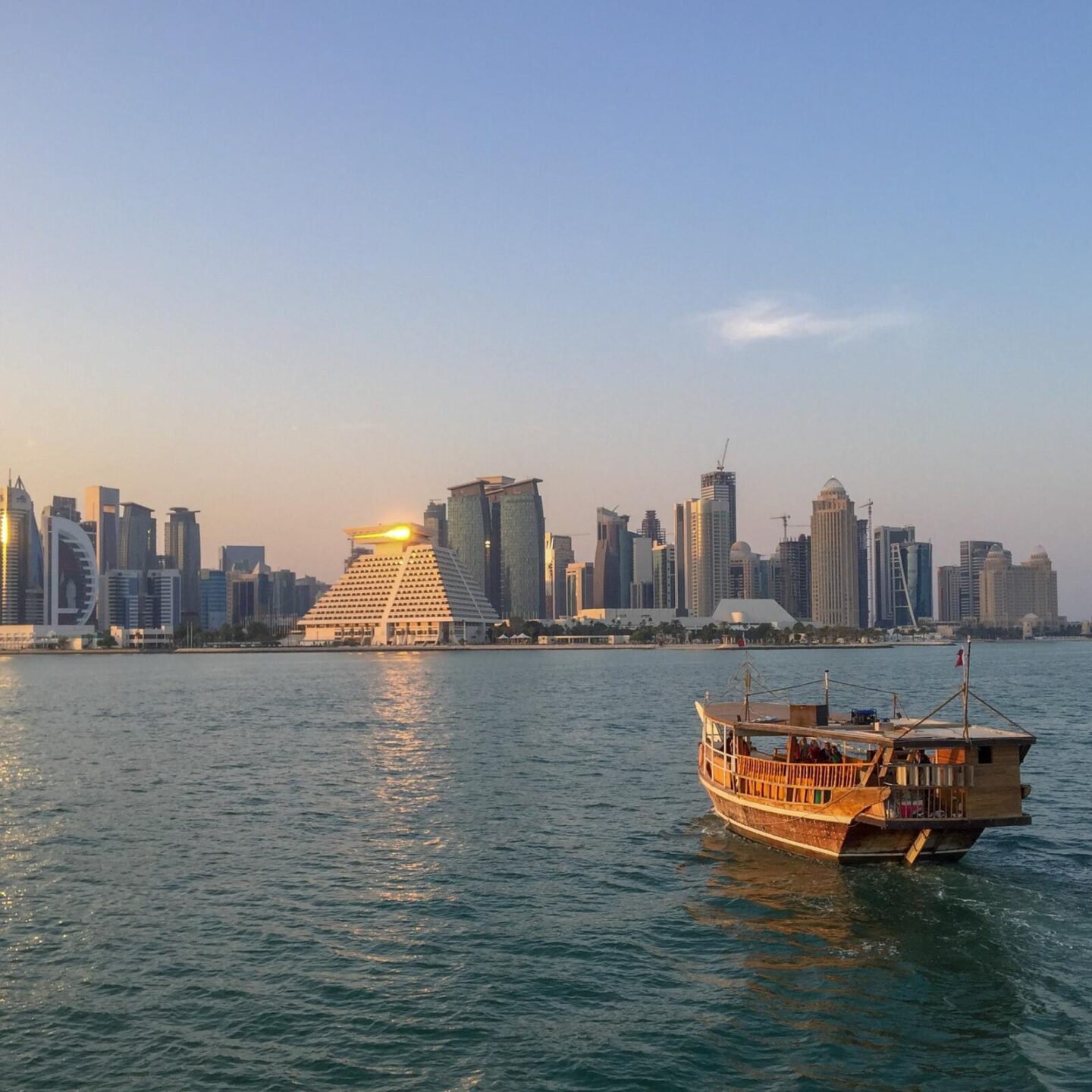 It has been 365 days.
365 days since we got on a plane with many (many, many) suitcases.
365 days since we left our lives in Qatar to start a new life in Singapore.
And, serendipitously, today is Eid, a time when celebrations would have been all over the city (pre-COVID, of course). It seemed right that it would fall on this weekend, when we are celebrating ourselves.
A friend of mine who runs a Facebook travel group has been running a conversation thread asking us to share photos of different countries one day at a time. As we progressed through the alphabet, I was waiting.
Eventually, Qatar came up and I was off, scrolling through my phone. She and I both knew I wouldn't be able to resist contributing to the thread.
I have thousands of photos of Qatar. Thousands upon thousands of photos. Some, like those of delighted naked toddlers playing or of tantrums, could, frankly, have been taken anywhere and should (and shall) stay within the safe confines of our family. But there are others that capture just how unique life in the sandpit can be.
I was confident that I could find a great photo to share with the group. certain in fact. In that immense collection of picures, I would have something that was striking or showed everyone what an incredible place this was and what an incredible time we had there.
The more I scrolled, the more uncertain I became.
How to choose one of Qatar's many sunrises or sunsets? I should know – we were there for 1,533 of them (I counted). Which great shot of the sand dunes, of dune bashing or of the Inland Sea would I choose? Could I find the best picture of the crystal waters on sandy beaches or of the stunning Corniche with it's iconic Sheraton pyramid at one end and equally iconic Museum of Islamic Art, opposite the wonderful Souq Waqif at the other?
As I scrolled
I realised that suddenly I was scrolling through photos that people who haven't lived in Doha won't care about or recognise as typical of Doha.
I realised I wasn't just scrolling through photos. I was scrolling through memories. I was scrolling through a bygone era that ended 12 months ago tomorrow, and yet feels like light-years away. Like I might have dreamed the whole thing.
Leaving properly
It's well documented in expat circles that leaving well is critical if you want to arrive well in the next place and it is so incredibly true. We made sure we did our last things and said our goodbyes (or studiously avoided them) and, looking back, I'm pretty happy with how well and quickly we were settling into Singapore life before COVID hit.
While this move was absolutely the right thing for us, Facebook can't help but make me nostalgic as I see memories flash up on my screen. Friends over there carry on with life and I'm jolted back there every time they post photos. How is it possible to be so happy here and yet miss our life there at the same time?
As moving season (Northern Hemisphere summer) approached this year, I noticed a blogger friend was moving. She's moved a lot and has made a point of writing a goodbye letter to each country she has left. And I figured that, one year on, maybe it was time for me to write my goodbye letter to Qatar.
Dear Qatar
It's been 365 days since we left you. In the end, it was a quiet departure – nothing like leaving in the middle of summer to avoid long, drawn-out, dramatic goodbyes. When our friends left for the summer (what an alien concept that feels like this year!), our departure was too far away to fathom. When they returned we would be gone, swept into the mists of memories like the last sandstorm.
We had turned down an offer to come to live in your borders almost a decade before. We were different people then, with different circumstances, and by the time we got to you, life had taught us that these opportunities will give you unforgettable experiences. Still, I was apprehensive. I didn't know how to feel about moving to a country with my mind filled with racial stereotypes and a basic knowledge of your gender inequality and poor treatment of migrant workers.
The first day
It might have been a year since we left you, Qatar, but my memories of our first 24 hours in Doha are crystal clear. I can remember them more clearly than I can remember the last 24 hours.
I remember peering out of the plane window as we landed. The dust wasn't too bad that day, and I could vaguely make out the towers of West Bay through the haze. It had been a stressful day with dog dramas at Heathrow at 5am. The officious lady at check-in with her jaunty maroon hat and battered clipboard wasn't going to let us board Doggy Wanderlust and I found myself frantically calling our dog walker to come and pick him up instead of drinking champagne in the lounge. The dog was eventually allowed to be loaded but my nerves were shot.
As I gazed at the unfamiliar landscape, and more beige than I had ever seen in my life, I was suddenly struck by a familiar expat feeling – what have we done?
It was dark when we left the airport in an oversized SUV that had been sent to pick us up. Behind us another followed with our 10 suitcases and the dog crate. I remember watching the lamp masts flashing by as we drove towards the city. They were inscribed in Arabic and each glowed brightly, gently merging from one colour to the next. Later I would find out that they are inscribed with the words to the Qatari National Anthem.
Eventually, Mr Wanderlust said: "I think this is the street our compound is on." And, sure enough, it was. I looked out at the names of the streets of our new "village" (it was only recently that I realised our Things thought that a village was nothing more than a compound). I noticed the pretty pastel colours of the houses and took in the sudden bursts of green that contrasted with the barren plots of land we had driven past on our way there.
We arrived at our new house (pastel orange in case you're wondering). By now the long day was beginning to take its toll and I was feeling light-headed and nauseous but keen to see our new home. I couldn't possibly know at the time that it would be more than 4 years before we moved again – the longest time I would spend in any house for the entirety of my adult life.
You certainly greeted us with a baptism of fire (and it literally felt like it). The next day we walked through the compound to go to some friends' house. I'd never felt heat like it – 49C and not yet 11am. I joked that maybe we had landed on the sun instead.
Our new normal
Over the next four years, your heat and dust would never feel normal but they did become home. That summer was probably the longest summer of my life – rather like the first 6 months of Thing 1's life, or March 2020 in lockdown where time seemed to stand still. We had no fixed plans, no older children to run around after and limited friendships given half the city departed on the summer exodus just ten days after we arrived.
That summer, we would make friends with the few people left on our compound. Two families, in particular, arrived at the same time as us and had kids the same ages. We spent hours at the pool – one of the only places to stay cool in the searing summer heat. We had playdates in each other's houses, went to more soft play areas than I can remember, and had pizza parties by the pool as we watched the sunset over the rooftops. The Things played in the dusty street and ran naked in the sprinklers in the garden. That first summer, we spent so much time in the clubhouse games room that I was almost incapable of ever going back in there.
Those two families became our lifeline, not just that summer but for most of our shared time with you. A monthly "breakfast club" between the three non-company spouses (dare I say trailing spouses?!) became our therapy and I was heartbroken when their adventures ended before ours. Our children all adapted more quickly than we did to your climate, landscape, and lifestyle.
The memories
Somehow, after the first year, we didn't lose too many friends to moving season (that would change in years to come) but welcomed the new crowd in the autumn, glad not to be the new expats anymore. We joined in with company socials, went to lavish brunches, and drank cocktails in swanky bars with glittering views. It was such a far cry from our life in London with tiny kids and a tiny bank balance after renovating a house. It was an even further cry from our time in Houston, where we started our international life as newlyweds without a care in the world.
We had days at the beaches where the water was warmer than a bath and the colours of the sea and the sand could genuinely fool you into thinking you were on a paradise island. When we were feeling adventurous, we could spend weekends dune bashing, watching the locals hooning around in their white Toyota Land Cruisers. Sometimes, we would go to the Inland Sea and stare across at Saudi Arabia, hardly able to believe how close it was. Other times we would go in a group to the Singing Sand Dunes. We'd all climb to the top and then slide down again, laughing at the deep hum of the sand as it shifted under our feet. As night fell, someone would build a bonfire while the rest of us watched the sky as it was set alight by the sunset. The kids would run around laughing and playing in the sand in the fading light. When it got too dark, they toasted s'mores on the glowing embers.
When visitors came to stay, we took them to dine in the souq. We would laugh at the Turkish ice-cream man with his routine and police would parade through the cobbled streets on horseback. If we timed it right, we would see the changing of the guard. On camelback, of course. Each January we would spend an entire week watching the world's best names in tennis in a startlingly small stadium hardly able to believe that we could get so close to such incredible talent.
The Things played in playgrounds looking over at the West Bay skyline. They went to a huge primary school that deceptively made you feel like it was a little British school that had been plucked out of the lush green rolling hills of England and dropped – plop! – into your desert sands. They played with children of all nationalities and sang happy birthday to their classmates in Arabic. They lost teeth, had surgeries, and found themselves in A&E. And they squealed with delight at the sight of rain which seemed only to come once or twice a year. As a child, I grew up in one of the wettest places in the UK so this never stopped being hilarious to me – not least when they got out the pool toys to swim in our flooded street.
Friendships to last a lifetime
We found our people in many different guises. They were sat next to us at a kids' event or lived across the street. They welcomed us or we welcomed them or, once, we met in the toilets of a mall! Our people were at karaoke nights in the clubhouse, porch nights on the street, birthday parties in playgrounds, and new year parties on the roof of someone's house complete with the shawarma guy for food. We would have street parties that started early and lasted long, long into the night. Haloween trick or treating became a tradition that the Things loved more than Christmas with the street decorations, the parties, and the copious amounts of candy.
Our people were in our workout group that gathered at 5am on the clubhouse roof as we watched the sun rise and staggered home, breathless and puce in the face. They were there coaching the Things at baseball and watching me become a baseball mom. They high fived me as we ran sweaty laps of the compound and ran up and down the Corniche faster than I did in an annual 10k race.
The bad and the ugly
It wasn't all (burning hot) sunshine and roses (or bougainvillea, which seemed to thrive despite the heat).
A month after we arrived, my paperwork was in order and I got my driving license. A day later, the road outside our compound, the one I had studied meticulously on each taxi ride to work out the best routes, was rerouted. I would get used to it. It would become a joke. Roads would suddenly disappear and temporary ones appear, seemingly overnight, and you would be left floundering and cursing at Google Maps for not knowing there was a new road (thank goodness for Waze). And then, on other days, the temporary road would just as suddenly be gone, replaced by a shiny, new, enormous 6 lane highway.
That construction was relentless. Every now and again a new area would get finished and I would sigh with relief as the landscape, just for that tiny corner of the city, stopped being a construction site. But for every one that was finished, five more would start. Your dust got worse, not better and I would find myself wiping a film of it off the surfaces not even a day after cleaning.
Worse than the construction was the bureaucracy and the sometimes senseless logic or changing goalposts that frustrated us to tears at times. As we got used to it, it was only when newcomers or visitors would question something that we would remember it wasn't how we were used to things being done. We would shrug our shoulders and say "because Doha" as if that were the only explanation ever needed in this beige world.
And the inequality, often too easy to ignore as a much more fortunate expat, became something I was less and less ok with. It became harder and harder to ignore the disparity between the haves and have nots. I could never quite reconcile the difference between what we had and they didn't, how we were treated and how they were treated. I never quite managed to get past that or figure out what I wanted to do about it before we left.
Not just memories
Qatar, it wasn't just the people and the experiences that you gave me. This was an entire period of my life. You were there watching with me as the Things grew up and I grew into a new version of me.
When we arrived, I was lost. I'd just given up my corporate job for the first time, properly. I was disorientated from lack of sleep, threenager temper tantrums, and the complete lack of confidence that motherhood has on new mums.
I learned to stand on my own two feet. Mr Wanderlust travelled frequently and, left behind with these two small Things I filled the days with play dates and activities. The news of the blockade came as Mr Wanderlust boarded a flight and I calmly went to buy milk, eggs, and chicken before heading home to pack a grab bag while waiting for news.
From your shiny new airport, I myself took my first trips away from my children. From therapeutic girls trips for my 40th to an ultra-long-haul mission for a family wedding to, an expat's worst nightmare, the trip to say goodbye to my dad. I was growing in my independence.
The new me
It was living with you, that I became aware, that I needed something more. Something that was mine. Something that could move with me.
I dabbled in various things. Making jewellery had become a creative outlet for me but selling it was a long and arduous task that required weekend time away from my family that I resented. I volunteered at school and welcomed new families. I became Eagle Owl with Brownies and ran events for a women's network.
So used to having direction and purpose, I felt even more lost. None of it gave me what I needed and, at times, I felt that the more I searched, the more elusive it became.
It was frustrating.
And then, in those dusty Doha days, I found writing and, or maybe it found me. I found a new type of therapy and I found my passion. Writing was an outlet and it helped me connect with people across the world through my love of travel and passion for empowering expat women and families. I found a "colleague" and we would have "office day" while drinking copious amounts of tea and bouncing ideas off each other.
Leaving
For somewhere that could never be home, and never truly felt like home, leaving you felt remarkably like we were leaving our home. Leaving you felt real when we closed the door to our house for the last time.
It was so final, such a terminal act.
We were never meant to be those people who had a base for long and yet, even though I didn't even really like the house, it was harder to leave it then I had expected. It was hard to know it would soon be home to a new family who would become friends with our friends and make their own memories there. It was hard to know that it was no longer ours.
Closing that door felt symbolic just as, the following day, we would hand our ID cards to the immigration officed for the last time. This time when we handed them to him, he didn't return them and I felt my breath catch as we walked through to security. No longer residents of this place we had called home.
Just six weeks later, when I flew back to collect the dog who had had to stay behind, I was struck by how I felt like an outsider in the very space I had felt I belonged.
Ready, steady, stop
We were ready to leave you, Qatar. We asked to leave you.
And yet, when it came to it I wanted everything to freeze, to stop that relentless march of time.
Because you will forever be where my babies became children. Where they learnt to walk and ride their bikes. Where they made their first best friends. You will forever be where they have their first real memories. You will forever be where I found myself and reinvented myself and where I found friendships that will stand the tests of time and geography.
You, Qatar, will be the place that is home to a million memories that will mean nothing to anyone who hasn't lived there.
They mean nothing at all.
But to me they mean everything and for all of that, and so much more, thank you.
Emma